iDebit Bingo Sites
iDebit Review ➤ Make online bingo deposits + withdrawals via iDebit ✓ Guide for funding your account + cashing out ✓ Canadian online payment solution
Global players across online bingo sites find it a bit difficult to choose a payment method for safe and fast deposits and withdrawals, so if one is in a search of a great solution, we present to you iDebit. This is an online payment solution available to Canadian players, across hundreds of Canadian-facing online bingo sites. It is a perfect solution to use if a player from the country, since with it, you can make online gambling transactions in seconds, with no credit cards involved, without hidden fees. Therefore, stay with us to learn more about it, and get started with it. Why choose iDebit as your online bingo site payment method?
About iDebit
Sending direct debit from your bank account has never been easier with iDebit. This is the solution that connects you, your bank and your online bingo site, allowing for effortless and fast transactions. It is a solution catering to players from Canada only, but it is used by millions of people nationwide.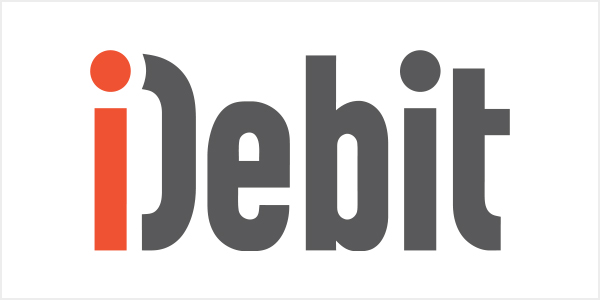 Essentially, it is a solution you can use either directly via your online banking account profile as a guest, or by creating your account with it. If you don't wish to go through the registration procedure with the service, all you need to do is check out as a guest and still use your online banking system to make fast and secure transactions.
Therefore, all you need to get started with it is to have a bank account with one of the supported banks. On that note, the solution has partnered with the leading Canadian banks. As long as you have a bank account with the Bank of Montreal, TD Canada Trust, National Bank, Canadian Imperial Bank of Commerce, Simplii Financial, Royal Bank of Canada, Desjardins, or the Scotiabank, you can make use of its safe and fast services.
Speaking of safety, you should know that this is one of the safest Canadian methods out there. It uses your bank's security systems, plus it secures all transactions with the latest 128-bit encryption technology. Considering you need bank authentication to complete a transaction, your transactions are further protected with your bank login details and the bank's security question.
Being such an incredible solution, iDebit has found its way to and stayed at the top of the payment method lists across the best bingo sites. Hundreds of bingo sites accept it, so you can rest assured that you'll find one to join as soon as you start searching. But before you do, stay with us to learn how to get started with it and use it for depositing and withdrawing across online bingo sites.
Getting Started with iDebit
As introduced, iDebit provides you with two ways to use it. One, you can request payments directly from the online platform, in this case, the online bingo site, by logging in with your online banking details. And two, you can create an account with it directly, and use that account to transact safely online. It is super easy to create an account with it, as it is automatically created at the end of your first payment, no approval process is needed. You can sign in to your account whenever you want to view your complete transaction history.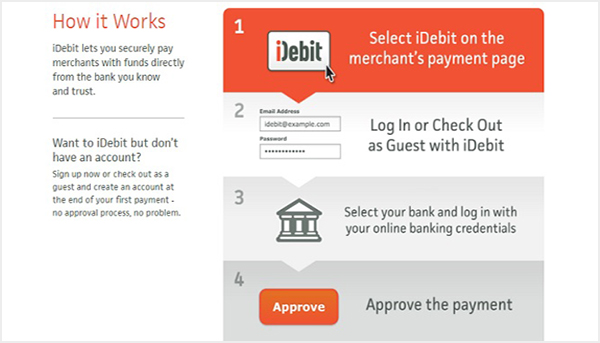 But if you wish to skip registration procedures, you don't need to create an account with it. The solution lets you securely pay across online bingo sites directly with the funds on your bank account. You don't need to have a credit card to pay safely across bingo sites. The transactions are in real-time, from and to your bank account, as soon as they are confirmed.
Therefore, as long as you're 18 years old or older and have a bank account with the supported banks, you can use this solution to transact online in the most effortless way. So, with no further ado, let's examine the depositing and withdrawing processes across online bingo sites with it so that you get a clearer picture of what you'd need to do.
How to Deposit with iDebit Across Online Bingo Sites?
Using iDebit for deposits across online bingo sites would be as easy as 1, 2, 3. Therefore, you should focus on choosing a safe and legit bingo site to join. Explore several options and find the best site for you, which offers the most unique bingo games and rooms, bonuses and of course, accepts iDebit as a payment option.
As you start the registration process at the site, you will probably be asked to choose a deposit method right then and there. If not, follow these steps:
Go to the online bingo site's Cashier page.
From the Deposit Methods list, find the solution's logo and click or tap on it.
Log into your iDebit account in the new window, or check out as a guest.
From the list of supported banks, select your bank and log in with your online banking credentials.
Specify how much you wish to deposit and approve the payment.
The solution will make sure your deposit lands on your online bingo site's balance instantly.
That's right, depositing with this solution is as easy as that. No complicated procedures, no waiting times, nada. Just select it, request a payment and in an instant, your deposit arrives on your online bingo site account.
How to Withdraw Winnings with iDebit?
You might have thought that withdrawing with iDebit would be a bit more complicated than depositing with it, but that's not the case. In fact, Canadian players use it more as a withdrawal method, since withdrawals with it are super-fast. And that's why it is one of the best methods for Canadian players to use for cashouts across online bingo sites.
All you need to do is go through the same steps as described above, and specify how much you'd like to cash out. Then, just select whether you'd like for the bingo site to send your withdrawal directly to your bank account or your iDebit account, and wait for the site's approval. As soon as the operator checks and confirms that you have enough money to withdraw and approves the transaction, the solution will handle the rest and transfer your withdrawal.
Currencies
Naturally, the Canadian dollar is the default currency when using this solution for deposits and withdrawals across online bingo sites.
However, the US dollar is also an option. The solution charges currency conversion fees when you're using a different currency, so if you plan to use a different currency, make sure you find out more about the exchange rates.
Fees
You don't need to pay high, hidden fees to use iDebit's services. The transaction fees the solution charges for its service as a facilitator are low.
In fact, you would only need to pay CA/US$1.50 to use its service as a facilitator, which is extremely low, compared to other solutions of its type. When transferring funds from your iDebit balance to your bank account, you'd need to pay a CA/US$2 fee. Creating an account is free of charge. Withdrawals from your online bingo site to your iDebit balance are free of charge, as are deposits from your balance.
Restricted Countries
At this point, iDebit is only available in Canada. You need to be a Canadian citizen with a bank account at one of the supported banks to use it.
In the future, things may change, but currently, you can only use this solution across online bingo sites if a Canadian player.
Helpful links
Showing results for Virginia, United States
iDebit Bingo Sites FAQs
Is iDebit's official website available in multiple languages?
No. Since it is a Canadian solution, its website is available in English. It is not even available in French, which is the second most used language in the country but only in English.
Does the solution offer a Customer Support service?
Of course. You can use the Canadian phone number +1 855.443.3248, the email address support@idebitpayments.com or the Live Support option to get in touch with the team. If you're interested in knowing more about the security it implements, write the team an email at security@idebitpayments.com.
Are my sensitive details shared with the online bingo site?
No. As a matter of fact, being a facilitator, the solution ensures that your banking credentials stay securely between your bank and you, and no personal information is ever shared with the online bingo site.
Can I connect more bank accounts to it?
Sure. You can add multiple bank accounts with the supported banks, however, you cannot split payments between different bank accounts for one transaction. Each transaction must be paid in full from a single bank account, so if you don't have enough funds on one account, use another to complete your deposit at your online bingo site.
Can I cancel a transaction or reverse it?
No and no. Since iDebit is a facilitator, you cannot cancel a payment that went through it or reverse it. You would need to contact your online bingo site in case you don't want to go through with the deposit, or you can contact your bank. But you cannot expect the solution to have a say in this.
Join and start earning awards
You will immediately get full access to our online bingo forum/chat plus receive our newsletter with news & exclusive bonuses every month.
Join instantly with your social account