90 Ball Bingo Rooms :
Online 90 Ball Bingo Rooms - A list of all the online 90 Ball bingo sites and links to detailed reviews of each.
Introduction
90 Ball Bingo is a variation of bingo that is played mostly in the United Kingdom and Europe. The game is also popular in Australia and South America and is different in a number of ways from the 75 Ball Bingo that is prevalent in the United States.
The 90 Ball Bingo Ticket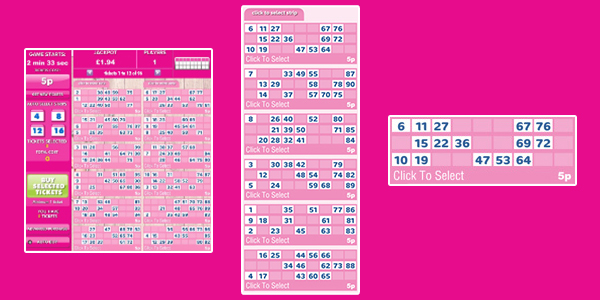 The 90 Ball Bingo ticket is a 27 square grid made up of nine vertical and three horizontal lines.
Each row is made up of five numbers and four blank spaces.
The first column contains numbers one through to nine.
The second column contains numbers ten through to nineteen.
The third column contains numbers twenty through to twenty-nine, and so forth.
There are 15 randomly chosen numbers in the squares.
90 Ball Bingo Rules
Players purchase their cards.
The bingo caller begins the game by drawing numbers at random.
Numbers are called out.
Players mark the called number on their bingo cards.
The first player who completes each of three patterns on the bingo cards shouts "BINGO".
The winning card is confirmed.
The winning player is paid out.
A new bingo game begins.
90 Ball Bingo Patterns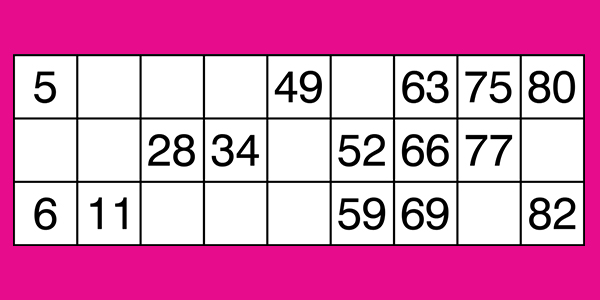 There are essentially three winning patterns in 90 Ball Bingo. These are known as One Line, Two Line and Full House. If a player is able to cross out one horizontal line by covering all the numbers, this is considered a One Line win. The player who crosses off two horizontal lines wins the Two Lines pattern, while three full lines are considered a Full House win. Naturally, the more patterns that a player completes, the higher the value of the prize. Because it is statistically more difficult to earn Full House, the prize for this pattern is the highest.
Playing 90 Ball Bingo Online
UK players will be familiar with 90 Ball Bingo from their favorite land based bingo rooms. However, playing this game online is remarkably simpler. Instead of going "eyes-down" to mark the numbers after each call, the online bingo site provides a system whereby called numbers are marked off automatically. The player is now free to simply sit back and watch as the numbers are randomly called out from a choice of 90, or he or she can chat with friends or play exciting side games while the online bingo room does all the hard work for them. Checking back to see if there was a winning card is the only effort required!
Conclusion
90 Ball Bingo is an exciting version of the game that makes it a much sought after form of entertainment for millions of bingo fans – both online and off. While the game is remarkably similar when played in either version, the auto daub feature that is built into the software provides online players with a much simpler and more effective tool to play the game.
Highest Community Rated Bingo Sites
Join and start earning awards
You will immediately get full access to our online bingo forum/chat plus receive our newsletter with news & exclusive bonuses every month.
Join instantly with your social account