80 Ball - Bingo Rooms:
Online 80 Ball Bingo Rooms - A list of all the online 80 Ball bingo sites and links to detailed reviews of each, bingo games, rules and much more.
Introduction
80 Ball Bingo is the newest version of bingo to hit the scene and has been made all the more popular by online bingo sites. The main difference between 80 Ball Bingo and the more common 75 Ball and 90 Ball Bingo is the speed of the game, which makes it enormously attractive to players seeking an element of excitement in the bingo sessions.
The 80 Ball Bingo Ticket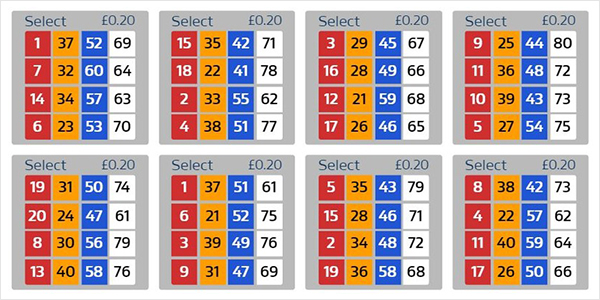 The 80 Ball Bingo ticket is very similar to the 75 Ball Bingo ticket with slight modifications.
The card consists of five rows, each of which has 16 digits.
All in all there are 80 digits on the grid.
The digits are divided into four groups of different colors, after an interval of 20 numbers (ie. red = numbers 1 through to 20, yellow = numbers 21 through to 40, blue = numbers 41 through to 59 and silver = numbers 60 through to 80).
Another unique feature of an 80 Ball Bingo Card is the fact that it includes shutters that slide over the numbers as they are called, instead of daubers that mark the numbers.
80 Ball Bingo Rules
The player purchases 80 Ball Bingo cards.
Numbers from 1 to 80 are called.
If the player has that number, it is covered over by the shutter on the board.
The player who completes the pre-determined pattern first on his or her board shouts BINGO.
The player is paid out and a new game begins.
80 Ball Bingo Patterns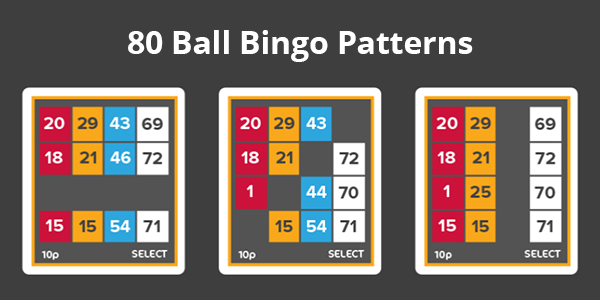 One of the most exciting aspects of 80 Ball Bingo is the huge variety of patterns available for this game. These include Big X, Four Corners, Center Square and the more classic 80 Ball Bingo patterns such as Horizontal Bingo, Diagonal Bingo, Vertical Bingo and Full Card.
Playing 80 Ball Bingo Online
80 Ball Bingo was essentially created for online bingo players who were searching for a new twist to the traditional games found on and offline, and who demanded faster bingo action. Playing the game online also means that more patterns can be incorporated, so that two games seldom look the same and the bingo action is always kept original and fresh! The advantage of playing this game online is that features built into the online bingo software mean that much of the game session can take place automatically, freeing you up to chat with friends or play side games.
Conclusion
In the grand scheme of things, 80 Ball Bingo is still taking off and is considered rarer than 75 Ball or 90 Ball Bingo. Nevertheless, this game is fast catching on and many reputable online bingo rooms offer this game as an option for its players looking for something slightly different.
Showing results for Virginia, United States
Highest Community Rated Bingo Sites
Join and start earning awards
You will immediately get full access to our online bingo forum/chat plus receive our newsletter with news & exclusive bonuses every month.
Join instantly with your social account