Bingo Sites that accept players from United States
Play online bingo in the United States ➤ Bingo Sites Accepting US Players + Extensive Reviews ✓ No Deposit Bingo ✓ Exclusive Bonuses ✓ Welcome Offers
American punters are frequently bounded by national regulations and jurisdictional restrictions in unrestricted pursuit of iGaming destinations. Many contemporary classics and table games may remain out of legally vetted reach for US-based players, and the same is with online bingo. 
However, as this game of chance gains popularity — concurrent with the legalization efforts of the post-PASPA era in the land of the free, enabling state-by-state regulated climate for responsible gambling — the corps of interactive bingo sites accepting US punters increases exponentially. 
With that in mind…
Our team at the Latest Bingo Bonuses devoted time and energy to create a one-stop shop for all American residents who search for the most favorable online destination to enjoy this pastime. 
Poised to bring you the most comprehensive, up-to-date content on all bingo-related information, we give you a complete listing of all the online bingo rooms that not only accept US players but include various LBB exclusive bonuses.
Each online bingo site listed here comes with an extensive and impartial review which may help you decide and select the best fit for your preferences and budget.
Furthermore, you can also see direct feedback of other bingo players — punters like you — articulated through their comments and overall ratings for each particular site.
Finally, you can use the filters menu on the left side and narrow your search. Available parameters include the state of your residence, software providers, currency (including cryptos), bingo variations, mobile devices availability, and last but not least, warnings about rogue casinos and exclusive LBB bonuses. 
Enjoy your stay, choose prudently, play responsibly, and above all, have fun!
History of Bingo in America
Lotteries have been a quintessential segment of the American way of life and progress since the antebellum times. Flourishing public and private events which enabled residents to socialize and win prizes — simultaneously engaging in funding roads, bridges, academic institutions, churches, charities to develop colonies — have profound roots in the United States.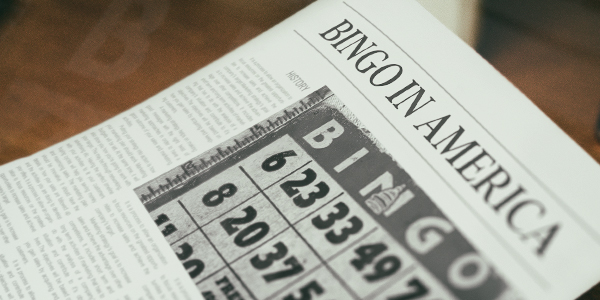 Thus, when bingo emerged on the heels of European immigrants in the mid-nineteenth century as an alternative to a lottery, it quickly gained traction at carnivals on the East Coast.
Still, it would take one Edwin S. Lowe, a US salesman, toymaker, and entrepreneur, to create a national pastime and fundraising game we know today.
Passing through Georgia in 1929, Lowe spotted a booth crowded with people who were playing a game using hand-stamped boards and beans. The entertaining activity, called 'beano' at the time, included the operator and the players trying to match their choices with announced numbers.
Impressed by the scene, Lowe went back to New York City and begun experimenting with various numerical combinations on the beano boards. He even hired a retired mathematician who would soon devise no less than 6,000 arithmetical combinations for the game.
When Lowe invited his friends to test out his innovation, one of the guests mistakenly shouted 'bingo' instead of 'beano' after winning a combination of numbers, and the name stuck. Or, at least, that's what legend says.
In the early 1930s, Lowe was manufacturing boards at large.
Bingo gained wide popularity in no time, particularly among churches and fraternal organizations that purchased sets to use this game at fundraisers. Home penetration and proliferation among families followed soon.
By the early 1940s, several other companies have begun to produce game sets, the nation was swept off its feet — and the rest is pretty much history.
Nowadays, bingo is one of the most popular pastimes in America.
Although it demands vigilance and attention on players' part, it also offers simplicity and a pure-luck element in a very social game that can be effortlessly set up for commercial and charitable functions.
Contemporary versions include electronic boards players can use, while home versions remain staples of families with young children to this day. With the emergence of the internet, bingo quickly spread across the World Wide Web to reach cohorts of enthusiastic punters in America.
US Bingo Today
The variant of this game enjoyed in America today differs from bingo in the United Kingdom, which includes 90 balls and slightly different tickets and callings.
Instead, American bingo uses 75 balls and cards with 25 squares (five rows and five columns). A space in the center of such a 5x5 card is marked 'free' and considered automatically filled. The range of numbers appearing on the card is restricted by columns labeled B, I, N, G, and O.
Column B contains numbers between 1 and 15, column I is restricted to 16 through 30, 'N' is reserved for 31-45, 'G' for 46-60, and 'O' is for 61 through 75.
Although cards may be made of cardboard or disposable paper, the computers and connected devices vastly expands available methods to call numbers. Equally, electronic RNGs are now commonplace to announce numbers, replacing mechanical ball draws.
In case the game is played at large bingo halls, players use dabber and magnetic wand to pick up chips after each play as a lighted board displays the next number called. Multiple screens throughout the venue show the action and outcomes, as a variety of fun and social element of the game remain at a premium.
Contrary to its British counterpart, the bingo caller in the US variant is not the event's main attraction, as Americans tend to approach this role in a bit more serious manner. After all, the game is nowadays played in nearly every town in America, whether in charitable organizations or churches.
On the other hand, the commercial aspect of the game serviced by Las Vegas and Native American casinos — as well as other land-based venues across the country — is staggering.
According to H2 Gambling Capital, the 2021 volume of gross wins — the stakes and wagers placed minus the prizes and payouts but without bonuses — in the bingo vertical is projected to surpass $2.68 billion, while the estimations for 2023 go beyond $3 billion. 
Current State of US Interactive Bingo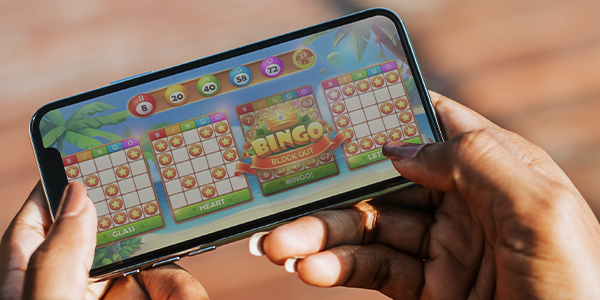 Interactive bingo encompasses thousands of websites nowadays, reflecting the overwhelming impact of technological innovations and regulative breakthroughs in the iGaming industry.
Players can enjoy a plethora of amenities of 21st-century online gambling: Lively user interfaces, chat rooms interactions, hosts resembling MCs to add a dimension of fun and entertainment, and various software providers to choose from.
The latter is essential when selecting the proper online bingo destination, as they indicate the type and quality of bingo games a casino hosts.
Likewise, if these websites, preferably originating from reputable online jurisdictions, can substantiate their offerings with certificates to verify the fairness of RNGs in place, in addition to valid loyalty programs and deposit/no-deposit incentives — the best just got better.
To put the significance of correct choice players should make in selecting their online destination in perspective, the overall volume of 2021 gross wins in offshore bingo in America exceeded $178 million, according to H2 Gambling Capital.
Online Bingo Popularity
Since the mid-1990s and the humble beginnings of the iGaming industry, interactive bingo parlors have come a long way. Today, punters can play for free or indulge in a real-money game  in various online destinations that strive to host a steadily rising number of punters in America.
There are a couple of reasons for the healthy popularity of online bingo in the United States.
First off, demographics are shifting. Young and tech-savvy people nowadays play online bingo more often than their parents used to do in brick-and-mortar venues. Mobile accessibility only stimulates the trend.
Simultaneously, courtesy of game simplicity and online platforms' availability, the older generations can easily navigate through growing interactive bingo entertainment options, in conjunction with ease of use.
Next, a significant percentage of players are women. This, in turn, helps the game stand out from the crowd of other games, especially since most punters don't consider bingo a genuine form of gambling. Hence no baggage.
Finally, it seems that American regulators share similar views, at least to a certain extent.
Bingo restrictions tend to be more lenient compared to other casino games and do not outlaw this pastime by default. The charitable nature of the game certainly plays a part in this.
Thus, both the Wire Act overhaul in 2011 and the UIGEA — two predominant federal laws that govern the national iGaming scene in the United States — gives punters a leeway when playing bingo online in American casinos.
However…
When it comes to international sites targeting US residents, they are still scarce in comparison. Furthermore, the state-by-state nature of regulations plays a significant part when evaluating this particular axis.
Therefore, we cannot stress enough the importance of proper analysis of laws in a state of your residence, as the devil always hides in the details — even in online bingo and despite its fast-growing popularity among American newbies.
History of Bingo in America Lotteries have been a quintessential segment of the American way of life and progress since the antebellum times. Flourishing public and private events which enabled residents to socialize and win prizes — simultaneously engaging in funding roads, bridges, academic institutions, churches, charities to develop colonies — have profound roots in the United States. Thus, when bingo emerged on the heels of European immigrants in the mid-nineteenth century as an...
Read more
Bingo Sites that accept players from United States FAQs
Can I play free bingo at US online bingo sites?
Unequivocally, yes! Free games, as well as freebies, are available to play at many US-friendly interactive bingo parlors. While their frequency and variety differ from place to place, you can still find a fair number of games to test the waters before opting to make a deposit. Also, since the schedule for such events tends to vary, you can always check the promotion page at the online venue of your choice to see when they're going live.
Do I need to download any software to play?
No. Courtesy of instant-play user interfaces, the vast majority of US bingo sites are available in your browser.
How about mobile devices?
As long as online casino or bingo parlor offers handheld devices version of their platform, you can enjoy playing bingo wherever and whenever you can. There are also several free mobile apps to purchase for Android.
What games can I expect to find?
As a general rule of thumb, only a handful of software providers currently release the titles at a steady pace. One might only hope that the offerings will increase in time. Regardless, a catalog to choose from is still comprehensive, with releases from Vista Gaming, Rival, Saucify, PariPlay, Mobilots, and Betsoft leading the pack.
Is there a limit to the amount I can withdraw?
This is entirely the purview of your chosen bingo parlor or online casino. As with other games, interactive venues will stipulate the cashout amounts in their Terms and Conditions. Typically, there will be daily, weekly, and monthly limits in place, while VIP players usually enjoy higher ceilings.
How long do withdrawals take?
Commonly, the timeline depends on two aspects. First, as is the case with cashout limits, it's up to the interactive venue to define processing time. And secondly, some banking options work faster than others, e.g., cryptos vs. fiat currencies. All in all, you should expect anything between two and ten working days for the entire sequence to unfold.
Should I take a particular interest in some other aspects of bingo parlor operations when choosing the proper interactive venue to deposit?
By all means, you should particularly pay attention to two fundamental segments of responsible gambling. First, invest your time and carefully read Terms and Conditions: This document stipulates everything you need to know and defines your obligations and rights while playing in a chosen venue. And secondly, always strive to play at parlors with a good reputation, originating from reputable jurisdictions. Simply put, do your due diligence: You may not win during your session, but you'll most certainly have fun — and that is what gambling is all about.
Join and start earning awards
You will immediately get full access to our online bingo forum/chat plus receive our newsletter with news & exclusive bonuses every month.
Join instantly with your social account