Interac Bingo Sites
Use Interac to make online bingo deposits & withdrawals. Learn how to register, fund your account and cashout bingo winnings! Payment method for Candian users.
Interac: Canadian Banking Method
Online bingo players from Canada might consider Interac to make seamless deposits and withdrawals. It is also one of the most popular solutions offered across most, if not all, sites that accept Canadian customers. Why? Well, it's a solution that over 30 million users have put their trust in, for payments across all kinds of industries, the online gambling industry included.
Why choose Interac as your online bingo payment method?
Interac is one of the most trustworthy and convenient payment solutions nationwide. This is a solution that was founded way back in 1984 and is operated by two non-profit organizations, Interac Association and Acxsys Corporation, where the participants are all kinds of merchants, financial institutions, banks, credit unions, payment and trust companies.
Even though it started out as a debit card system, offering a payment network that would serve any Canadian citizen, today it is a solution that offers them access to effortless transactions, both offline and online, via many services and products. Its Interac Debit, Cash and Flash services, and the most popular Interac eTransfer and Interac Online services, give users the chance to experience smooth shopping, cash withdrawals, money transfers, instant payments, point-of-sale terminal payments and ABMs, as well as transactions to various online bingo sites.
In terms of bingo, Interac eTransfer and Interac Online are the most frequently used services. The former facilitates the transfer of money from one user's bank account to another via mobile or online banking, using a mobile number or the email address of the receiver. The latter allows for the money transfer directly from a Canadian bank account. That's why these two services are supported by more than 200 leading banks in Canada, and as popular and trusted as it is.
Getting Started with Interac
Interac eTransfer and Interac Online does not require users to create special accounts to get started.
You simply need a Canadian bank account. Then, set up your mobile or online banking facility with your bank. Considering the solution is partnered with most banks in Canada, it's likely that you already have an account with one of them.
Making Online Bingo Deposits with Interac
This is one of the top and most often offered deposit options available for Canadians across international online bingo sites.
Upon registration, the bingo site may ask you to choose your default deposit method. If not, procced to the cashier.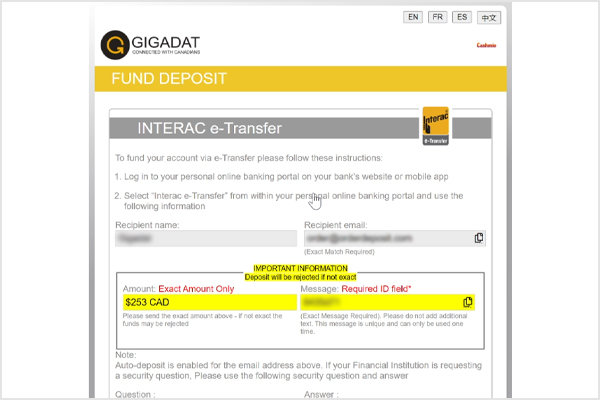 Visit the deposit section at the online bingo site.
From the list of accepted solutions, find Interac's logo and click or tap on it.
As the pop-up window appears, log into your online banking account.
Enter the amount of money you'd like to deposit.
Complete the transaction, and the money will instantly be available for you to start playing!
You should know that the bingo sites have incorporated the solution on their site, so you may not be asked for any security questions or answers. Usually, before you complete the payment, Interac will send a text or email with to verify security questions and answers. Enter the required details before you confirm your transaction. If you don't, the transaction will fail.
Requesting a Withdrawal
To make a withdrawal with this solution, the procedure is much easier. Interac eTransfer is often offered as an option. There are two reasons for that: one, the money will arrive on your bank account immediately after the bingo site approves your withdrawal request, and two, the process of withdrawing is a three-step procedure.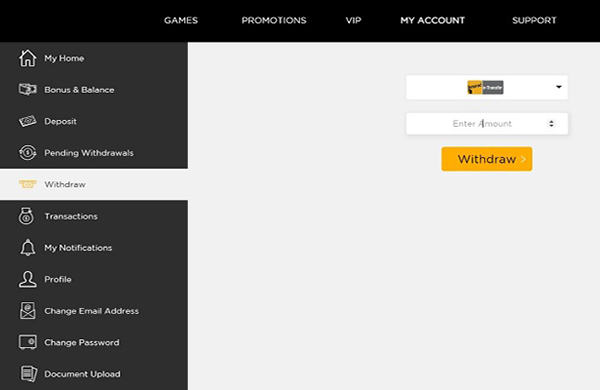 Select Interac eTransfer from the offered options for withdrawals.
Log into your online banking account and request the payment.
That's it! And if you've already deposited with it, you will even skip the step of logging into your online banking account. Once the bingo site approves your cashout request, the money will arrive in your bank account within minutes.
Restricted Countries
Interac is a national solution, available in Canada only. It can be used by online bingo players who have a registered account with a Canadian bank only.
Available Currencies
Considering Interac is a Canadian payment solution, the default currency is the Canadian dollar. Therefore, if you're playing at a Canadian online bingo site, you can play with your own currency without paying unnecessary currency conversion fees.
If playing at a global site that doesn't accept Canadian dollars, you can always use Interac eTransfer to make an international money transfer in a different currency. Of course, currency conversion fees would apply, depending on the participating financial institutions.
Applicable Fees
The best part about this incredible solution is that it is extremely cost-effective. If your bank is not a participating bank, which would be a rare case, your transaction would be subject to a fee. But, given the fact Interac has partnered with over 200 premier Canadian banks, this should be no issue. Considering it is run by non-profit organizations, the only fees that apply when you're transacting with it through a participating bank would be the basic transfer fees, which are minimal per transaction.
Therefore, considering its speedy and cheap transactions, this solution is often referred to as and compared to eWallets, even though it is much easier and convenient to use, as it transfers money directly to and from bank accounts, with no intermediaries involved and no lengthy registration procedures.
Helpful Links
Showing results for Virginia, United States
Interac Bingo Sites FAQs
Is Interac's website available in many languages?
Considering it is a solution available in Canada, where two official languages are spoken, its website is available in both English and French, so you can explore it in whichever of the two you prefer.
Does this solution offer Customer Support?
Sure. In case you have any questions about how it works, make sure you explore the FAQs page on its website first, as it is quite thorough. But, if you wish to, you can also contact the Customer Support agents via the on-site contact form or via email.
If I want to cancel my transaction, what should I do?
You should know that transactions with this solution are irreversible, so you cannot cancel them. Take care when requesting a deposit or a withdrawal. Depending on the banks involved, they may be willing to return the transaction at your request. Keep in mind that this could cause issues with your Interac or online bingo accounts.
Is the transaction fee fixed or it can increase if I make a bigger deposit?
Although the transaction fee is fixed, it won't increase based on the amount of your deposit or withdrawal.
Do any transaction limits apply I should know of?
When it comes to limits, the solution does not impose any, but your bank and your online bingo site might. Therefore, when requesting big deposits or withdrawals, verify the rules and policies for both the bank and bingo operator. Please note that seme bingo sites limit withdrawals when it comes to progressive jackpot prizes. This could mean you'll receive your payout in several installments.
Join and start earning awards
You will immediately get full access to our online bingo forum/chat plus receive our newsletter with news & exclusive bonuses every month.
Join instantly with your social account