Apple Pay Bingo Sites
Apple Pay Review ➤ Quick & convenient payment method for online bingo players. Secure banking method for iOS users. Secure + instant deposits and withdrawals.
Depositing Across Bingo Sites with Apple Pay
Technology is getting more and more advanced each year, and in a world of innovation, people's lives have been greatly facilitated and the quality of life has improved. The different gadgets and devices we have at our disposal today have been quite useful in every sphere of our lives, be it communication, work, home-related stuff and, of course, online payments.
Thanks to technology advances, the online gambling industry has also improved, allowing players to get access to their favourite games faster and more effortlessly, as they can enjoy them across any device, using many convenient, innovative payment methods. One tech company that stands out from the rest and has really revolutionized the world as we knew it is Apple. This is one of the most commercially successful and popular tech companies across the globe. Not only has it created the world's best laptops, tablets and smartphones, but has also created its own, proprietary payment solution, to help its users get seamless online banking. Why is Apple Pay a solution to use across online bingo sites?
About Apple Pay
Launched in 2014, Apple Pay is an online payment solution created by the leading tech company to serve all Apple users looking for convenient, effortless and above all, safe transactions. Any user of an iOS device can use it for facilitating their online banking experience and make everyday purchases and payments with just a few clicks or taps on their mobile and desktop devices. The beauty of it is that, contrary to Apple's sleek new card launched in 2019, the Apple Pay solution can be used for online gambling transactions. This solution functions like the normal eWallet, except, it is only available to iOS users. The payment service allows you to make effortless and cashless transactions all across the globe, as long as you're connected to the internet. Thanks to it, you can forget about credit cards, banks accounts and cash, as you can pay with just a few clicks and taps on your device, across many websites, land-based locations and apps. Since it collaborates with VISA, MasterCard, American Express and all eligible EFTPOS, you can rest assured that you can use it in more places than you can imagine. The cards are issued by thousands of participating financial institutions and banks Apple has teamed up with to offer the eWallet services.
As far as the security of your money goes, you can rest assured that this is a perfectly safe solution to use. Privacy and security are at its core. While your card number is never stored on your device or on Apple servers, each transaction you make with it is marked with a device-specific number and a unique transaction code the company uses to track the transaction. Therefore, while no info is shared with merchants, or in our case, online and mobile bingo sites, the transaction is still being tracked and cannot end up in a different place.
Your transactions are, therefore, both private and safe, as the eWallet works as the intermediary, merely doing you the favour of connecting your chosen payment method and your online bingo site, without sharing any information. Add to that the fact that it uses two-factor authentication and the touch ID to ensure that the interface is protected even if you lose your device, and you can rest assured that all your confidential details are 100% secure.
How to Get Started with It?
There won't be any lengthy and annoying procedures to get started with Apple Pay, and that's one of the many advantages you get with it. You won't need to fill out boring applications to start using it, and as long as you have an iOS device, version 10 or later, you can start using it right away.
As long as you do, you would need to check whether you have a credit card that the solution supports. As mentioned, though, you probably have one, as the company has partnered with thousands, the leading banks and financial institutions all across the globe, to ensure that you have at least one eligible card to get started with it.
Next, you would need to set up your eWallet account. If you have one of the latest iOS device models, you will already have the Apple Pay app installed on your phone. So, do the following:
Go to Settings > Wallet & Apple Pay
Or, go to the Wallet App
Enter the card number you're using and follow the instructions.
You can enter as many supported cards as you want.
Wait for the issuer's approval, and start using the eWallet.
Once your app is set up and filled with money, for that matter, you can use the eWallet via any iOS-powered device, even Apple Watches. The app links all your iPad, iPhone, Mac and Apple Watch devices, so you can get impeccable online banking, via any of the devices you own.
Funding Your Online Bingo Account with Apple Pay
Even though an eWallet, which is normally a solution that can be used for both deposits and withdrawals, Apple Pay is still not a withdrawal solution as of yet. The company has not yet delivered this service, but considering it is a leader in innovation and has global success, once it realizes that withdrawals with it are important, it would probably launch a new feature to the app that would allow for you to make safe and fast withdrawals from online bingo sites. For now, you would need to look for an alternative to cash out your winnings.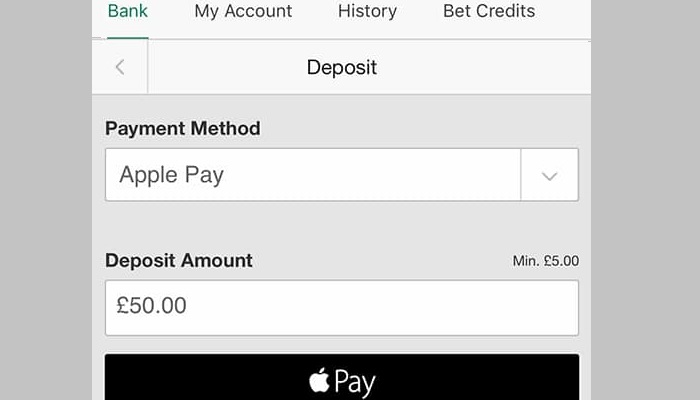 To make a deposit with it, however, you would first need to find an online bingo site that accepts Apple Pay. As soon as you do, you'll see that depositing with this solution is as intuitive as it gets. Create your online bingo site account, and then do the following:
Go to the bingo site's Banking/Deposit/Cashier section.
Select Apple Pay as your payment method.
In the new window that appears, add the amount of money you wish to deposit.
With the Apple ID and Touch ID on your iOS device, validate the transaction.
Once you do, the money gets on your online bingo site account in an instant.
Start playing your favourite bingo variants!
As you can see, depositing with this incredible solution is more than easy. You don't need to worry about when the money will arrive on your online bingo site. You don't need to log in to your eWallet, and all you need is to make a few taps on your device to make a deposit. Therefore, all you need to do is spare a few minutes of your time to successfully fund your online bingo site account and start enjoying your preferred bingo games right away!
Apple Pay Bingo Sites FAQs
Which currencies can I use to transact with the eWallet?
Considering this is not a traditional eWallet, it does not arrive with a pre-set list of accepted currencies but allows you to transact with any currency you're using when transacting with your usual credit card. Therefore, you may be able to deposit with your own currency.
Do fees apply when making deposits with it?
The beauty of this eWallet is that you can use it for free, so as long as you're an iOS device user, you don't need to pay any fees for transacting with it. However, keep in mind that standard fees may apply for using the services of the bank and other financial institutions that have issued your credit card.
Do I get access to its Customer Support service?
Of course. Whenever you have a question or experience a problem while using the eWallet, you would have Apple's world-class Customer Support service at your disposal, therefore, on its official website, visit the Support page and get help 24/7
Does the eWallet impose any transaction limits I should know of?
No, the eWallet does not have a limit on how much you can transact with it. However, your bank or your online bingo site might, so before you choose to play with it on your online bingo site, make sure you check for any transaction limits
Do many online bingo sites accept Apple Pay?
As of now, there are not that many online bingo sites that accept it, but you can rest assured that that won't be the case for long. Many bingo operators are showing interest in this solution, on players' demand.
Should I expect the company to introduce the withdrawal option any time soon?
Given Apple's reputation, history and the revolution it makes left and right, it should come as no surprise if you see it launch the new feature soon. The company listens to its users and makes sure it is one step ahead of everyone, therefore, it should introduce the option at some point. Until then, make sure you choose another eWallet or cryptocurrency in order to cash out your online bingo winnings, as these are excellent alternatives to it.
Join and start earning awards
You will immediately get full access to our online bingo forum/chat plus receive our newsletter with news & exclusive bonuses every month.
Join instantly with your social account