Euteller Bingo Sites
Euteller Review ➤ Finnish banking method for secure deposits + withdrawals ✓ Online bingo sites accepting Euteller ✓ Siirto Mobile App ✓ Transactions in Euros
Depending on the country availability, online bingo players have different methods to choose from, and those who are lucky to use Euteller, get to experience some smooth online banking. This is a solution available in Finland, which allows Finnish players to enjoy fast, safe and secure deposits across online bingo sites. It is essentially a payment processing service that users all across the nation trust in and consider it one of the best methods in the country. Users can also download the mobile payment service known as Siirto. Why choose Euteller as your online bingo payment method?
About Euteller
Euteller is, as mentioned, an online payment processing service catering to users from Finland. It is basically a solution that connects the users, their banks and their chosen merchants, or in our case, their chosen online bingo site.
It functions on the principle of a facilitator, a service that allows users to get quicker bank transactions, but it holds the proper licenses and it is regulated by the Financial Supervisory Authority of Finland, therefore it is completely legit and safe to use.
To ensure users get the proper protection, the solution implements two-factor authentication and uses its own SSL encryption as an added layer of security. However, since it has partnered with leading banks in the country and also relies on their security measures, you can rest assured that your funds would be safe with it. On that note, Euteller collaborates with eleven leading Finnish banks.
As such, since its launch in 2007 up until today, it has processed over 15 million payments. Thanks to its dedication and efforts put into helping users move money online in the most effortless way, and its around-the-clock Customer Service, it gained an impeccable reputation on the market and it got the attention of millions of Finnish users.
Considering it is such a convenient and easy-to-use solution, it became particularly popular across the online gambling industry, online bingo sites included. Go through as many online bingo sites accepting players from Finland as you can, and you'll see that it is accepted across most, if not, all of them. Hundreds of online bingo, casino and sportsbetting sites targeting Finnish players accept it, so let's see how to get started with it and use it to fund your online bingo experience.
Getting Started with Euteller
Considering it is an online payment processing service, partnered with the leading banks in Finland, this is a third-party facilitator that connects you, your bank and your chosen online bingo site. Therefore, it is not an eWallet for which you'd need to register an account and fund it with money before you can use it. No, it works on a simple principle, using your online banking platform. Even if you don't have a credit or debit card, or you just don't wish to share card details with your operator, you can use Euteller and enjoy impeccable online banking.
The only thing you need to handle beforehand is to have set up your online banking profile. If you haven't done that, just visit your bank and ask for instructions. On that note, you need to have a bank account with one of the eleven eligible banks in order to use Euteller's services.
As long as you have these two covered, you'll be ready to start using this solution right away. As you will see when depositing, you won't need to register separate accounts to use it, you won't waste time logging in across two different accounts, but you can request a payment from your own online banking profile.
Alternatively, users can download the mobile app, Siirto, and conduct secure transactions using only a phone number.
What Euteller does is facilitate the whole money transfer process. It makes sure your transaction goes through smoothly and near-instantly so that you can start playing your favourite bingo games right away.
How to Deposit with Euteller at Online Bingo Sites?
Considering you won't be wasting precious time creating a new account and pre-filling it with money, you would need to go through a few simple steps and you'll successfully deposit at an online bingo site with this solution. However, you know that you first need to find the perfect online bingo site for you. You could do that by exploring several options, and you'll see that this solution is accepted across most leading online bingo sites. Therefore, finding one that suits you would be an easy task.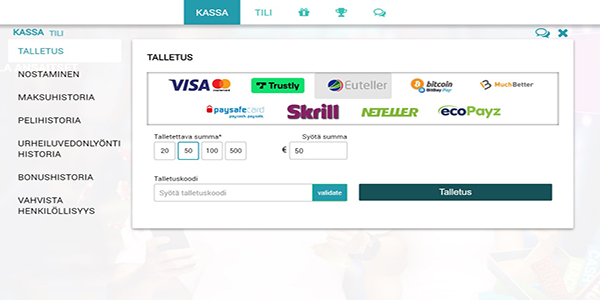 After you create your account with your chosen online bingo site, you would need to do the following:
Head over to the bingo site's Cashier/Banking page.
From the list of accepted methods, find Euteller's logo and click or tap on it.
You'll be redirected to your online banking profile login page.
Enter your credentials to log into your online banking profile. 
Specify how much you would like to fund your online bingo account.
Confirm the payment with your PIN.
Watch the money arrive on your online bingo balance in an instant.
How to Withdraw Winnings with Euteller?
Sure you've noticed by now that we're only mentioning deposits with Euteller. That's because this solution cannot be used the other way around, for withdrawals.
Sadly, you can only use it for deposits, since the company behind it does not process payouts from online bingo sites at the moment, even though things may change in the future.
At the moment, though, you could make use of its partnered mobile payment solution, Siirto. It is quite popular across online bingo sites and among Finnish players, and pretty convenient for withdrawals. In fact, there are many bingo sites accepting it, so you might consider it to withdraw your winnings with. Or, you can use an eWallet as another alternative to cash out your winnings from an online bingo site.
Currencies
As a solution available in Finland, the only currency it processes transactions in euros. It does not support other currencies.
Since it is connected with banks directly, and the euro is the official currency in Finland, you can only use the euro to make a deposit at an online bingo site.
Fees
There is one standard, fixed fee you would need to pay when transacting with Euteller. Regardless of the amount of money you'll be sending, you must pay a fee.
Bear in mind that, if you join an online bingo site with a different default currency than the euro, you would need to pay currency conversion fees.
Restricted Countries
It should be clear to you by now that Euteller is only available in Finland. Therefore, if a player from any other country, you cannot use it.
This is a solution partnered with leading Finnish banks, offering its services to those banks' customers. So, only Finnish online bingo players can use it. If playing from any other country, you better start looking for a different solution to consider, because Euteller is out of your reach. 
Helpful Links
Euteller Bingo Sites FAQs
In which languages is Euteller's website available?
Considering it is a solution catering to users from Finland, naturally, its website is available in the Finnish language (Suomi). But English is also an option, just in case, as the globally-spoken language.
Do any other fees apply to Euteller deposits across online bingo sites?
Before you start using it, make sure you check with your bank whether it charges some additional fees. That shouldn't happen, but still, get informed. Also, make sure you check with your online bingo site, whether additional deposit charges apply. Some bingo sites charge extra fees, but when they do, they make sure they share that information with their players.
Does Euteller have a mobile app?
Yes. The company launched its Siirto app allowing users to conduct real-time transactions using a mobile phone number. It's also supported by the majority of Finnish financial intuitions.
Do Euteller transaction limits apply?
Not on its part, no, and no limits apply on the banks' part. However, on the online bingo site's part, that's another story. Online bingo sites do set limits when it comes to the amount you can deposit and withdraw. Rarely does a bingo site allow any amount to be processed. Therefore, you would need to check with your chosen operator to see how much you can actually deposit at one time using this solution.
Does Euteller offer its own Customer Support or should I call my bank if problems occur?
It does offer its own Customer Support team. You could visit its official website and click on the Contact Us page, to fill out the on-site contact form. You'll need to enter your name, email and the subject of the matter, as well as write your message so that the team could know what they're dealing with. But, the team is also available from 8:00 to 16:00 (EET) via the number +358 (0) 400 564008 and the email address support@euteller.com. Whenever you need help, make sure you get in touch with its friendly agents.
Join and start earning awards
You will immediately get full access to our online bingo forum/chat plus receive our newsletter with news & exclusive bonuses every month.
Join instantly with your social account