GiroPay Bingo Sites
GiroPay Review ➤ Fund your online bingo account + cashout winnings securely with GiroPay ✔️ No Fees ✔️ Transactions in Euros ✔️ Available in Austria + Germany
Giropay Online Bingo Sites
Online bingo players often find themselves at a crossroads, not sure which payment solution to use to fund their accounts and cash out their winnings, but Giropay is one that could solve the dilemma. This is a solution that is available across German and Austrian online bingo sites, catering to players from the two countries the best way possible. It allows for safe and secure online money transfers, in the fastest way possible. Why choose to use Giropay as your online bingo payment method?
About Giropay
Giropay is a payment service founded in Germany, in 2005. It was the solution created by the Postbank, the German Savings Banks Group and the Cooperative Financial Services Network. When it first started out, it only catered to users from the country. It offered them the safest online banking since it developed innovative verification and secure payment solutions.
Over time, the brand firmly established itself in e-commerce and the German e-government, partnering with over 1,500 banks and financial institutions. It reached 85% of the German market, and in the decade it operated, it managed to attract over 45 million users, processing millions of transactions every single month.
That's how and why in 2014, it signed the first partnership deal with another national European company, offering similar services. It partnered with EPS-Überweisung, its counterpart based in Austria. The two companies implemented the interoperability of their two products and began offering their users the opportunity to use them both via one single interface.
The beauty of Giropay is that it is incredibly easy to use and quite convenient for quick online transfers. Since you don't really have to create an account with it, but you need to have a bank account with one of the over 1,500 participating banks, all you need to do is fill out a few fields at the merchant's site and you'll be done with it. Considering the solution is based on the well-known direct online banking principle, it allows for safe and seamless online transactions.
Being so easy and convenient to use, naturally, it managed to get its place on the accepted methods lists across the best online bingo sites. Players from Germany were demanding operators to put it on the list, and operators listened. That's why today, you'll find Giropay across almost all online bingo sites. It is quite popular, and if you're a German player, you'd probably want to know how to get started with it and use it. Stay with us to learn the steps you need to make.
Getting Started with GiroPay
The best part about Giropay is that you don't need to create a separate account to use it. A bank account with any of the participating banks would suffice. Sure, you would need to have set up an online banking account with your bank, if you want to make online transactions with this solution. But to actually complete a transaction, you won't need to visit your bank.
What this solution does is conducting a bank transfer in real-time. That's the main benefit you get with it, because, usually, bank transfers can get delayed. But with Giropay, they are processed instantly, without the need of filling out forms and wasting precious time.
In just a few clicks or taps on your device, you could request a transaction. What this solution does is facilitate transactions for you, and uses your bank's secure online banking system to protect your money. As an added layer of protection, it also uses its own 256-bit SSL encryption, so you can rest assured that your transactions would not only be convenient but also secure.
Finally, you should know that to second-confirm and validate the transaction, Giropay uses TAN (Transaction Authorization Number) and PIN codes, provided by your bank. It actually processes the transaction only when you provide these codes, to ensure that you're the one who requested and authorized the transaction.
How to Deposit with Giropay Across Online Bingo Sites?
As you can see, getting started with Giropay is an effortless process. No registration is needed, and in just a few taps, you're making transactions. Now, to use it across online bingo sites, you would first need to find the proper site for you which accepts it. Since, as mentioned, it is a solution accepted across most online bingo sites targeting users from Germany and Austria, you should find the site for you to join in no time.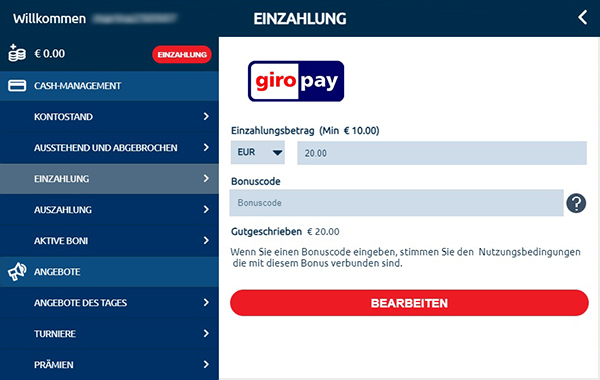 After you create an account with your chosen bingo site, it is time to make your first deposit. Just follow these steps:
Head over to the bingo site's Deposit/Cashier page.
From the list of accepted methods, find Giropay's logo and click or tap on it.
From the list of participating banks, choose the bank you have an account with.
Enter your credentials and log into your online banking account.
Specify how much you wish to deposit.
Confirm and authorize the transaction with the PIN and TAN codes.
The deposit will arrive on your online bingo site balance in a few seconds.
You should know that transactions of up to €30 do not require authorization with the TAN code, but only transactions above that amount. Therefore, if a low-roller, looking to make smaller deposits across online bingo sites, the process would be even easier for you.
Nevertheless, the solution will send confirmation of the transaction, and the money will arrive on your balance.
How to Withdraw Winnings with GiroPay?
Fortunately for you, withdrawals with Giropay are an option, so you can use the same solution for both funding your account and cashing out your winnings.
You would need to go through the same procedure as described above for funding the account, only this time, the transaction is processed in the opposite direction, with the bingo site sending your winnings to your bank account. The cashouts with this solution are pretty quick, compared to other solutions of its type. And that's why it is so popular among German and Austrian players.
Currencies
Considering it is a solution available in Germany and Austria only, you need to have a bank account with one of the participating banks in order to transact with it, and the only currency accepted in these two European countries is the euro, you can transact with it using euros only.
Other currencies are not accepted, therefore if you're playing at an online bingo site with a different default currency, be prepared to pay currency conversion fees.
Fees
Giropay provides its services to users completely fee-free. That's right, this is a solution that does not charge users any fees, so you can use it for as long as you want, and you won't need to pay a cent.
However, the solution advises users to check with their bank, whether they would charge any fees for using the Giropay service. If yes, these fees are normally with a fixed transaction fee, plus an additional percentage for account management.
Restricted Countries
As you must have gathered by now, this solution is restricted to Germany and Austria in terms of country availability.
It is more used in Germany since it is a solution based there, but thanks to the partnership with the Austria-based EPS, it is also used by Austrian users. If playing from any other country, you won't be able to use it.
Helpful links:
GiroPay Bingo Sites FAQs
Is Giropay available in the German language only?
Even though the solution is German-based and available in the German language, it also offers its website in the English language.
Who is eligible to use Giropay?
To be able to use it, you must be 18 years old or older, have a bank account with one of the participating banks and have set your online banking account. You must also have the corresponding PIN and TAN codes to prove your identity and verify your transactions.
Does the solution offer a Customer Support service of its own or do I need to contact my bank?
While you can always contact your bank for any transaction-related questions, you also have Giropay's Customer Support at your service. You can fill out the on-site contact form, submit it and wait for your answer, or you can call the team via the hotline number +49 (0) 69 24 75 38 2211. The team is available during business days, from 8 am to 10 pm, and from 8 am to 6 pm on public holidays and weekends. Plus, you have a thorough FAQs page that you can explore if you wish to find your answer by yourself.
Do I need to share any personal data to pay with Giropay?
No. Since the solution does not require account registration, your personal data is not necessary. All you need to validate your identity are your PIN and TAN codes, and the solution will know that you're the one using it, via your bank account details.
Do all banks allow TAN-free payments if they are below €30?
As a matter of fact, no. You would need to consult with your bank to see whether it offers TAN-free payments below €30. The bank decides when a TAN is necessary and whether it should be, but remember that the TAN code is for your own good and your own protection and security.
Join and start earning awards
You will immediately get full access to our online bingo forum/chat plus receive our newsletter with news & exclusive bonuses every month.
Join instantly with your social account