InstaDebit Bingo Sites
Online bingo sites that accept INSTADEBIT! Payments made directly from Canadian bank accounts. Deposit and withdraw to play bingo. Trusted banking method!
Geared for Canadian users, INSTADEBiT is one of the most convenient and user-friendly online payment methods. It is one of the most popular payment solutions in the country since it allows users to make effortless transactions across online bingo sites directly from their bank account. It also accepted for withdrawals, therefore, it is a one-stop solution you can use to both fund your account and cash out winnings. What more should you know about it? Stay with us to learn why this is the solution you need to kick start your online bingo experience!
About INSTADEBiT
When you first learn about the benefits it gives, you would think that INSTADEBiT is an e-wallet. That's because it allows you to transact across many online platforms without sharing any of your banking information with them. It's not an e-wallet since you cannot store funds from your bank account directly on it. It is actually easier and more convenient to use than e-wallets.
To start with, this is a payment processing service, which works like paying online with a personal cheque, All you need to do is sign up for an account, and in a flash, make online payments using your bank account. All that's required is a Canadian bank account. 
INSTADEBiT is supported by hundreds of online platforms as one of the best methods in Canada. Why? Well, the company has been active for nearly two decades having launched in 2003 by International Solutions Ltd. It later opened an international branch in Malta, INSTADEBiT Global, but it is still headquartered in Toronto.
Across the online gambling industry, those online bingo sites that target Canadian players, this solution is a real hit. It is the solution that connects the operators, the players and their bank accounts. Most importantly, it is a solution that can be used for both deposits and withdrawals. Stay with us to learn how to get started and use this trusted method to fund your bingo account.
Getting Started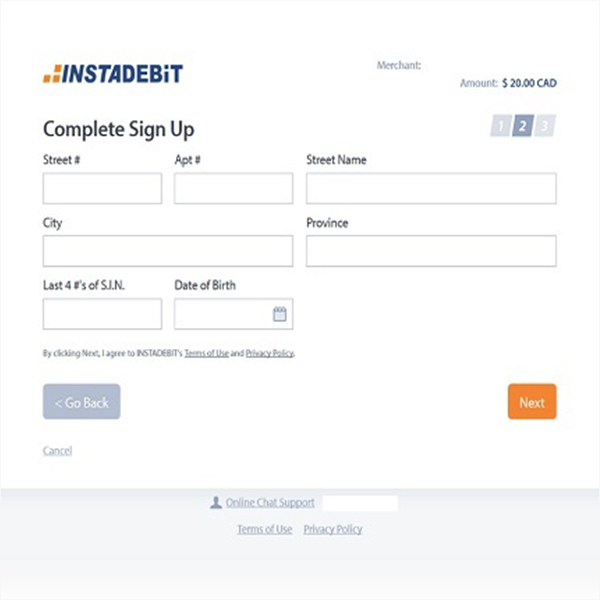 INSTADEBiT is a payment processing service available to all Canadian residents who have an account at any Canadian bank or financial institution. You must be 18 years old or older to use its services.
Now, upon registration, you would need to enter some personal details, your bank account details and the last four digits of your Social Insurance Number. That way the service will protect your payments and confirm your identity. As soon as your account is ready, you can log into it any time to verify your bank account, change any personal information associated with the account, accept refunds or withdraw funds and get an insight into your complete transaction history.
However, the best part with this solution is that you don't need to pre-register if you don't want to waste your precious time. You can create your account upon your first transaction and use it right away. Learn how!
Using INSTADEBiT to Deposit 
Regardless of whether you've pre-registered for an INSTADEBiT account or not, you will see that the depositing process across online bingo sites is pretty easy and straightforward. Visit the Cashier section and choose the INSTADEBiT's logo.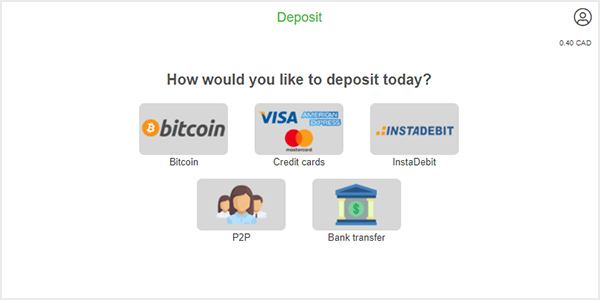 Making an online bingo deposit with INSTADEBiT:
If not pre-registered, enter your name, email, address, the last 4 digits of your SIN and the required bank account info (found at the bottom of your personal cheques: the 3-digit financial institution number, the 5-digit bank transit number and the 12-digit account number).
With that your account would be created, so just specify how much you wish to deposit.
Approve the transaction and watch the funds being deposited on your online bingo account.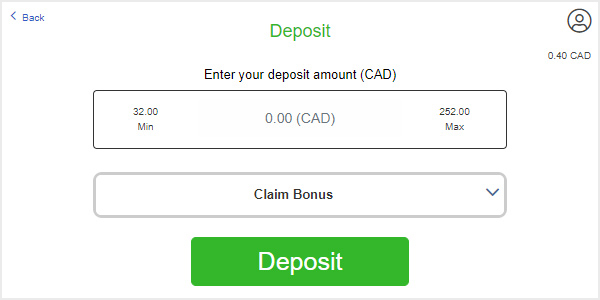 You should know that in about 3 to 5 days, you will receive a transaction on your bank account from the service. You would need to locate the amount deposited, log in to your INSTADEBiT account and click on the "Verify Bank Account" link, to verify your bank account.
How to Request a Withdrawal?
Withdrawals with this solution will be recorded as refunds, which are processed within 3 to 5 business days. No, your cashouts won't be instant, but this service is really something.
After you receive the withdrawal, you can use it to make other purchases through the service, or you can log in to your account to transfer your winnings to your bank account.
As far as the withdrawal procedure goes, just choose it from the Withdrawals section on the Cashier page, and log in to your INSTADEBiT account. Specify how much you wish to withdraw and send your request. Then, simply wait for the bingo site to approve and send the transaction.
Accepted Currencies
INSTADEBiT currently supports Canadian dollars and US dollars. As a Canadian player, this means that you don't necessarily need to be making transactions across online bingo sites with Canadian dollars only, but you can use US dollars across those sites where the default currency is the US dollar.
The solution allows Canadian players to make payments in both Canadian and US dollars, so this is another yet benefit it can provide you with.
Allowed and Restricted Countries
INSTADEBiT is a payment solution available to Canadian residents only. Even though it has offices across the globe, it is still a solution that can be used by residents of Canada.
Applicable Fees
Registration of your INSTADEBiT account is free, but some fees apply.
Users are charged to make a payment to an online bingo site from your bank account. but If there are funds in your Balance Account, this fee won't apply.
Upon withdrawals, there will be no charge to transfer these funds to your Balance Account. However, there is a fee to transfer the funds from your Balance Account to your bank account.
You may be charged a fee by your bank for NSF transactions, and currency conversion fees would apply, depending on the day's rates.
Helpful links:
InstaDebit Bingo Sites FAQs
What is the Balance Account and how do I use it?
As introduced, INSTADEBiT is not an eWallet, and you cannot fund your account with funds from your bank. Therefore, you cannot actually fund it with money, but you can directly pay and deposit via your bank account through it. However, when an online bingo site or any other merchant sends you money to it, the money arrives on your Balance Account. From here, you can either use it for future payments (online bingo site deposits) or transfer them to your bank account, to cash them out as it pleases you.
Does the service offer Customer Support I could contact in case of a problem or a question?
Sure. The service gives you access to a Customer Support team at your disposal to help whenever you need it. You can contact the agents via Live Chat, the email address support@instadebit.com and the toll-free phone line 1-877-88DEBIT, available 24/7/365!
How long will the withdrawal take overall?
Well, considering the online bingo site needs to process the request and approve it, which could take around 48 hours, and it takes 3 to 5 business days for the withdrawal to arrive on your INSTADEBiT account, you should be prepared to wait up to a week to get your winnings on your account.
What if the online bingo site sends the withdrawal in US dollars?
The withdrawal will arrive on your Balance Account in US$, and you can use it for further US$ payments via the service. But, if you wish to transfer the funds to your Canadian bank account, the withdrawal will be converted to CA$, for a currency conversion fee.
How can I make a deposit at an online bingo site with the solution if my bank account has still not been verified?
Well, your spending limit is temporary with the service, that is, until you verify your bank account. Immediately after creating your account, you are able to make deposits at online bingo sites up to that limit, but once you verify your bank account, the spending limit will be higher.
Join and start earning awards
You will immediately get full access to our online bingo forum/chat plus receive our newsletter with news & exclusive bonuses every month.
Join instantly with your social account