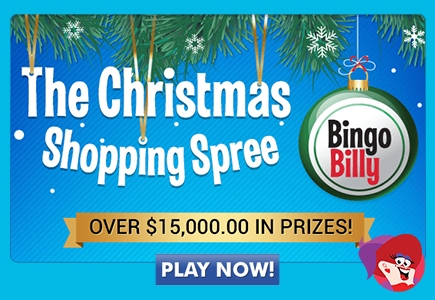 Now that Halloween is out of the way, it's time to jump right into Christmas festivities.
Bingo Billy
isn't wasting any time, having just kicked off its $15,000 Christmas Shopping Spree on November 1st! There will be no shortage of gifts, and there's no need to worry about where you fall on Santa's list (let's face it, we're all guilty of being naughty now and then), because everyone's eligible for a chance to win. Prizes don't just include cash, but techy goodies as well, such as laptops.
Bingo manager, Laura Chacon, explained, "Christmas shopping season is here and we're making it easier to get what you want. Come participate in our raffles for a chance to win cash and laptops for the holiday season."
How can you participate? Read on to find out! Players can partake in a laptop raffle every Tuesday, beginning November 7th and continuing through December 5th. A festive $2,017 cash prize raffle will be held on December 12th. To become eligible for the raffles, simply log into your account, opt in for the designated promotions, and provide the required details on the supplied form. Those having made a deposit during the month of October start off with a free entry! Between 1 and 250 additional entries may be earned for deposits between $25 and $500.
Kicking things up another notch, the site will also raffle $300 every day, with players earning one entry for every $25 deposited prior to the 8am, 4pm, and 12am ET raffles times. $100 is awarded for each raffle.
Bingo Promotions & Bonuses
Back to articles
Your feedback
Please enter your comment.
Your comment is added.