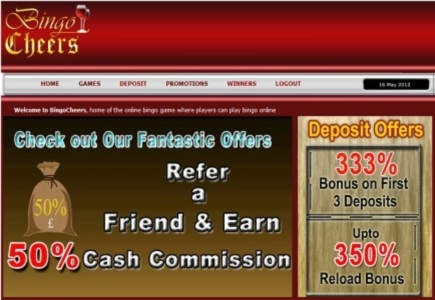 More and more player complaints about the bingo site

Former Bingo Castle, now Bingo Cheers seems to be dragging bad habits from its pre-rebranding history, as it has been mentioned a lot around message boards and online bingo forums recently, and not in a good way.

In fact, it seems like more and more players feel the need to warn their fellow forumers of dangers behind the sweet promotions offered by this online bingo site, which may make their playing experience a very sour one.

The complaints stated about Bingo Cheers include ridiculous wagering requirements which disable withdrawals, irregularities and disrespect of the rules stated in the site's loyalty program, late payouts and even refusal to make them, and many more.

All this makes the website a very unsafe place to play at, a venue which will have to turn a wholly new leaf and write a wholly new history if it wants to inspire any confidence whatsoever in its offering. The only question is: Will it do so or will it choose to keep going astray?
Bingo Society News
General Bingo News
Back to articles
Your feedback
Please enter your comment.
Your comment is added.
budala
08/21/12, 04:08:41 PM
yeah they are really bad. they refusing to pay my rightful winnings... thanx for this article