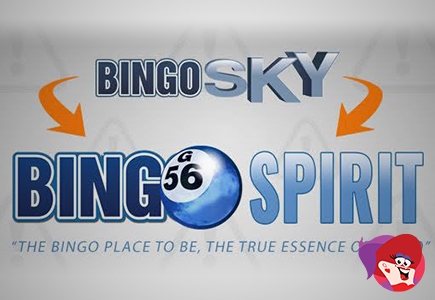 Vista Gaming has surprised us all with their recent rebranding announcement. For the past 13 years, we've known
BingoSKY
as, well, BingoSKY, but as of April 18th, the site will take a new name, BingoSpirit. Along with its new name, it will receive a new motto: "the Bingo Place to be, the True Essence of Bingo".
Before you panic, the only thing changing is the name. The software, games, etc. are not going anywhere. When you log in on Tuesday, the environment will be exactly the same except a new spirit-filled name.
Describing the change, Vista Gaming said, "This change is only to the site name, ownership and all games remain the same. This change will bring a positive new identity to the site, allowing the opportunity to revitalise the player experience and introduce the BingoSpirit playing experience to new players. Players will enjoy the same great bingo games, casino games and promotions that we offer across all our bingo brands and this rebranding also offers our affiliates new and exciting marketing opportunities to promote BingoSpirit, the Bingo Place to be, the True Essence of Bingo."
When accessing your bookmark or the BingoSKY website, players will be redirected to the new URL, resulting in as seamless a process as possible. This goes for the LBB Rewards program as well. If you've been considering signing up and taking the first-time depositor plunge, you can still claim your $3 LBB Chip reward without any hiccups.
Sister sites include Bingo Fest and CyberBingo, which complete the trio of the
top 3 bingo sites for US players.
General Bingo News
Back to articles
Your feedback
Please enter your comment.
Your comment is added.