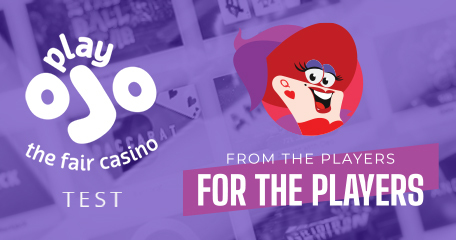 PlayOJO is known for its real money winnings and zero wagering (ever!), but is the bingo truly the fairest of them all? Three years after launching the online casino, the brand branched out into online bingo. Integration of the Pragmatic Play network of bingo rooms led to the introduction of PlayOJO Bingo to the UK in 2020.
A wealth of gaming titles is housed with exclusive bingo variants, plus, there are free bingo specials, BOGOF deals, something you see very often nowadays, and more importantly – big bingo jackpot games! Players are promised 10% back on bingo ticket purchases, real money winnings, no wagering on promotions or rewards and no maximum win cap on free spins either. So, we decided to put them to the test as part of our From the Players for the Players project. We are the first to go where no reviewer has been before, by putting our money where our mouth is, we are able to get first-hand experience of how online bingo operators operate!
Did Play OJO Bingo deliver all they claim to or did our reviewer find something amiss? Stick with us as we reveal all there is to know about this hugely popular wager-free bingo brand.
Tester of the day: kaylzwhite
Deposit date, amount and payment method: Monday 30th August, £150 via PayPal.
Withdrawal request date: Monday 30th August, £227.45p via PayPal.
Withdrawal received date: Monday 30th August, £227.45p via PayPal.
The Registration Process
Having already been registered for some years, our tester didn't need to complete the registration process. KYC and source of funds (SOF) was previously verified at the point of registration, so none of this info was required for this play session.
Initial Deposit
Before making a deposit, our reviewer wanted to make sure she didn't miss out on any exclusive offers, by heading to the 'kickers' tab. Kickers is where you'll find bonus spins package deals Friday to Monday, slots tourneys, free prize twister spins and the latest giveaways. Despite the numerous promotions, our tester did not claim any offers.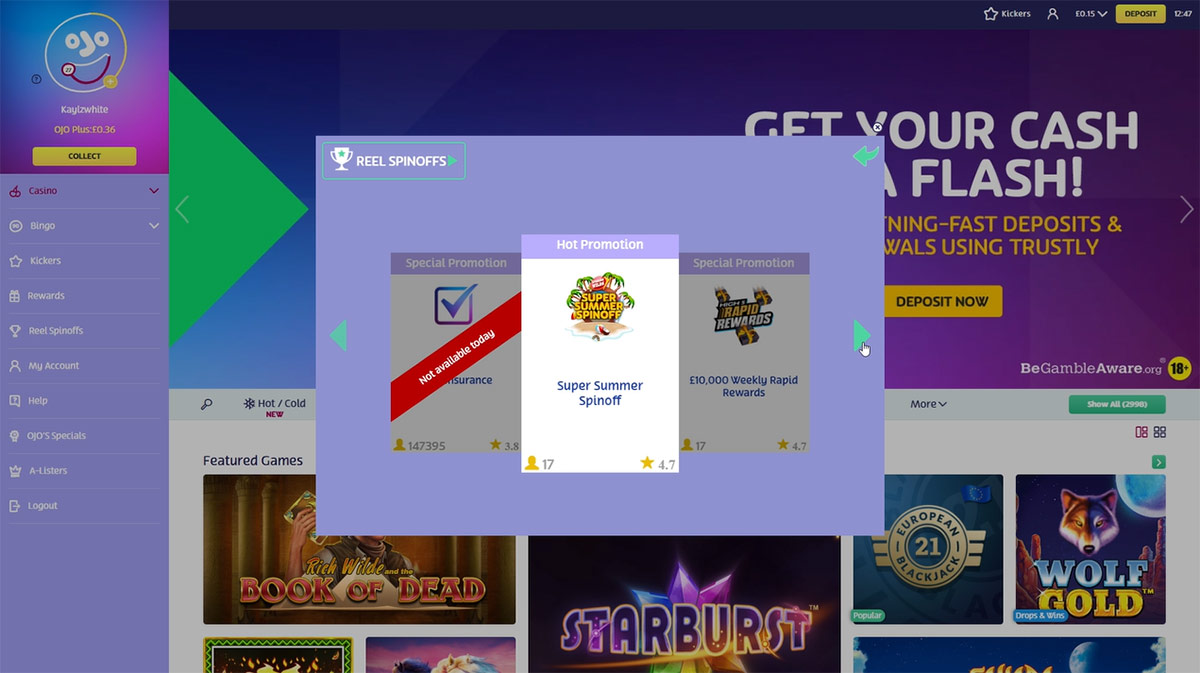 Deposits can be done one of two ways; first by heading to your account and making your way to the deposit option, or simply by clicking the big yellow 'deposit' button to the top of the page. Kaylzwhite had £150 to play with and decided to use PayPal as the funding source, as this almost guarantees withdrawals being processed on the same (working) day. The cashier includes a 'kicker' code box where unique codes can be supplied to claim offers, which the reviewer left blank.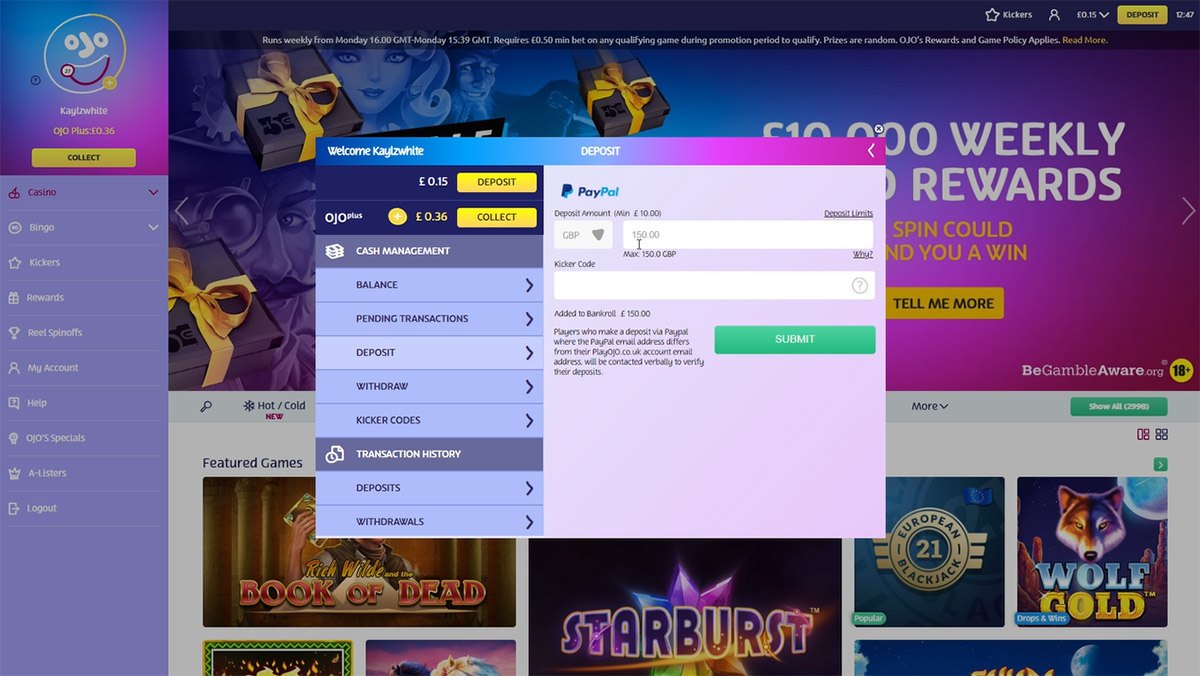 PayPal deposits now come with enhanced security measures meaning our tester needed to verify her identity. A special code was sent to her mobile phone within a few seconds and once inserted into the payment merchant's website, she was able to proceed with the deposit before being returned to PlayOJO Bingo with a fully funded account.
Gameplay
The Masked Singer Bingo is exclusive to PlayOJO Bingo and offers players a 1 in 7 chance of winning a free ticket with each game. Before selecting the number of tickets to play, you will need to decide on a character – if you can't choose, select the mask icon and it will choose one at random for you. Kaylzwhite opted for the sausage character and received a free bingo ticket instantly by guessing correctly!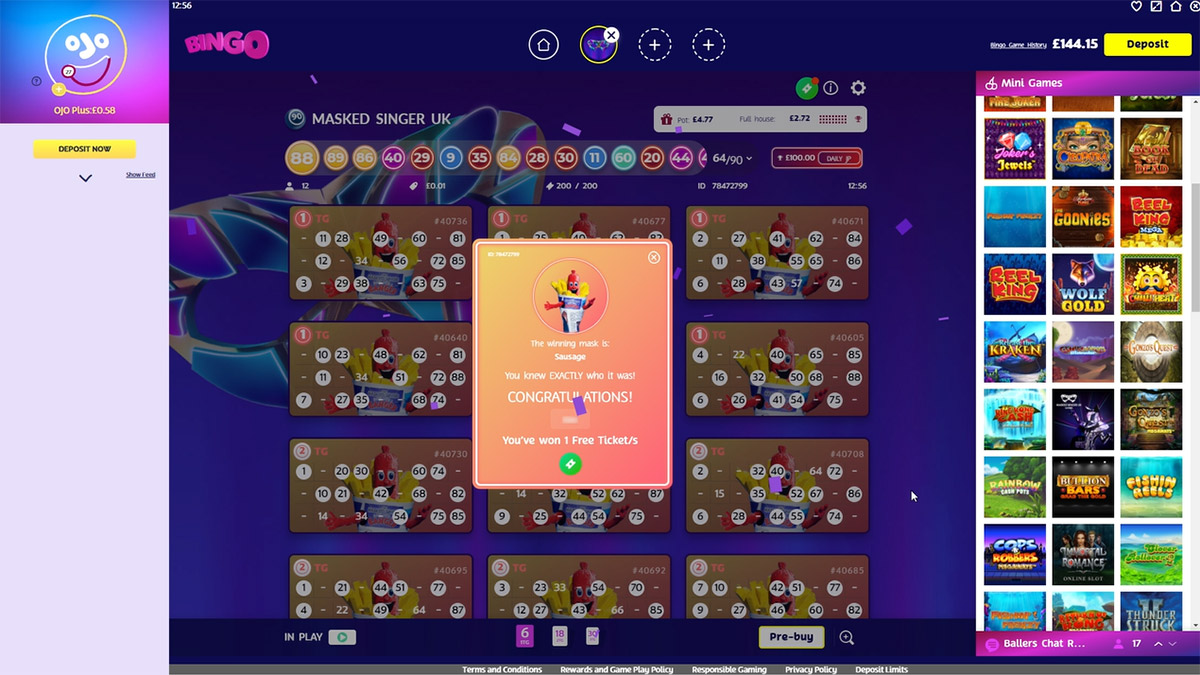 Side games are a little difficult to see, even when chat is disabled, as our reviewer found out. While playing in the 90-ball Amigo room, she decided to give The Masked Singer slot a try. Loading to the top right of the screen, the betting options, bankroll, wins and symbols on the reels were almost impossible to read, so after a few spins, she decided to stop.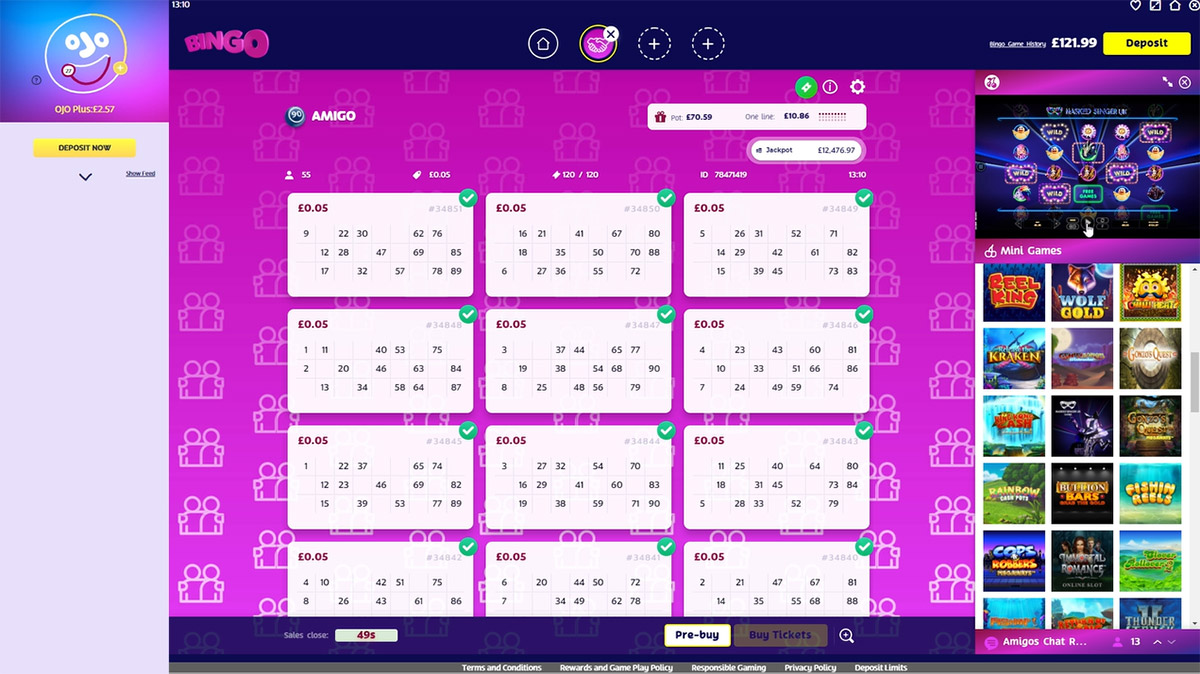 We should point out here that not all side games are affected – Mustang Gold by Pragmatic Play offers a zoomed in view, as do many other titles.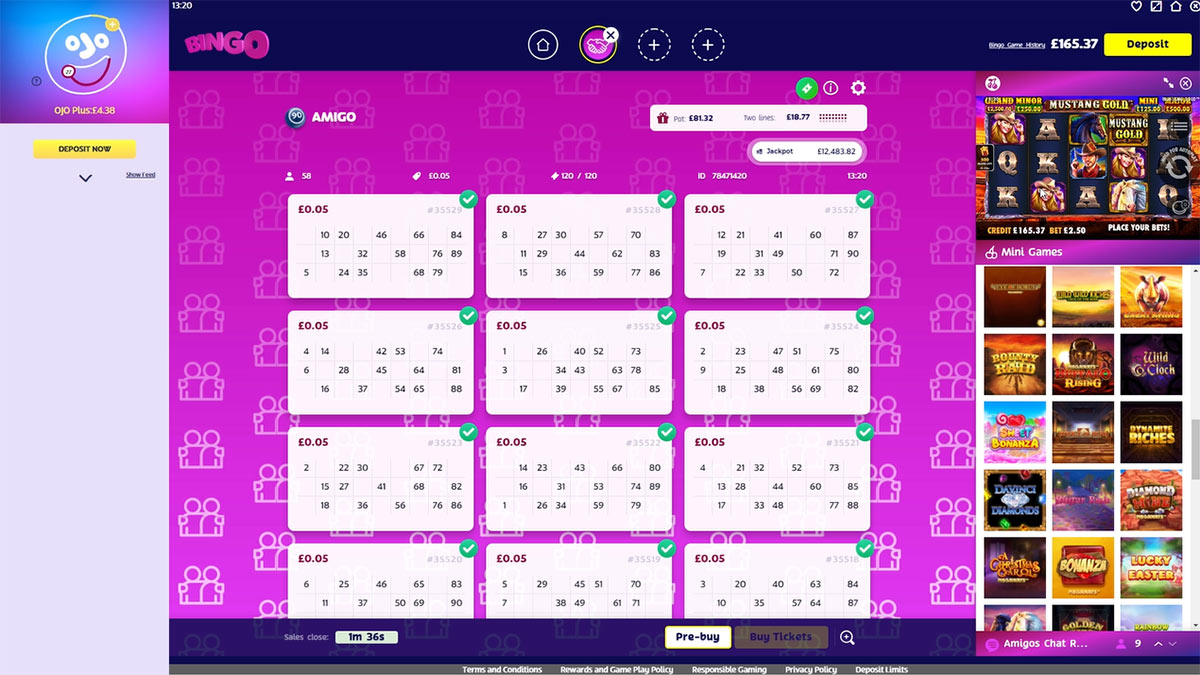 PlayOJO Bingo players receive 10% instant cashback on every bingo ticket purchased, meaning our reviewer had built up £7.10 just buy playing bingo, which was then used to play some slots. It's important to note here that the cashback is in addition to the OJO Plus funds, which come when playing video slots, table games and live casino games, and both are real money with no wagering! Claiming the reward was easy…by clicking the big yellow 'collect' button beneath the smiling OJO face on the welcome screen. The face records player loyalty progress and their current level. Kaylzwhite is currently level 27. New levels mean exclusive rewards such as free play.
Requesting a Withdrawal
Although sharing the two-line prize and winning a full house, our tester decided to see if she would have more luck with the slot games. Chilli Heat Megaways caught her eye, and it wasn't long before her 80p spin triggered the re-spin and win feature, landing her a hot win of £111.52p. With £227.45p in her account, she decided to make a withdrawal.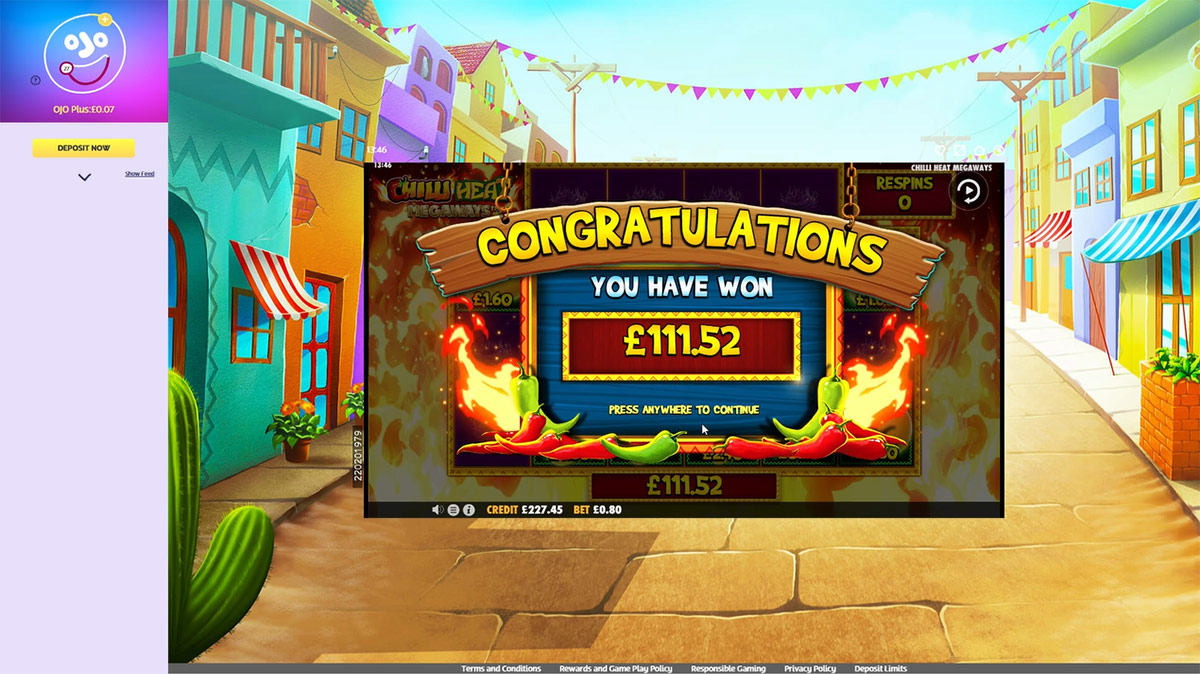 Heading to the cashier, Kaylzwhite chose PayPal to withdraw her winnings.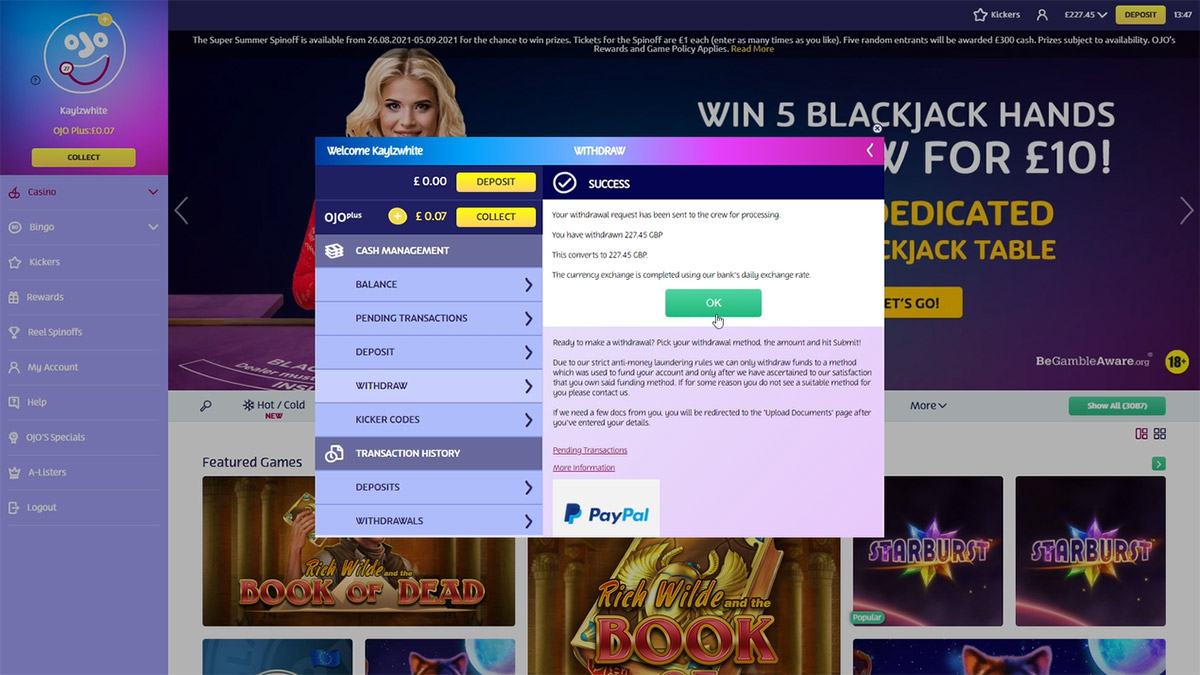 Within 5 hours, the withdrawal had been verified, processed and completed! The withdrawal request of £227.45p was credited to her PayPal account on the same day – Monday 30th August. All that was left to do was log into her PayPal and transfer her funds into her bank, a process that took just a few seconds!
How Does Play OJO Bingo Stack Up?
Bingo rooms are varied with features such as roll-on games, 1TG/2TG and even community prize pots. Some rooms may be a little on the quiet side, but that all depends on the time of day you log in. Live chat was not needed for this test, but our reviewer had noted that in recent months it had changed from instant live chat to a 'leave a message and we will respond in a few hours' format. Withdrawals are super-fast when it comes to PayPal and there are no fees either. What you see is what you get – a wager-free zone with no nasty surprises when it comes to terms and conditions!
This information concludes this extensive test as part of the project From the Players, For the Players. If you are a member of PlayOJO Bingo or consider making a deposit, we hope that this report was helpful. Feel free to drop by and leave a comment for other potential players!
From the Players for the Players
Back to articles
Your feedback
Please enter your comment.
Your comment is added.
Feelin froggy
09/15/21, 01:09:49 PM
Nice win Kaylz! The wager-free promotions and fast payouts take PlayOJO Bingo to the next level!
MadamMilly
09/15/21, 11:09:20 AM
Nice win there, congrats! Withdrawal went smooth and was super fast. Assuming the KYC is not too complicated and does not take very long. Overall good job!
Bixy
09/15/21, 11:09:50 AM
All of the stages were running smoothly, therefore, surely we are to try out our luck on PlayOJO Bingo :) It's great to know the withdrawal was processed promptly and without any charges. Well done!