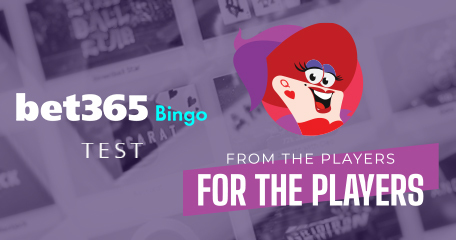 Bet365 Bingo, one branch of the Bet365 gambling tree, has been delivering online bingo services since the year 2000. With a long history in the industry, does this mean it's more reputable? How do they stack up when it comes to deposits, gameplay and withdrawals? Reading reviews is one way to find out, but nothing beats personal experience, which is why we decided to put them to the test, like many other bingo sites before!
Our exclusive From the Players for the Players is a new and unique way of being able to witness first-hand how operators handle deposits, gameplay and withdrawals, and in previous reports, we've uncovered some pretty revealing stuff that no other online reviewer has! Will playing at Bet365 Bingo be a breeze, or will our tester uncover a few surprises? Stick with us as we find out!
Tester of the day: EyeAmAWinner
Deposit date, amount and payment method: Wednesday 28th July 2021, £150 via PayPal.
KYC verification: existing account (previously submitted)
Withdrawal request date: Wednesday 28th July, withdrawal request of £50.29p via PayPal.
Withdrawal received date: Wednesday 28th July, £50.29p via PayPal.
As our tester of the day had been a member of bet365 for several years, she previously completed SOF and KYC verification. EyeAmAWinner logged into her account on Wednesday 28th July to put Bet365 Bingo to the test.
Being a frequent player, she was surprised to learn she would have to confirm her email address and date of birth before accessing to her account. Once supplying this info, she was then welcomed back with a pop-up detailing an upcoming bingo promotion, which was swiftly followed by a reminder of her balance (£0.00) with a quick link to deposit.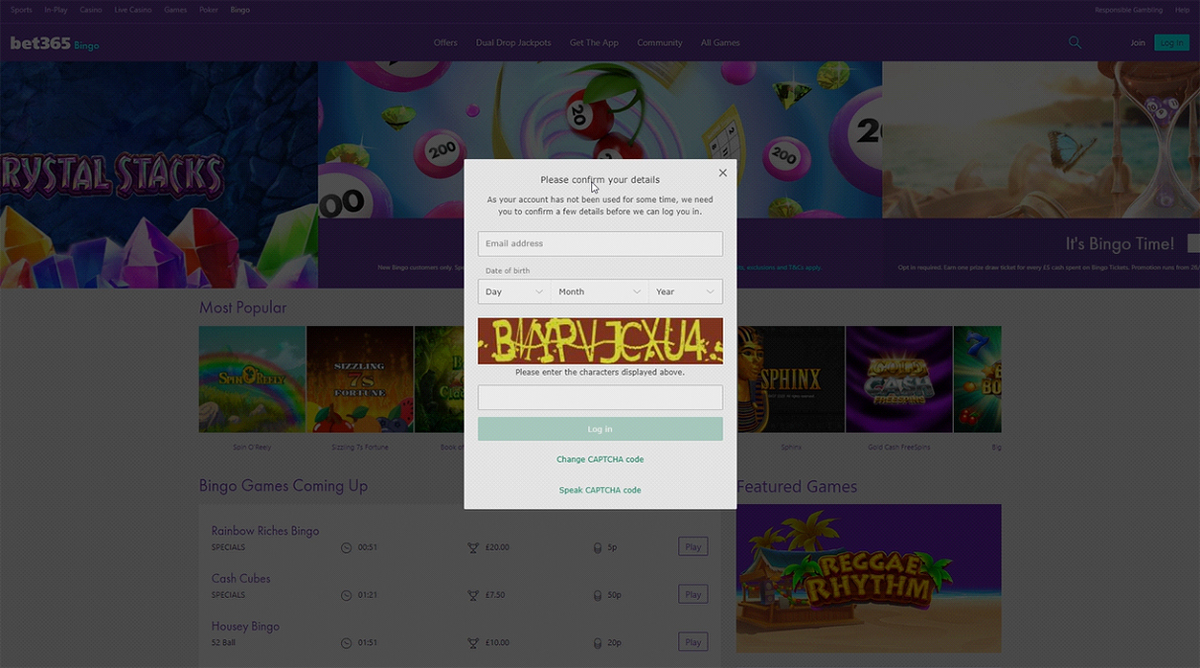 Making a Deposit
Remember that pop-up with a quick link to a deposit? This was how our tester decided to credit her account with £150. A new window appeared on screen with a multitude of deposit methods. Looking to benefit from quick withdrawals, EyeAmAWinner opted for the tried and tested PayPal method. With her email already saved, all she had to do was type in an amount and confirm to proceed with the withdrawal.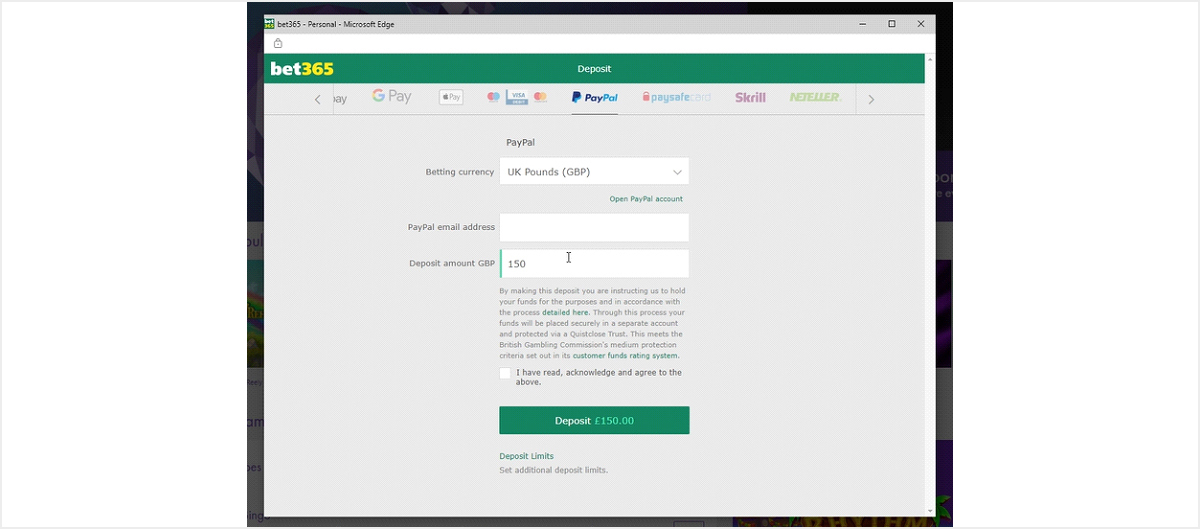 Using PayPal means having to go through enhanced security measures, such as verifying the account via a phone call, text message or via the PayPal app. EyeAmAWinner decided on the text message route as it would be quicker than waiting on a call or opening an app.

After authentication was complete, it was back to making the deposit and after reviewing the info on the PayPal screen, EyeAmAWinner was then navigated back to Bet365 Bingo where the funds were immediately available to play, despite the menu showing otherwise.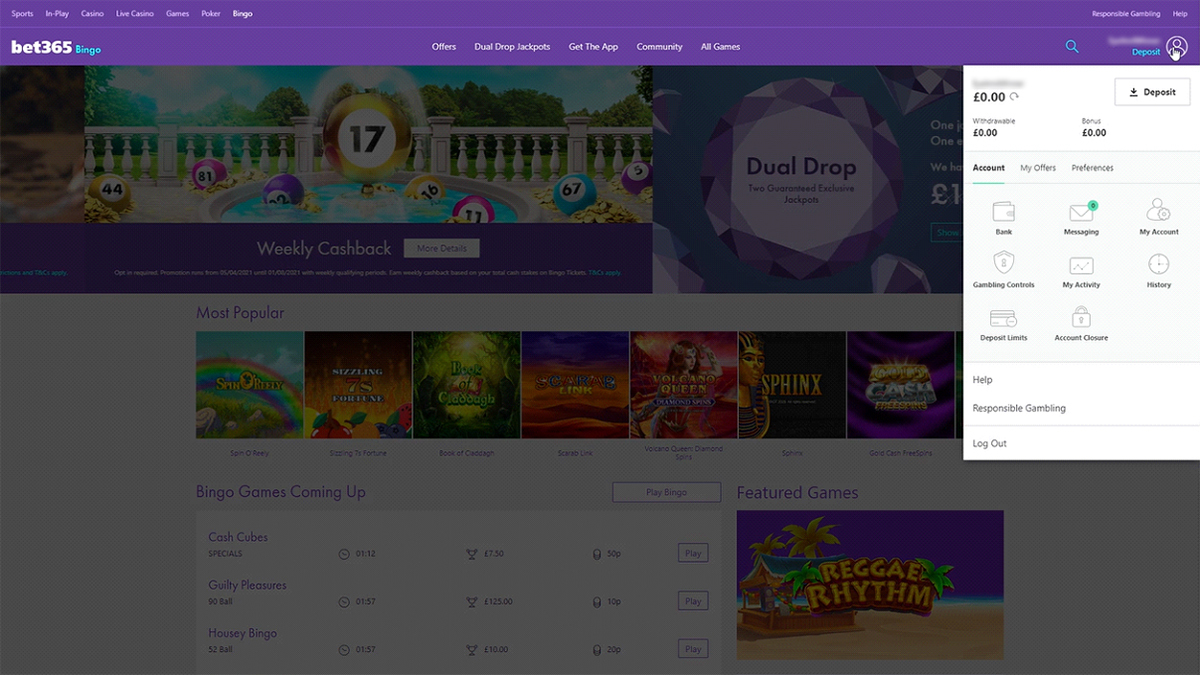 Balances are updated once you click the 'refresh' button within the bankroll menu.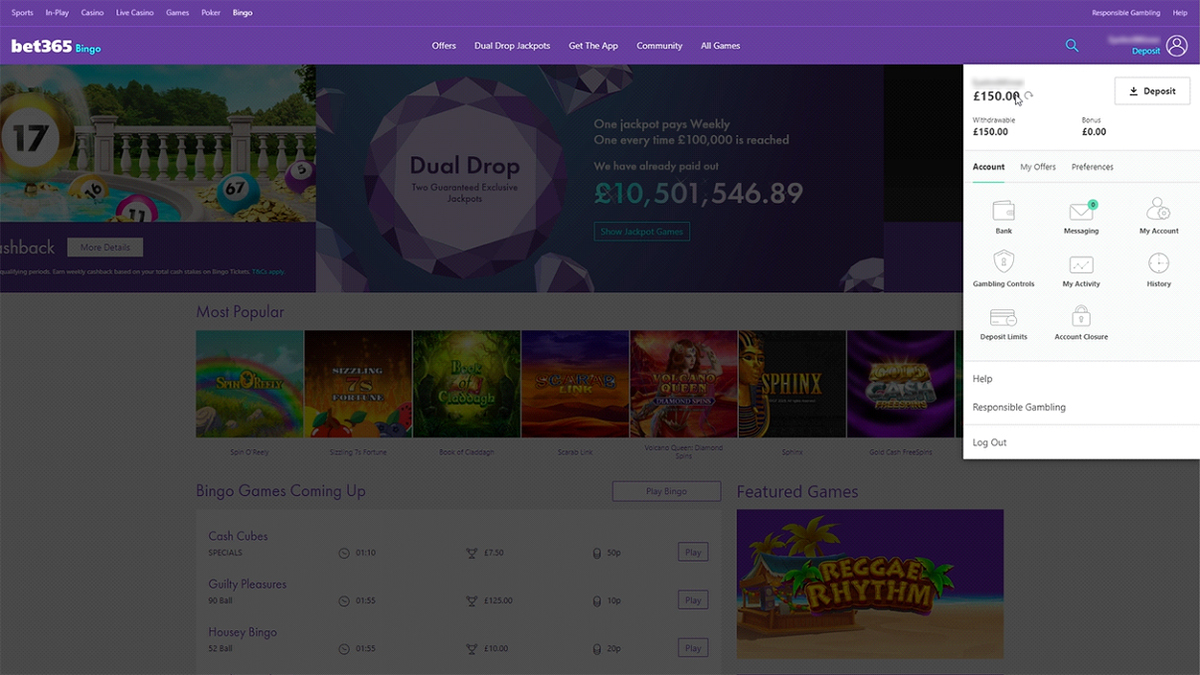 Gameplay
Bet365 offers registered players a total of 7 core gaming products, each of which can be accessed through one account and wallet system. Despite EyeAmAWinner registering directly with Bet365 Bingo some years ago, she was able to access sports, in-play, casino, live casino, games and poker through her online bingo account.
The bingo rooms were her first port of call, but before she was able to view the bingo lobby, she was prompted to select a bingo chat name. Everyone must do this at some point.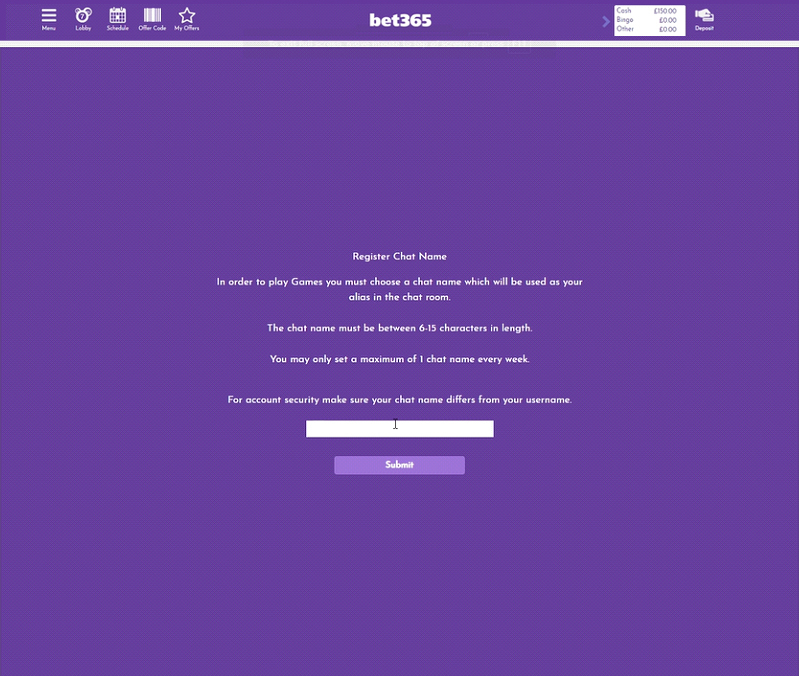 Of all the bingo variants, the reviewer headed to the Housey room. This card-based bingo game offers plenty of fun and cash with prizes for matching a hand of five cards as well as multi-tiered jackpots. Bet365 Bingo caters to multi-taskers, i.e., play in more than one room at time, so our tester headed to Rainbow Riches Bingo to buy tickets for the next game while her current Housey bingo game was still in play. Start times as well as how close you are to winning will always been shown on the various multi-room tabs.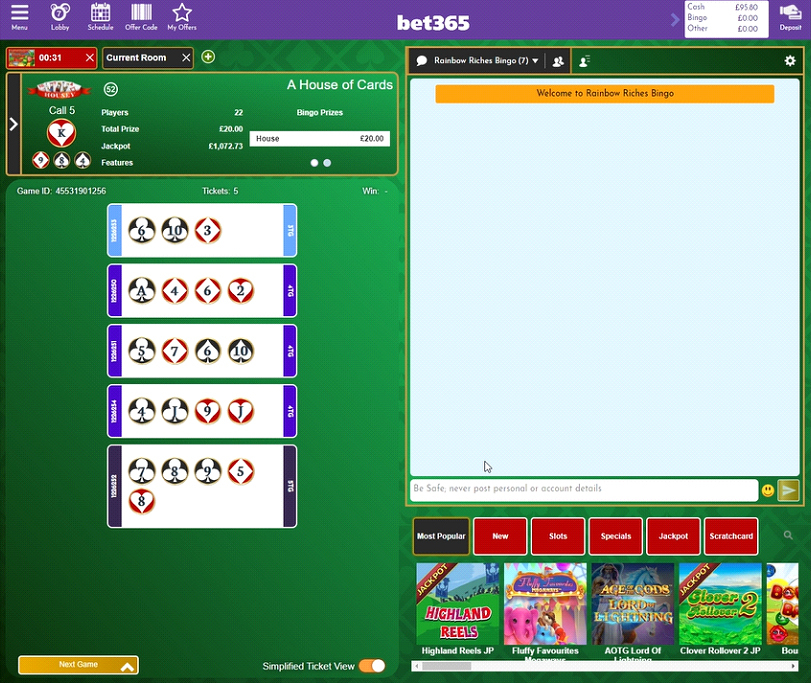 When playing in the Deal or No Deal Bingo room, EyeAmAWinner encountered a small problem…the bingo game had disconnected! The chat feature isn't just a place to talk, but a place to witness the comings and goings of users, and she noticed several users leaving the room and re-entering. She decided to do the same; leave and re-enter, and this immediately rectified the issue.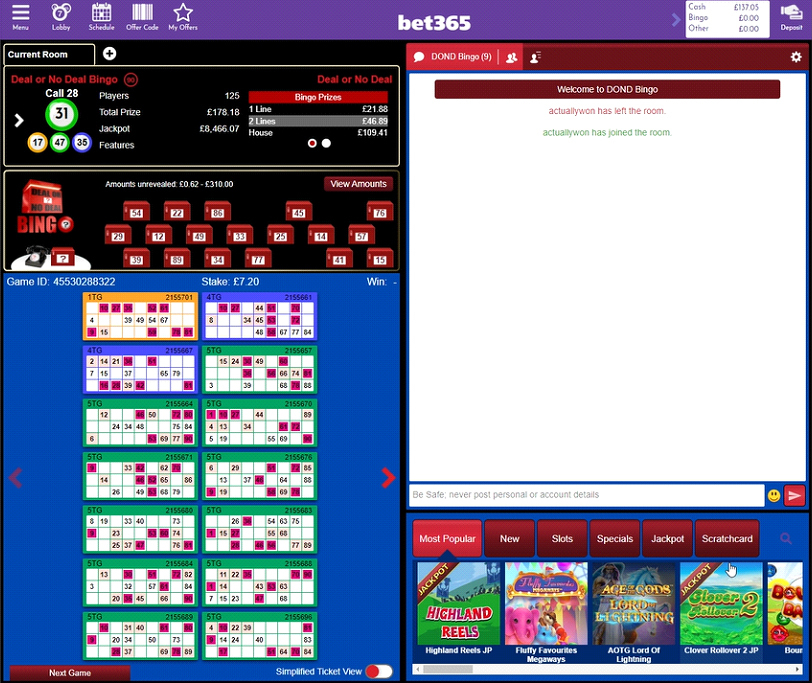 Jackpots are a speciality here too, and not just in the bingo rooms. Mega cash can be won in many different jackpot slots such as Jackpot Giant, only, in order to qualify for the huge sum on offer, you must play max stakes per spin (£4). This was a little too steep for our reviewer, so she headed to the lobby to select a different game to play.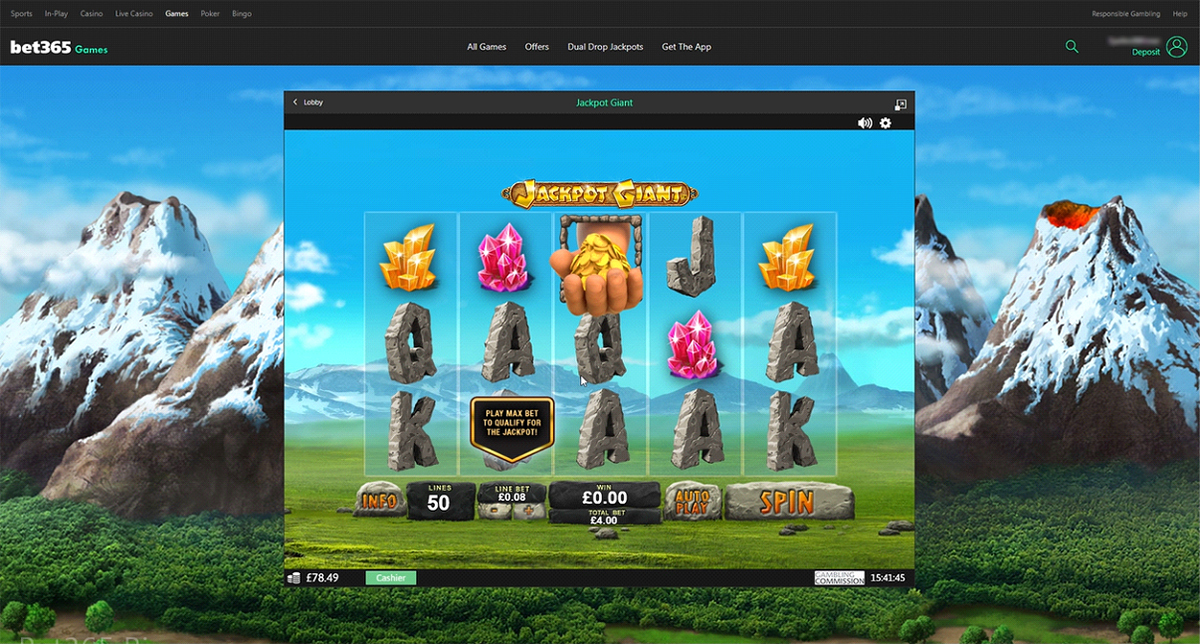 Live Deal or No Deal the Big Draw is a take on the classic gameshow of the same name, however, the reviewer found this and Money Drop Live to be a bit complicated.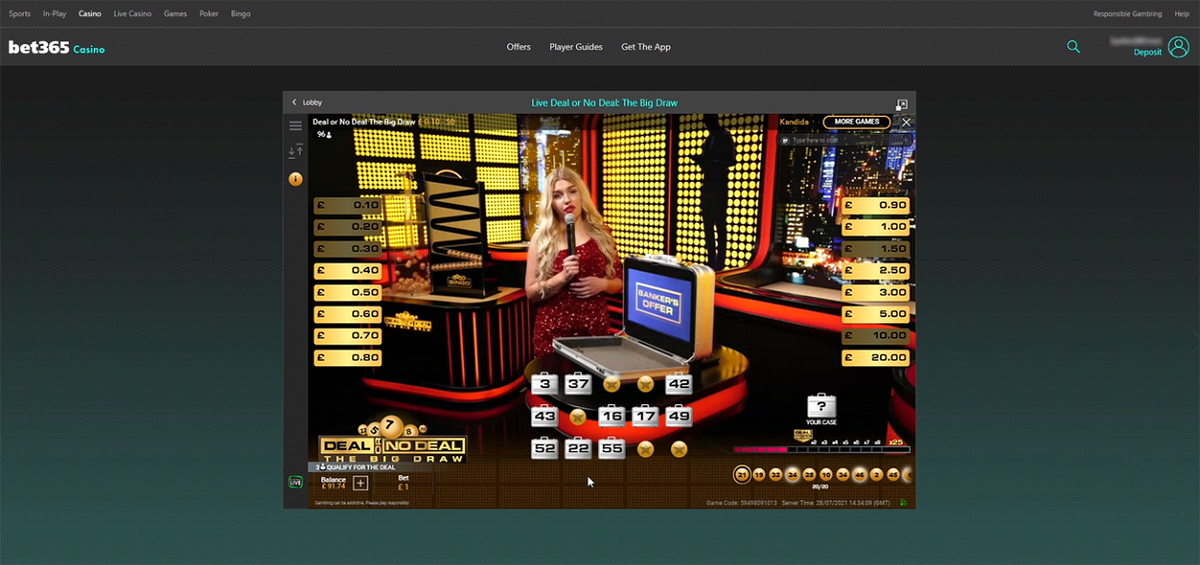 After playing Beavis & Butthead and having no luck, EyeAmAWinner decided it was time to make a withdrawal.
Requesting a Withdrawal
The withdrawal process via PayPal is far quicker than making a deposit, as our tester of the day found out. Instead of having to navigate away to the merchant website, the request was done right there on Bet365 Bingo. To cash out, our reviewer entered her Bet365 Bingo password along with the withdrawal amount. After inserting her password and the sum of £50.29p, her remaining balance, the request was submitted.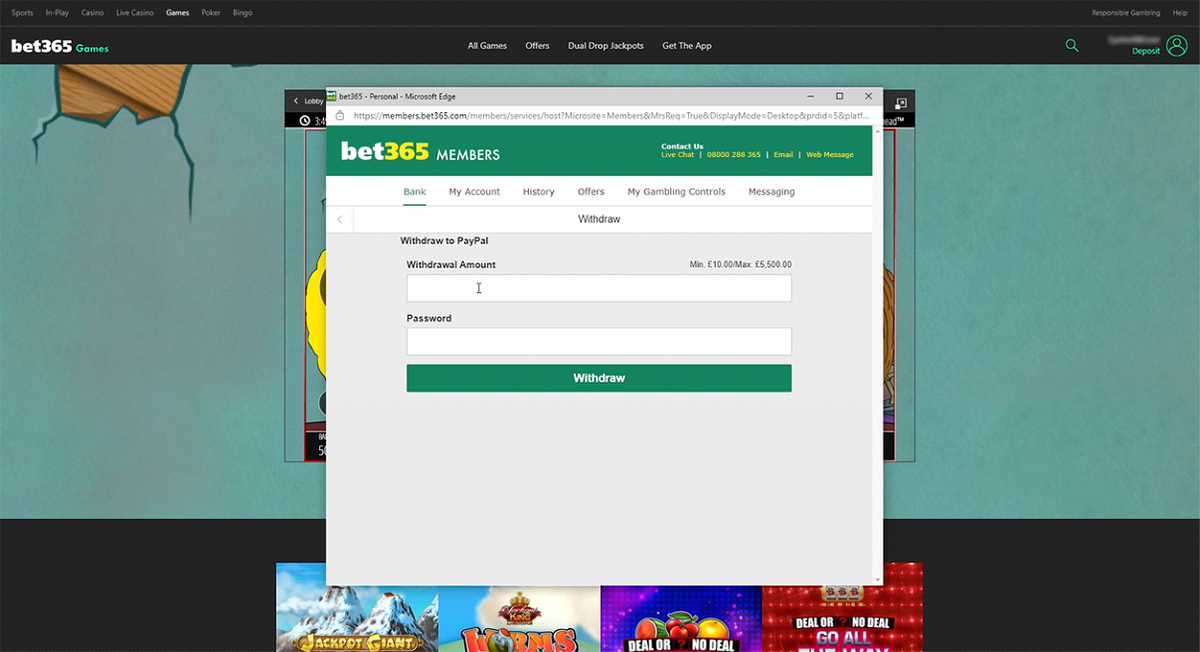 Five hours later, the withdrawal was complete, and the funds were in her PayPal account.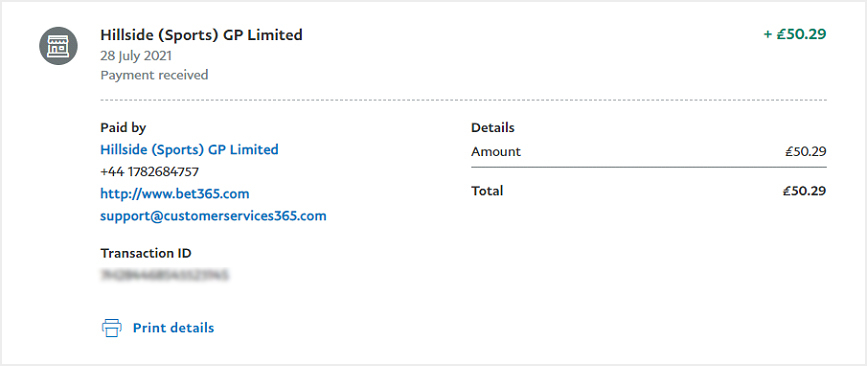 How Does Bet365 Bingo Stack Up?
When depositing via an e-wallet, payouts are fast. In this case, our tester received the payment in her PayPal account the same day!
The choice of games is huge, so too are the jackpots. In terms of gameplay, though the bingo game froze, there was no risk of losing out on prize money as the terms and conditions state "If you lose connection whilst playing Bingo, any purchased tickets will continue to play through and all winnings will be credited to your account accordingly."
While our tester was not eligible for the welcome offer as an existing customer, Bet365's policy of no wagering requirements makes the promotion particularly attractive. All free ticket and free spins winnings derived from the welcome offer may be withdrawn with no playthrough requirements.
This information concludes this extensive test as part of the project From the Players, For the Players. If you are a member of Bet365 Bingo or consider making a deposit, we hope that this comprehensive and detailed report was useful. Feel free to drop by and leave a comment for other potential players!
From the Players for the Players
Back to articles
Your feedback
Please enter your comment.
Your comment is added.
Bixy
08/11/21, 08:08:57 AM
Overall, the journey through Bet365 bingo site was gong smoothly. I like the following rule when they care of the players if losing connection, the winnings are to be credited to the players' account. Keep up good work :)
desire4all
08/06/21, 07:08:01 AM
Bet365 bingo and casino is one of the first site I played and registered. Had a good experience there In whole process: deposit, cashout, kyc. From my opinion, It's one of pretty good bingo site
bridgetjones
08/06/21, 07:08:16 AM
Thank you for another great report LBB, it's really useful! Already looking forward to see the next one!