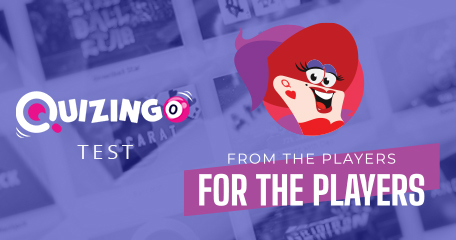 For an online bingo site to stand out, they must offer players something no other bingo site does and that can be difficult for the scores of websites running on the dominant Dragonfish software. Quizingo is one of those many sites under the Dragonfish umbrella, and seasoned bingo players know exactly what they're going to get before they even sign-up, what with them all offering the same promotions, bingo rooms and games.
Launching in 2021, Quizingo showed you should never judge a book by its cover, because as the name suggests, you can enjoy a plethora of bingo and quiz games 24/7! Think of them as a bingo pub quiz, where you can socialise, play bingo and side games while taking part in chat to win additional prizes. We know what they claim to offer, so we decided to put them to the test as part of our exclusive From the Players for the Players experiment. Anyone can say they deliver the best gaming experience, but unless you're there to witness it, how do you know it's true? So, on Wednesday 13th October, we tasked one of our experienced crew members to put them to the test. How did they get on? Stick with us as we find out!
Tester of the day: quizzingbig
Registration date: Wednesday 13th October 2021
KYC Verification: Not required on this occasion
Deposit date, amount and payment method: October 13th, £150 via Visa Debit
Withdrawal request date: October 13th, withdrawal request of £270.47p via Visa Debit.
Withdrawal received date: £270.47p on Thursday October 14th via Visa Debit.
The Registration Process
Before quizzingbig could play, she needed to sign-up. Pressing the 'join now' button took her to the registration screen where there were four steps, first where she filled in her name, gender and date of birth, second was her address and currency, third was where she supplied her email address and mobile phone number before choosing a username and password in step four. The sign-up process requires an occupation and only when this is supplied will new players be welcomed to the big Quizingo bingo community.

Initial Deposit
On Wednesday October 13th, a deposit of £150 was made into her account via Visa Debit. Before proceeding with the transaction, our tester made sure to decline any bonuses. Why? To stop wagering requirements and maximum win limits. Playing with her own money means being able to keep 100% of her winnings, if she were to win.

Gameplay
The first thing quizzingbig noticed was just how bright and easy to navigate the lobby was, with tabs for just about everything.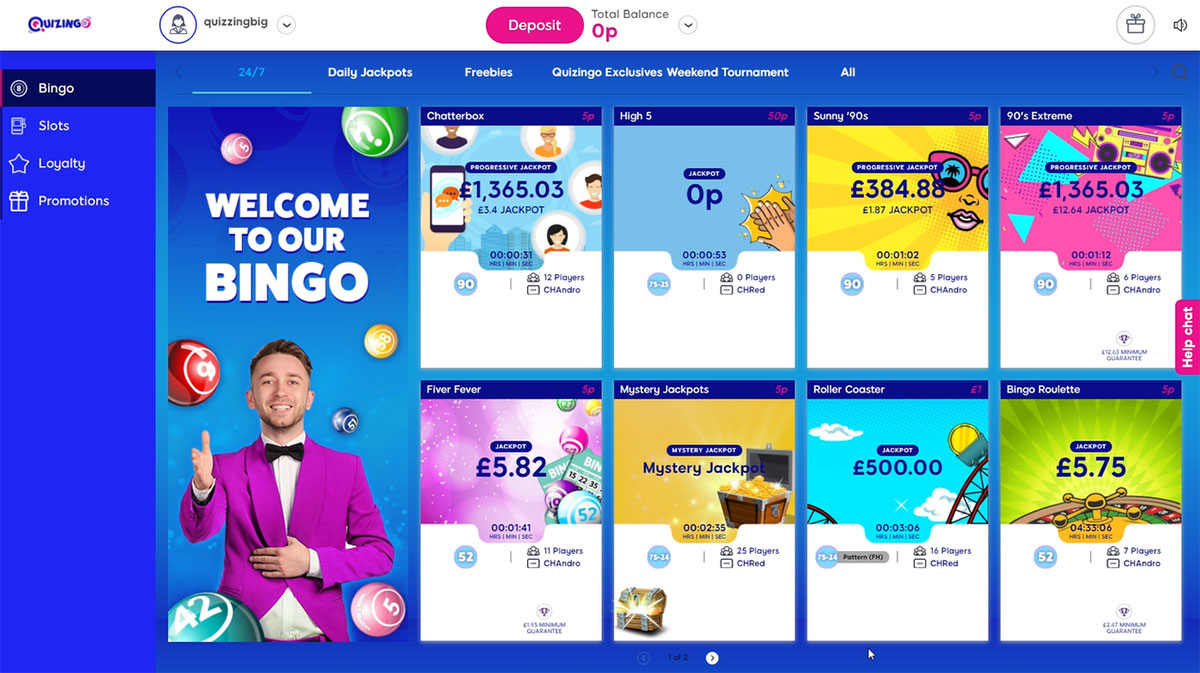 Sadly, the second thing she noticed were the lack of players in the rooms. Jackpots were huge, but unless you can shout house within a set number of calls which just happens to be very low, you could only win a small amount of cash or nothing at all.

There were rooms with more players in, but never more than 23. Exclusive pre-buy rooms for the once-a-day, week and month specials were popular, but our reviewer was there to play on the day, not in a week or so's time.

Heading back to the lobby she was in search of the rooms with the biggest prize money, Chatterbox proved anything but chatty but there were a handful of players looking to scoop the progressive jackpot of £1,365.89p. The most colourful room of all – and there are many at Quizingo, is 90's Extreme, a retro bingo room designed to take you back in time! There were more players taking part in the quizzes in this room than any of the others.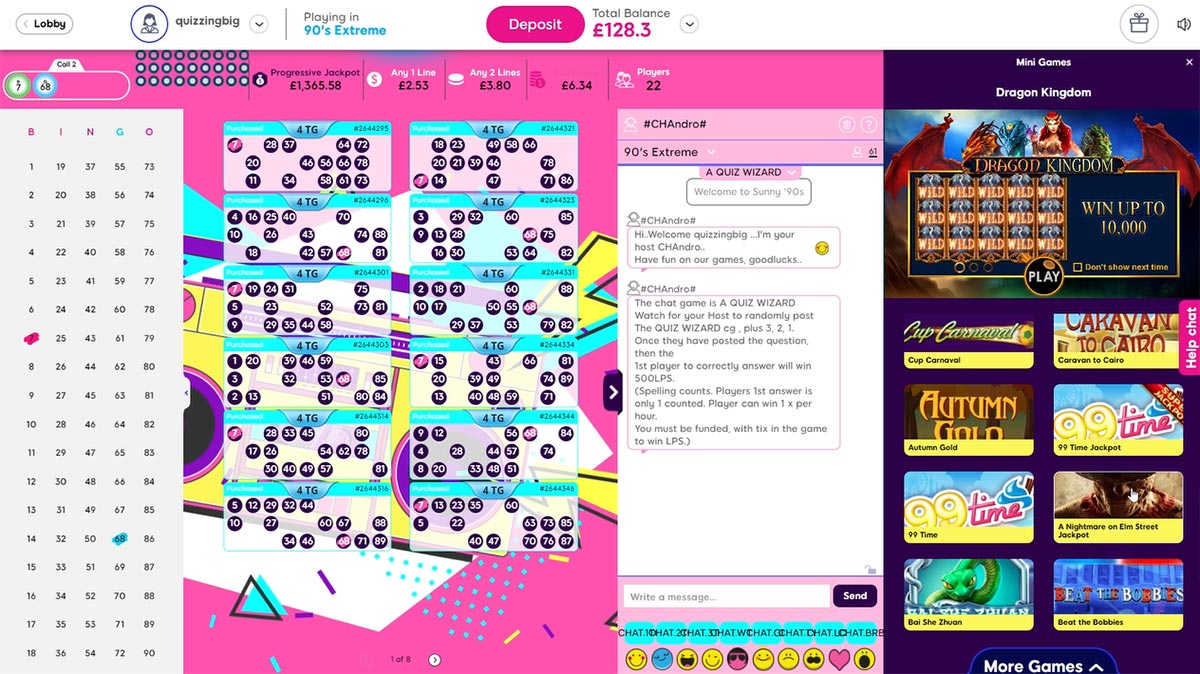 Mystery Jackpots are a popular feature of all Dragonfish bingo sites offering mystery prizes of between £10 and £500 per game. Our tester is a seasoned bingo player with years of experience in these types of games and has never once witnessed those elusive £500 prize pots! The thrills come with not knowing when they will come!

Each of the rooms is home to side games, a large selection of slots and instant wins to occupy players while waiting on the next bingo games to start. Quizzingbig decided to play a few and thanks to Penny and her jewel-thieving crew, she managed to win £138.80p, taking her total bankroll to £275.96p! The Eyecon powered slot offers multiple ways to win per spin, wilds, scatters, a choice of free games with multipliers and instant wins.

Requesting a Withdrawal
After playing a few more bingo games, quizzingbig decided to cash out her balance of £270.47p but couldn't find a withdrawal option! She soon realised that in order to withdraw, she had to hit that deposit button!

The deposit cashier offers links to withdrawals and after 8 different screens and proceeding with her request, her remaining balance instantly switched to £0, and she was told her Visa Debit withdrawal would be processed within approximately 1 working day. How long did she wait for her funds to reach her bank account? In total little over 24-hours! As soon as the text message came to say it was being processed, the money was already in her account!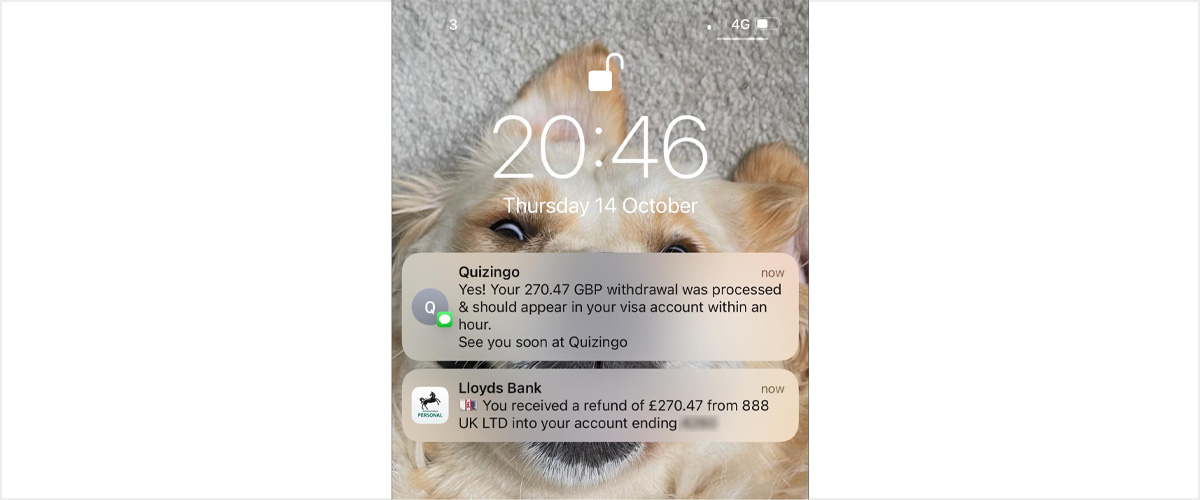 How Does Quizingo Stack Up?
At the time of our reviewers visit, there were just 56 players spread across 6 rooms, and this meant less prize money. Minimum prize guarantee rooms were fun, but you could never really win much more than twenty or thirty quid if you're lucky. If it wasn't for playing side games while waiting on her bingo games to start, quizzingbig would never have been able to cash out £270.47p, and this was deposit going all in with the maximum number of tickets in each room at a cost of up to £9.60p per game!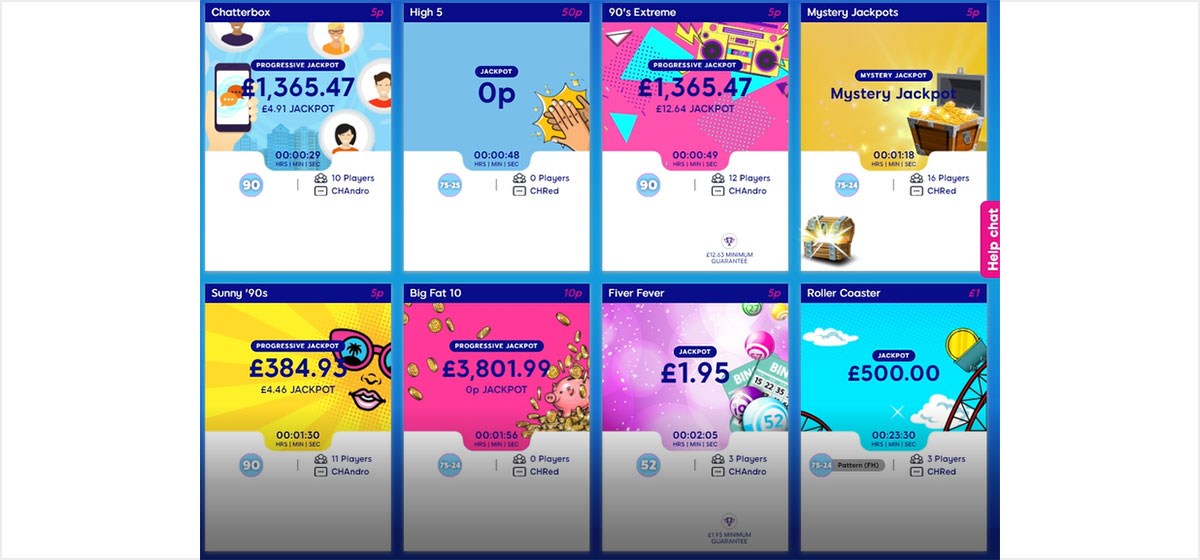 Withdrawals are fast, and there is no difference between waiting on a PayPal or Visa Debit withdrawal. Our tester deliberately didn't add KYC documents to see if her withdrawal would be stalled, but it wasn't. From the point of making the cashout request to receiving it was just over 24-hours. The only downside is the number of players which has an impact on prize money and the 80x wagering on games bonuses and maximum win limit on free games offers.
This information concludes this extensive test as part of the project From the Players, For the Players. If you are a member of Quizingo or consider making a deposit, we hope this report provided some useful information.
From the Players for the Players
Back to articles
Your feedback
Please enter your comment.
Your comment is added.
Bixy
10/27/21, 09:10:54 AM
Great work Quizingo, the prompt payout is a big advantage, however, I agree that the wagering requirement on bonuses should be lower.
bridgetjones
10/27/21, 06:10:34 AM
So glad to see that everything went with no issues! Thanks for the report!