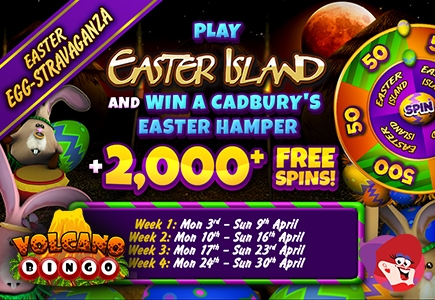 With your Easter bonnet with all thrills upon it, you'll be the happiest player in the April event. Get ready for weekly fun taking place at
Volcano Bingo
to celebrate this traditional holiday.
The Egg-Stravaganza has bunnies hopping all around with special treats. There is a yummy Cadbury Hamper up for grabs. Hey but that's not all folks because there are over 2,000 plus free spins. That is a whole lot of sweetness poured into your Easter basket.
Here is the schedule starting every Monday thru Sunday:
Week 1 3rd – 9th
Week 2 10th – 16th
Week 3 17th – 23rd
Week 4 24th – 30th
Play in the Easter Island room.
Details
1. There are 10 x 50 free spins and 1 hamper during each week of promo
2. Earn 1 entry for every £10 wagered
3. The winners will be credited to their account on Monday morning
4. In lieu of a hamper, a £50 can be awarded
5. All winners will be notified by email.
6. All prizes must be accepted within 2 weeks, or new winners will be chosen
Don't forget about Volcanic Mondays filled with opportunities! Play free bingo to win cash prizes and plus free spins.
The payout:
Full House: £10 Guaranteed and 1 Free Spin
Two Line: £5 Guaranteed and 1 Free Spin
One Line: £2 Guaranteed and 1 Free Spin
1TG – will share £3
Join the Volcanic room at 8pm sharp every Monday and let the free games begin!
Bingo Promotions & Bonuses
Back to articles
Your feedback
Please enter your comment.
Your comment is added.