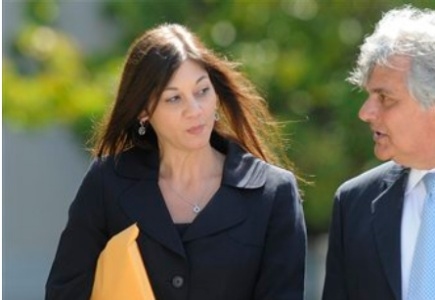 Lobbyist, Jennifer Pouncy was sentenced to three years of probation for the part she played in a bingo bribery conspiracy case.

After pleading to one count of conspiracy, the prosecution sought jail time for Puncy. Her defense attorney, Tommy Spina, requested leniency as Pouncy was simply following the instructions of her bosses when she approached two state senators with bribe offers to sway their vote for a gambling bill.

"She wasn't going to open a casino. (Prosecutors) talk about greed. She was just trying to keep a $60,000-a-year job," Spina said.

Pouncy stated in two separate trials that she was in the middle of her boss, Jarrod Massey and casino developer, Ronnie. Her council says the two men were behind the entire scheme.

"They were driving the bus, she was just a puppet and an attractive young lady that they used," Spina said.

"I'm very sorry for what I have done ... I wish I was stronger. I wanted to tell my family I am sorry," my husband, my baby boy," Pouncy said.

It was as if a weight had been lifted as her family and friends heard the judge say he would not put Pouncy in prison.

"Obvious relief, as was mine," said Spina of his client's reaction to this ruling.


Bingo Society News
General Bingo News
Back to articles
Your feedback
Please enter your comment.
Your comment is added.