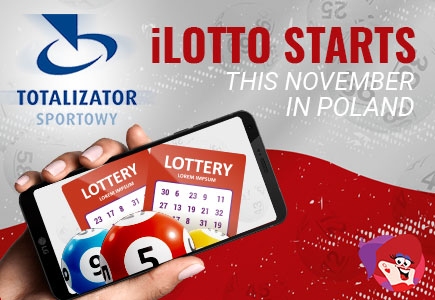 The state-owned lottery operator in Poland,
Totalizator Sportowy
, has announced online sale of lotto games for November. The purchase of
iLottery
tickets will be covered via website and mobile app.
The agency is also looking forward to offering its services online, as it will allow all residents to play lotto without leaving their homes. Additionally, the association will reach a new audience, primarily in terms of those players who are time-limited or simply do not pay visit to collection offices.
A Multitude of Benefits:
Also, the new technologies allow quick sending of coupons from smartphones, and the iLotto platform is well optimized for users due to its exceptional tech solutions that enable uninterrupted functionality and performance.
However, apart from the app and platform, TS is also developing a network of online
payment services
or non-cash payments, as an expansion project of collection offices...
Press spokeswoman of iLottery, Aida Bella, explained how the system will work:
"
When it comes to non-cash payments, from February this year our clients have the option of card payments and through all applications (over 870 total) Lotto shops. You can also pay without cash at over 400 points of such retail chains as Inmedio, LTR, Relay, Szorti or Totolotek as well as at the Carrefour super and hypermarkets. Implementation in subsequent networks is planned for the Q4 of 2018
".
Payment Terminals In 2019:
The state-owned operator will also integrate payment terminals with the iLOTTO purchase system in 2019, allowing its customers to pay without cash at certain affiliate facilities, such as retail or service shops.
According to the current estimates, there will be approximately 10,000 such shops in Poland; until they open, players will have to perform cash transactions in PLN.
Bella also commented that the implementation of non-cash services at all lottery kiosks is planned until the end of 2020, due to the extensive sales network of over 16,000 points.
Totalizator has operated in the domestic lottery market for over 60 years. Its collection of game includes Lotto, Lotto Plus, Multi Multi, Zdrapki, Mini Lotto, Keno, Ekstra Pensja, Super Szansa and Euro Jackpot. The company is also one of the major financial supporters of sports and culture in the country, as it allocates hundreds of millions of zloty each year.
Source: Ng, Niji.
"Totalizator Sportowy to launch iLOTTO in November"
. European Gaming. October 10, 2018.
Lottery & Scratchcards
Back to articles
Your feedback
Please enter your comment.
Your comment is added.
JaniceJ 10/16/18, 09:10:54 PM
Congratulations Poland and good luck, what else can I say?