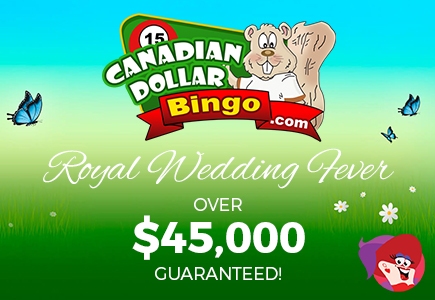 There's action aplenty over at
Canadian Dollar Bingo
as of late. The number one subject in the media worldwide is this year's Royal Wedding between prince Harry and Meghan Markle – and as it captures the imagination and attention of millions of people, it's perfectly legit to make that a theme for one of the major online pastimes.
It's a whole new fever that is taking over, and the site realized thist and created the
Royal Wedding Fever promotion
that runs through May 31st! It's one big tournament that asks you to look for bingo patterns related to this big event: Diamond Ring, Wedding Bells and a Royal Crown. There is total of
$45,000 in guaranteed prizes
to be won in these regal bingo games with starting jackpots of $25 to $150 cash! You get an additional percentage on purchased cards.
The games are played in the site's main room once or twice on the hour. There is the special card-buying offer –
you can buy 15 cards and get 5 free!
As they eloquently put it, you don't have to be invited to the royal wedding or make it to the Windsor castle in order to be able to enjoy it. All you need to do is make sure you've read and understood the terms and conditions of their site and this promotion in particular and you're good to go. Pour some tea or coffee and picture yourself at the center of it all in merry old England.
Bingo Tournaments
Back to articles
Your feedback
Please enter your comment.
Your comment is added.