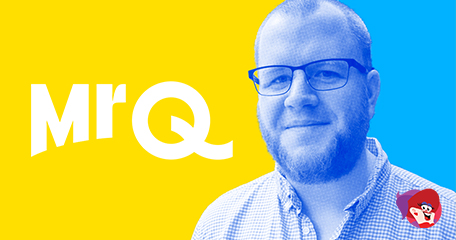 MrQ started the year off with a bang by unveiling a bold new design. In addition to online bingo, the brand is known for slots and live casino games. No nonsense is the name of the game here and we wanted to give players a look behind the curtain with full transparency in true MrQ fashion. Get the scoop on exciting jackpots, penny bingo, free bingo, promotions and more in this exclusive interview with Aaron Braund, the brand's content manager.
Q: We'd like to begin with a bit of background about the brand. Also, how has it evolved since the 2018 launch?
A: If you're new to MrQ, we're an award-winning proprietary bingo, slots and live casino site with a catalogue of over 900 games. MrQ was built from the ground up with a focus on being a player-driven site. We're all about no nonsense entertainment and delivering the best content possible.
Since 2018, we have seen our player base grow year on year with 40,000+ monthly players in 2021. Our selection of games has also grown exponentially to include some of the top Megaways, Slingo, and jackpot titles. Along the way, we have picked up some of the biggest accolades in gaming, including 'EGR Slot Operator of the year 2021', 'EGR Rising Stars Award 2019', and 'BingoPort.com Player's Choice Awards 2019'. When it comes to exciting games, we definitely know our stuff.
Q: January 2022 was a big month for MrQ with the launch of its new look. What prompted the decision to switch things up?
A: In 2022, we wanted to become the brand we always wanted to be. We pride ourselves on being bold and standing out from the crowd; with the new rebrand earlier this year, we could finally showcase that. This is evident in the way we look, and the way we communicate with our players. Our primary focus is being a brand that is transparent, approachable, and, above all else, fun. We overhauled our tone-of-voice to better connect with our players and use big bold colours to show off that we aren't just any old slots and casino site; we are THE site to keep your eyes on.
Q: Utilising proprietary software for the 75-ball and 90-ball bingo rooms definitely sets the brand apart in the competitive market. Tell us about the bingo software and features.
A: Bingo is an aspect of MrQ that we take great pride in and continue to evolve to make it the best it can possibly be. Recently, our bingo has seen its own rebrand with the way we host our games and the prizes up for grabs for our players. We have switched up bingo through our new rooms including our penny bingo room Pinch a Penny, the new free bingo room On the House and our headliner: the Full Monty. In this jackpot bingo game, someone has to win the pot when it reaches £20,000!
Q: In addition to bingo, the likes of NetEnt, Microgaming, Eyecon are among the software providers supplying slots? As the winner of the 'EGR Slot Operator of the year 2021', what do you think tipped the scales in your favour?
A: What sets MrQ apart is our dedication to putting player experience first above all else. Everything we provide, whether it be games or tools, is oriented towards giving the player the best experience possible. We select only the top games with the best RTP to ensure fairness for our players and avoid the frustration found with lower RTP slots. We also curate our content to ensure that everything we add to our catalogue, whether it be slots or casino, is consistent with our standards.
Q: What is the largest win to date by a MrQ player?
A: Our biggest win was also a historic one as it was our first ever major WOWpot jackpot win on-site. The player won a whopping £358,000+ on just a 20p stake. We hope to see more big jackpot success stories in the near future.
Q: The 'Drops and Wins' promotion is offering over £6,500,000 in cash prizes. Please share more details with our readers.
A: After the success of the last Drops and Wins promotion, Pragmatic are making it bigger than ever by upping the total pot to £6,500,000 with daily and weekly prizes until February 2023.
If you want to get involved and win some cash prizes, keep an eye on the MrQ site for any game with the special 'Drop and Win' logo. Games that include this feature change every 3 weeks so players can have a spin on new and exciting games with the chance of winning a juicy prize.
Q: Finally, what sort of goodies do you have planned over the course of the year?
A: We've had a lot of excitement already in 2022 including adding Evolution live casino to our ever-growing bag of tricks. Players can now have a spin on award winning games including Lightning Roulette, Crazy Time and the board-game inspired Monopoly Live.
We have also recently added a tasty "Must Win" jackpot feature to a selection of Skywind slot titles. Players can now win accumulating jackpots with winners being crowned every day on any random spin. Try it out today with Genie Mega Reels, Super Lion, or Alive! Megaways.
We have plenty more excitement and surprises up our sleeves over the course of the year. Stay tuned for all of the news as we continue to make 2022 the year of MrQ!
Back to articles
Your feedback
Please enter your comment.
Your comment is added.