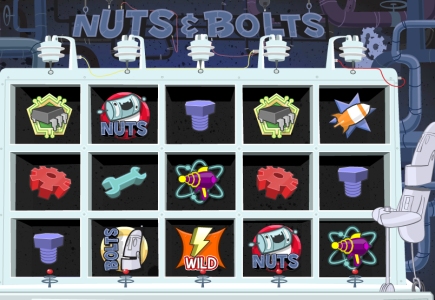 Slots manager at Jackpot Joy, Fraser Linkleter says 'Nuts and Bolts' is a fantastic game

UK internet gambling group Gamesys has announced its first game in the new gaming development team concept. It's an online slot branded "Nuts and Bolts" launched on the Jackpot Joy operational website. This new game joins a range of other proprietary releases, including bingo variants such as Family Fortunes Team Bingo and Monopoly Snap!, as well as a suite of innovative online slots.

The core of "Nuts and Bolts" game, which is based in a 1950s style factory, is a brand new Winning Streak feature. A Winning Streak comes after a player hits a winning spin, and then Nuts or Bolts, two main characters and wacky robots, will lock the winning symbol and spin again. This goes on until the player keeps winning. The game's main prize is GBP 600 on each of the game's 25 paylines.

Slots manager at Jackpot Joy, Fraser Linkleter, believes that the special development teams will produce many different, fresh and interesting games, so he explained: "The purpose of the re-shuffle was to empower games designers ensuring that they could be visionary, inventive and that they had the support to develop the best games possible for our members. Nuts & Bolts is a fantastic start to the new system." He also added, "Nuts and Bolts is a really exciting launch. Not only is the model incredibly strong, the Winning Streak feature is unique, and it's chock-a-block full of Easter Eggs – there's even a way to change the name of the game, but we'll leave you to discover that one yourself!"
General Gambling News
Bingo Games
Bingo Software
General Bingo News
Back to articles
Your feedback
Please enter your comment.
Your comment is added.