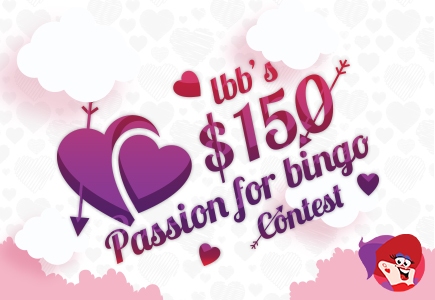 The month of love is upon us. February 14th is Valentine's Day and love is in the air - yada yada. We're putting our money where our heart is with an invitation to join
LBB's $150 Passion for Bingo Contest!

Entry is as simple as LBB membership and a love for bingo. Tell us why the game makes your heart skip a beat and you could win a share of the prize pool. Is it the jackpots, the comradery in chat or, perhaps, the bouncing bingo balls?
Contest start date:
Friday, February 9, 2018
Contest end date:
11:59pm EST Thursday, February 15, 2018
Prizes will be divvied up as follows:
1st place winner: $50
2nd place winner: $30
3rd place winner: $20
4th - 6th place winners: $10
7th - 10th place winners: $5
Best of all, Bingo Betty is feeling amorous these days and will accept one entry per day from each of you. So, come back every day and post your entry.
Enter
HERE
Now for a little V-Day poem.
Rose are red, violets are blue, the LBB contest is on, wouldn't it be exciting if you won?
Hehehe
Happy Valentine's Day!

Back to articles
Your feedback
Please enter your comment.
Your comment is added.
Feelin froggy
02/12/18, 03:02:17 AM
The contest is in full swing. Don't forget to enter!
zuga
02/12/18, 09:02:05 AM
zenekk87
02/23/18, 10:02:02 PM
GL for all bingo lovers LBB