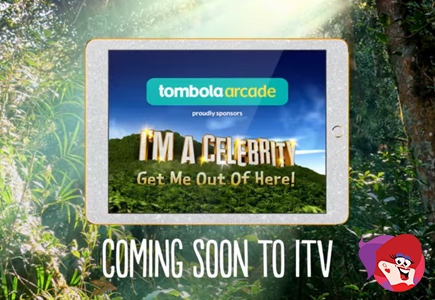 Tombola
has officially announced that it will be sponsoring the latest season of ITV's, 'I'm A Celebrity...Get Me Out Of Here,' in a multi-million GBP partnership. The online bingo brand will keep players, and the series' fan base in the loop with the latest happenings from the Australian jungle. Of course, to celebrate this unique partnership, players can expect an assortment of enticing promotions and lucrative giveaways, with further details provided on the site's exclusive Facebook page.
The latest season is scheduled to premiere in November, and the partnership will extend to spin-off series' on both ITV Hub and ITV2. In addition to the show itself, the brand will also sponsor the show's official app. The app can be used by viewers to vote for their favorites as well as who they'd like to see kicked eliminated. Next month's debut serves as the 17th consecutive season. A guilty pleasure among many, the popular show even set a viewing record last year during its grand finale. A total of 10.5 million viewers tuned in!
Tombola's Chief Executive, Phil Cronin, released a statement regarding the recent sponsorship: " "I'm A Celebrity...Get Me Out of Here!" is a perfect fit for tombola, given both entertainment brands are about having fun and community. With 10million viewers, the show is must see viewing including in my own home, so it's a great match for tombola, which has more players than other bingo site in the UK. Tombola previously sponsored Emmerdale on ITV for three years, so we're excited to be working with the broadcaster again. This time, we'll be using our sponsorship to support tombola arcade, which gives people the opportunity to play arcade games on the go."
General Bingo News
Back to articles
Your feedback
Please enter your comment.
Your comment is added.