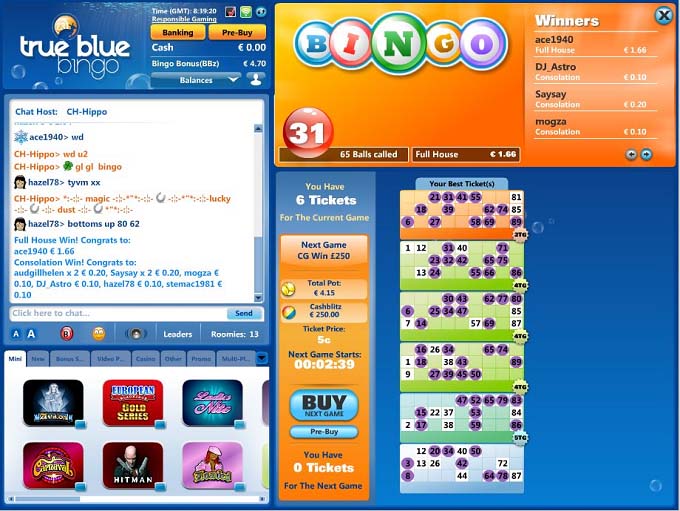 The design of True Blue Bingo truly reminds me of a deep blue sea and it makes me think about where I could travel for this year's vacation. There are always so many options and I've always found calming to look at waves and their blue/green color. For me, it is necessary to go to the sea to recuperate and reenergize. Until I decide where I'm going, good thing is that I discovered this place and I couldn't wait to give it a shoot.
I decided to start off with €5 just so see how things work there though I was familiar with the Microgaming's bingo version. I chose to buy tickets in the Snickers Room where the price was €0.05; which was affordable. I knew I couldn't play for long and with much success since the maximum number of cards I was allowed to play were six. So I played like that for only a couple of games and there's no need to say that I wasn't even close to a win. But even later when I played with as many cards as all other bingo players, it wasn't too exciting because of the prize pools. Winning around €1 isn't something to look forward to though the jackpots were really nice, but I didn't have that much luck. I thought about changing rooms, but another one – Ice Breaker Room – had the similar number of players and almost the same prizes. I didn't even want to go to Immortal Romance room; knowing how unlucky I'm with that slot, I wasn't too eager to enter the room. I know, it was just my superstition, but I couldn't help it.
Even though they have amazing Microgaming slots to offer, this time I only played bingo and even though it wasn't very successful I had fun it was enough for one session.
Markotik
Back to articles
Your feedback
Please enter your comment.
Your comment is added.