Neosurf Bingo Sites
Neosurf Deposits + Withdrawals ➤ Neosurf vouchers accepted at online bingo sites. Available in 50+ counties. Purchase online or off ✓ Relaodable for cashouts!
Neosurf Online Bingo Sites
If you're looking for a proper, fee-free and safe payment method, none can provide you with a better service than Neosurf. This is a voucher, which keeps your banking and personal details private, and allows you to make fee-free deposits, in an instant. It is the perfect solution to use as an online bingo player if you don't have a bank account/credit card or you simply don't want to share banking details with the operator.
About Neosurf
Launched in 2004 in France, by a privately held company, Neosurf is today one of the most popular vouchers all across Europe, but also globally. It was created with the aim to make users' online banking faster, easier and far more convenient and private. As a voucher, it allows users to make effortless payments across many online sites, online bingo sites included.
When it first started, it was only used in France, but as years went by, and people saw its potential, the interest in it grew stronger, and today, this voucher is available in many countries across the globe. In fact, there are over 135,000 selling points, called Neosurf Authorized Resellers (NARs), which are available both online and offline, where you can buy your voucher, across many countries.
That's right, you can purchase the voucher both online and offline, and that's one of the best parts about it. A NAR can be anything from a supermarket to an online platform, therefore, getting it would be a piece of cake. Its strongest suit is that, once you purchase your voucher, you can start using it right away, without sharing any banking or credit card details with the online platform you intend to pay at. That's why it is a great solution to use across online bingo sites, especially if you're playing from a country like the UK, where a credit card gambling ban applies, and players can no longer use credit cards for gambling online.
As far as its availability across online bingo sites goes, this voucher is extremely popular, available across many bingo sites. In fact, popular sites like Bet365 Bingo and William Hill accept it for deposits, therefore your search for the perfect bingo site to join would not be a long one either. This incredible alternative payment solution has allowed many players to enjoy a seamless gaming time, therefore, stay with us to get an insight of how great it is and how to use it.
Getting Started with Neosurf
Considering it is a voucher, you have probably gathered that it won't be difficult to get started. The first choice you need to make is whether you'd like to purchase it online or offline. The next step would be choosing the voucher type, according to its availability for online or offline purchasing.
First things first. Visit the official website and find the NAR locator tool. As soon as you enter your country and home address, the locator will suggest the available offline and online options where you can purchase the voucher.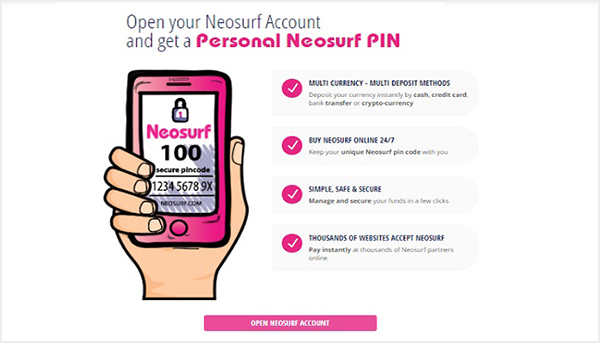 If you're purchasing the voucher offline, simply provide cash; no ID would be necessary. With your receipt, you'll receive a 10-character voucher code. You would need to keep that code safe as you would need it when depositing. If you choose to buy it online, you would have to register an account and fund your voucher using cash, credit cards, bank transfer or even cryptocurrency. After you receive your unique Neosurf PIN code, you can use your voucher with it everywhere you need to. Considering you've set one up, you can log into your account any time you want to check your spending.
Now, about those voucher types. The online-only card is the MyNeosurf card. The Minor is the one suitable for low-rollers, as it comes in denominations of €10 and €20. Then there's the Classic voucher, which offers several denominations. These denominations depend on the country you're playing from, but usually go from €10 to €250. And finally, you have the NeoCash card, issued in collaboration with MasterCard, which can be reloaded.
If you couldn't spend the value on your card, you can always transfer the remaining funds to your new voucher. The total you can transfer is €250. The vouchers are valid for 12 months.
How to Deposit at Online Bingo Sites with Neosurf?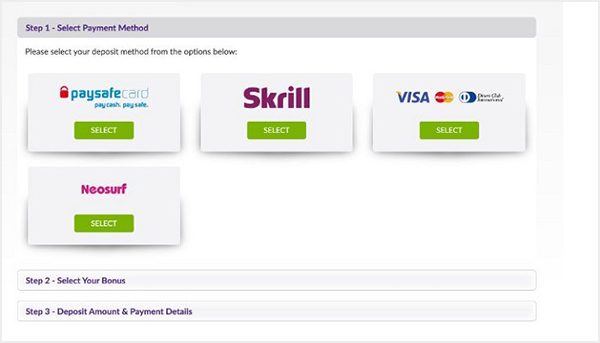 Depositing with this voucher would be a four-step process and an easy one. But first, make sure you find the bingo site you'd like to join which accepts it. As mentioned, you have plenty of options to explore which accept it, therefore, the choice would ultimately be yours. Make sure you find yourself a site which offers proper licenses, implements high-level security measures and offers the best bingo games by the best software providers. As soon as you do, register an account with it.
Upon registration, you might be asked to choose your deposit method, but if not, do the following:
Head over at the bingo site's Banking/Deposit/Cashier page, locate Neosurf's logo and click or tap on it. 
In the pop-up window, enter the 10-character code you received upon the voucher purchase.
Specify the amount of money you'd like to deposit at the bingo site.
Confirm the transaction and watch the money arrive in an instant on your bingo site balance.
How to Make a Withdrawal with Neosurf?
Contrary to most vouchers of its type, Neosurf does offer the withdrawal functionality, for the cards which can be reloaded. Most vouchers are only available for deposits, but you will find Neosurf on the lists of Withdrawal Methods across many bingo sites.
Withdrawals with it are fee-free, so neither the bingo site operator nor you would be charged for using it as your withdrawal method. The withdrawing procedure is just like the depositing one, therefore, just go through the same steps and you'll request a withdrawal in no time. The operator may take its time to check whether you have enough money to withdraw, but as soon as it approves it, the withdrawal will arrive on your voucher/account.
Please keep in mind, though, that not all bingo sites that accepted it for deposits will also accept it for withdrawals. That's why the wisest thing to do is to check whether that's the case even before you join the bingo site.
Available Currencies
Even though the default currency for using the voucher is euro, the currency in France and most of the countries where the voucher is accepted, you can actually purchase the voucher in any currency, such as the UK pound and Canadian dollars.
As mentioned, you can even purchase the voucher with your favourite cryptocurrency. But then again, the available currencies and cryptocurrencies would depend on the country you're playing from.
Applicable Fees
When you purchase your voucher at a land-based location, you won't need to pay fees. You can just give the cashier cash and in an instant, you'll get your voucher.
If you want to purchase it online, using VISA, MasterCard, debit cards, or bank transfer will be fee-free, too. If you use an existing Neosurf voucher, a 4.5% fee would apply. To cash out money from your voucher, you would have to pay a fee from 1.5% with a bank transfer to 2% with a NeoCash card, but with a Neosurf voucher, it would be fee-free.
Restricted and Allowed Countries
Neosurf is available in over 50 countries across the globe. Even though it started in France and first got spread out all across Europe, today, you will find it all across the world.
It is accepted in major online gambling markets, such as the UK, India, Argentina, Canada, Spain Malta and Italy among others. So if a player from any of these countries, you can rest assured that you'll get a chance to purchase your voucher, either online or offline.
Helpful Links
Neosurf Bingo Sites FAQs
Does Neosurf offer a Customer Support team to contact in case I have a question?
While it doesn't offer phone support, the voucher provides you with a thorough FAQs page, as well as an on-site contact form you can use to get in touch with the team and get an answer to your question.
What happens if my voucher was stolen or lost?
The thing is, even though you don't need to provide an ID when purchasing the voucher online, Neosurf can still do something to make sure that if your voucher was stolen or lost to block it. You would need to contact its Customer Support to get the details.
Is its site available in English only or other languages as well?
Not only is it available in English, but its website is available in 10 other languages, including Portuguese, Spanish, German, Italian, French and Greek.
Who can open an account with Neosurf?
Anyone over 18, from the eligible countries, can open an account with it. Opening an account is free of charge, and you can use the account for as long as you want, however, if you wish to increase your spending limits or make larger deposits, you would need to go through the mandatory identity verification procedure.
Where can I purchase an online voucher?
There are eight authorized online platforms that sell Neosurf vouchers, among which the most popular are iGiftcards, Topmeup, Rapido, beCharge, Dunlde and ReCharge.fr.
Can I use an e-wallet such as PayPal to purchase a Neosurf voucher?
Yes. When making your purchase online at any of the authorized sellers, select one of the available payment methods, which may vary by merchant. In addition to cards like Visa and MasterCard, purchase methods include PayPal, Apple Pay, iDeal and Skrill to name a few. The voucher will be emailed to you directly
Join and start earning awards
You will immediately get full access to our online bingo forum/chat plus receive our newsletter with news & exclusive bonuses every month.
Join instantly with your social account