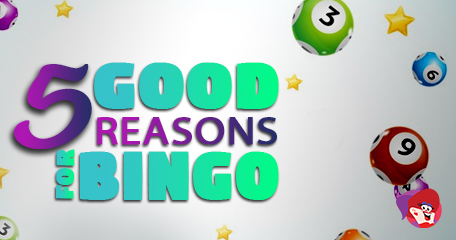 We're often told to keep ourselves healthy inside and out but looking after our bodies shouldn't be a chore. Making the right food choices and getting some exercise may not be the easiest of things to do, and in my opinion, there are far too many temptations standing between me and a great body! But there is a way you can have fun and keep your brain healthy at the same time – by playing online bingo (responsibly!).
Physical and mental health is just as important as maintaining a healthy lifestyle, and there are many ways you can achieve this, one of which is bingo. The versatile game is social, interactive and highly enjoyable, plus there are opportunities to win prizes which is always an added bonus! Over the years, much research has been carried out over the benefits of playing bingo and we're about to look at the top 5.
Bingo Brain Power
#1 Get Social: Spending time with other folk is without doubt the most rewarding activity of them all and whether you choose to play bingo at your local bingo hall or online, there are ways to make new friends and have a good old chin wag. But here's the thing; you don't even need to make a deposit to do this! Tombola are advocates for free chat and actively encourage members to log in just to socialise!
#2 Improved Hand to Eye Coordination: This one is for the manual dabbers; those who enjoy marking those numbers off themselves. Playing bingo this way has been proven to improve hand to eye coordination, but you've got to pay attention, one missed number and you could be missing out on a prize! Online bingo rooms offer a manual dab facility too, although, those playing the maximum number of tickets will need a few more pairs of hands to tackle the job! Unlike land-based bingo, if you miss a number when playing online, the computer automatically recognises this and if you've purchased a winning ticket, you still win!
#3 Improve Your Physical Health: Maintaining good physical health is important too and getting out of the house can help alleviate or deter physical ailments. Again, socialising with people when outside your own home is known to decrease stress and worry! And they do say that laughter is the best medicine!
#4 Decrease Those Stress and Anxiety Levels: Bingo is not a miracle healer, nor can it guarantee you wins, but it's safe to say it is good for our health and allows us to let off some steam, but only if you play within your budget and gamble responsibly!
#5 Boost Your Brain Power: Researchers have discovered that people who play bingo games regularly have an increased in cognitive functions when in their senior years! Cognitive abilities are sharpened, players are more alert and according to the University of Southampton, bingo players who enjoyed playing bingo, had better results in terms of memory, speed and cognitive function compared to those who do not play the game!
General Bingo News
Back to articles
Your feedback
Please enter your comment.
Your comment is added.
Member's Feedback (1)
Bubles12
09/22/20, 07:09:34 AM
Bingo allows me to escape when I'm having a rough day/week/month/year, but you do have to control what you spend of you can get carried away.