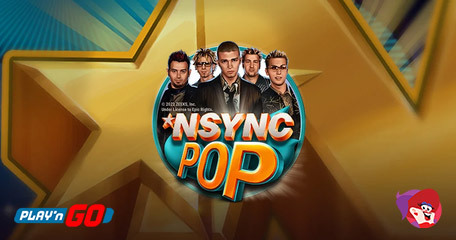 Get A Front Row Seat to the Pop-Singing Sensation *NSYNC
Just when you thought you'd seen it all, along comes Play'n GO with another video slot to surprise the masses. Growing up as an 80's child, one of my favourite bands of the 90's was *NSYNC, there was something about Justin Timberlake and that mop of noodles for hair. The music wasn't half bad either. With a penchant for developing unique video slots, Play'N Go are able to go above and beyond with their themes and bonus features, but I don't think we ever saw a 90's pop band slot machine coming!
The American boyband got together in 1995 and to date, have sold 70 million records worldwide. Here's a fun fact for you; the band were that successful, the first two studio albums created received Diamond certification by the Record Industry Association of America – it's basically a big deal.
In 2018, some twenty years after releasing their debut single…
… "I Want You Back," the Hollywood Walk of Fame unveiled a new star, and it was one in honour of the boys. Popular songs include "Bye Bye Bye," "It's Gonna Be Me," and "Girlfriend."
Let Us Introduce You to the Boys
Get your flares and blue mascara at the ready ladies as Justin, JC, Lance, Joey and Chris take to the stage once again, only this time they're playing an exclusive concert just for you. This may not be the first online slot based on a band, previous Play'N Go releases include Twisted Sister, KISS and Alice Cooper, but it's the first one to be centered around a pop group.
The unusual reel layout is in a 2, 3, 4, 3, 2 formation with 144 ways to win during the base game and big bonus spins action. The aim of the free games bonus is to get those reels expanding, but it'll only happen during encore spins. Up to 2,400 ways to win can be activated during encore spins.
Keep your eyes peeled for the pop symbols, each one will reveal a mystery symbol. When you have no more symbols on the grid, encore spins are awarded. During this feature, all members of the band will join forces on the reels and unite as wild symbols. Only high value symbols will appear and all boyband icons will remain sticky for the duration of the spins. Max win exposure is 5,000x your stake.
Head of Games at Play'n GO, Charlotte Miliziano said "We're dedicated to making sure that our portfolio has something for everyone and as our Music IP titles continue to hit the right notes with our players, we're excited to keep expanding. Who knows, maybe they'll be another '80s starto join Twisted Sister very soon... Watch this space."
Source: "Hear That? This Must be Pop!". Play'n GO. June 30, 2022.
Bingo Games
Back to articles
Your feedback
Please enter your comment.
Your comment is added.
Member's Feedback (1)
HulioSas 07/01/22, 05:07:26 AM
Absolutely loved this band. I wonder if you can hear some of the top songs when playing? I assume you would. Can't wait to play this one.