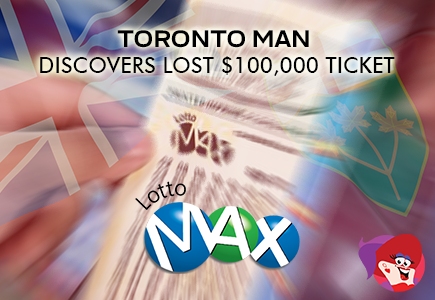 To prove that occasional cleaning of your vehicle or truck is sometimes worth the extra effort, here's a story about a man from Cobden, Toronto who is a true example of how lucky someone can actually be.
Exactly one month after playing
Lotto Max
in the province of Ontario, Jordan Crozier, discovered a winning ticket at the back of his van while doing some regular checkups and cleaning routines. Sounds unbelievable, right?
Getting Rich While Cleaning
The draw that took place on September 14th, 2018 carried a $100,000 prize, and in order to win it, Jordan had to match the last six of seven Encore numbers. Guess what? It's exactly what he did... but totally forgot about the 'winning' lottery ticket.
While at the OLG Prize Centre in Toronto to pick up his magnificent winnings, Jordan said:
"I enjoy playing Lotto Max once a month – always with Encore… I was very excited. I actually didn't believe it for a while, and it's pretty cool — it's a game changer for sure."
However, a few weeks after the draw, our lucky Lotto Max contestant completely overlooked the most
recent results
and continued with regular daily activities until one faithful day... the ticket was discovered by accident in the unlikeliest of places during a weekly quest for lost candies and pocket money lying on the back seat.

Early Honeymoon
Jordan Crozier is a 27-year-old power lineman, soon to be married to his pretty fiance, whom he is taking to an early honeymoon after enough savings for a house are put aside.
Also this:
Encore is played in conjunction with other online
lottery
games for just $1 CAD. There is a daily Encore draw, just to be clear. Finally, the winning ticket was purchased at Rooney Enterprises on Main Street in a small community of Cobden, part of Township of Whitewater Region, in Renfrew County, Ontario, Canada.
What do you think about this incredible story? Make sure to post a comment below.
Source:
"Cobden man discovers winning lottery ticket while cleaning truck"
October 30th, 2018.
Lottery & Scratchcards
Back to articles
Your feedback
Please enter your comment.
Your comment is added.
JaniceJ 10/30/18, 09:10:07 PM
What a lucky guy, come on, is this for real?