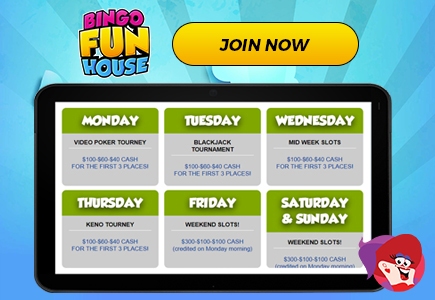 We just love it when we come across something so grand that it fills a week's-worth of bingo needs for even the most demanding of our readers. Bingo Fun House justifies their name once again as they lay out a day to day schedule of constant bingo action.

On Mondays, the site hosts a Video Poker Tournament, with cash prizes for the first three places. First gets $100, second place takes home $60 and third place wins $40. Tune in on Tuesdays to take part in the fantastic Blackjack Tournament with identical cash prizes for the first three players, and on Wednesdays, there's the Mid-Week Slots promotion - again, handing out the very same cash prizes for the players who end up in the first three places.

Head into Thursday and we have a Keno Tourney waiting, with the same cash prizes of $100, $60 and $40 cash for the first three spots. On Fridays, the Weekend Slots promotion is more generous: first three players will get $300, $100 and $100 once again and will be credited on Monday morning. Finally, on Saturdays and Sundays, Weekend Slots return with the same prize fund, in case you missed in on Friday.

Never lose from sight that, if you still haven't registered an account, you can always do so via our designated link on the review page and take advantage of their great welcome offer - 450% bingo AND casino cash bonuses or 850% of just a bingo bonus. Also, if you become their fan on Facebook, you will get 25 RBs for free.

Make it happen and join the site today! With an entire week filled with Tourneys and offers, there's no way this summer is ever going to get boring for you.
Bingo Tournaments
Back to articles
Your feedback
Please enter your comment.
Your comment is added.