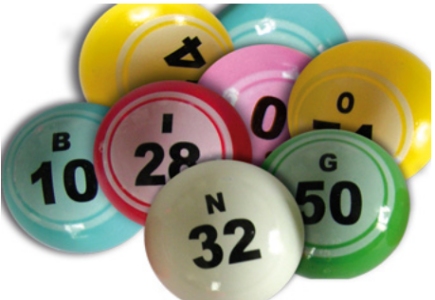 You head down to your local bingo hall for a friendly game of bingo, when rumors start to fly. It's not uncommon for bingo halls being accused of cheating. The question is how valid are the allegations. Is it just a fallacy because a particular player wins too often or a family member of a bingo employee wins a coverall? The eye brows begin to raise as whispers filtrate throughout the evening that there is a conspiracy among employees to rig the games. Workers are quickly labelled as charlatans and bingo players are left with an element of mistrust.

Bingo balls are lightweight and made of the same material as a ping pong ball. Forced air in the chamber elevate the balls causing them to float. Because they are delicate, the slightest imperfection will prevent them to ascend. Natural oils on the caller's hands can leave deposits on the balls and weight them down. That may explain as the night progresses certain numbers tend to be more in play then others. To insure optimal performance of the bingo balls, they should be replaced often. Some callers wear gloves as a preventive measure. Some states including lotteries require that balls are cleaned or replaced on a regular basis. This is an innocent error and hardly equates to fraudulent activity.

Given the delicacy of the structure of bingo balls they can be easily tampered with. Injecting the ball with a droplet of water or using speck clear fingernail polish can produce results. Some players have speculated that workers walk around and take special note of certain players bingo cards. The numbers are jotted down on paper and discretely given to the bingo caller. Claims of workers selling pull tabs to only a specified group, targets what players will win. Whether or not these are legitimate complaints can be difficult at best to prove. It is important for bingo halls to be regulated and stay within compliance of the gambling commission to prevent foul play.

The Random Number Generator (RNG) is a program implemented at most online bingo sites. It is a computerized mathematical algorithm method that randomly generates unpredictable outcomes. This program is also used for other gaming including slots and casino games. It is mandatory among these operators to ensure the fairness and randomness of games. Online bingo sites are regularly tested and certified to be in compliance with the gaming commission using RNG.
When it comes to absolute fairness of gaming, playing online bingo will offer you the peace of mind you are looking for. This eliminates any concerns of misconduct of on the part of the owner and operators in regards to pattern wins or determining the outcome.
General Gambling News
Bingo Society News
General Bingo News
Land Based Bingo News
Back to articles
Your feedback
Please enter your comment.
Your comment is added.