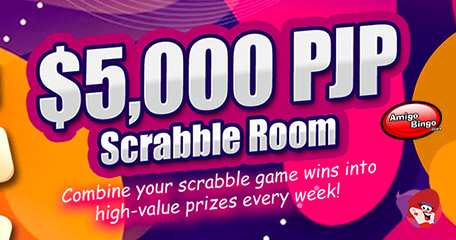 Blossoming Bingo Promotions Ahead
The outlook for April is a great one thanks to Amigo Bingo and a host of brand-new promotions, like the one where all players – even new sign-ups, get to claim 50 bonus spins absolutely free every week! Add to that a slots tournament paying at least $15million, a bingo event with $16,500 in guaranteed cash and heaps more!
Promotion Number 1:
Spring into Cash is a cracking promo where US bingo players have the chance to win thousands from as little 25c a card. Spring is here and so is your chance to win big with the $16,500+ guaranteed games.The Special Event Room is the place to be this April as each hour starts with a totally free…
…multipart flower game worth a bingo bonus of $100 plus a featured cash game. But that's not all, each bingo game also features a $5K cash progressive and a seeded jackpot that will grow in value as more players join in with the fun. Otherwise engaged? It doesn't mean you can't take part because there are prebuys available to secure your spot into the games in advance.
Check out the Friday (7th April) schedule for our guaranteed seed games:
6pm: $250+ seeded jackpot, 25c cards
7pm: $350+ seeded jackpot, 35c cards
8pm: $450+ seeded jackpot, 45c cards
9pm: $500+ seeded jackpot, 50c cards
10pm: $750+ seeded jackpot, 75c cards
11pm: $1,000+ seeded jackpot, $1 cards
On top of this already eggcellent promotion is an Easter celebration on April 9th, only details on what this will be are remaining a close-guarded secret. Keep an eye on your email for more info.
Promotion Number 2:
Came looking for the no deposit free games? Well look no further! Every week players are treated to 50 casino spins on the house, that's 25 free turns on two slot games of the week and all you need to do to claim is log in on a Sunday and a Wednesday!
Why not check out the new slots at Amigo Bingo including Fairground Frenzy, Mr & Mrs Joker Wins, Aztec Sun Stone and Wolf & Bear.
Promotion Number 3:
Every month, Amigo Bingo slots are paying out over $15million in cash and this April you could find your name on that winners list! In March they had over 1000 jackpots of at least $1,000, more than 425 jackpot winners of at least $2,000 and 250 jackpot winners of $3,000 or more.
Entry…
Participating is as simple as spinning your way to a winning spot every week from April 1st - April 30th and you can do this by playing any of the popular casino games featured (by Parlay and Mobilots). Each week you can take part in a random draw or top 5 ranking for a chance to win prizes on top of any jackpots that may be won too!
Points don't necessarily mean prizes…
April 1st – 7th draw will award prizes to players in positions 1 to 5 on the leader board
April 8th – 14th draw will be a random draw
April 15th – 21st draw will award prizes to players in positions 1 to 5 on the leader board
April 22nd – 30th draw will be a random draw
Here's how to collect points…
- Get 5 points for every deposit you make during each weekly tournament.
- Get 3 points for every $30 wagered on Mobilots.
- Get 1 point for every $50 wagered on Parlay slots and casino games.
The prizes…
#1st Place:
#2nd Place:
#3rd Place:
#4th Place:
#5th Place:
Then Amigo Bingo will randomly select the grand prize winners every week from all qualifying players to win a share of $1K in cash - $500, $350 and $150! Remember, the more entries you collect, the more chances you have to win, unless you only take part in the random draws.
Promotion Number 4:
The Bingo Circus promotion for April is styled on the slots tournament above, only with bingo instead of casino games. There's an impressive $150K in guaranteed cash prizes as well as extra weekly prizes.
Contests kick off at the beginning of every month and they feature a different circus act each week to keep things exciting…
…but that $150,000 in guaranteed cash ought to be exciting enough! Card prices range between 25c - $1, with great jackpots and a special 'Buy 30 Get 5 Offer' on all cards to help keep costs down. Taking part requires you to deposit, play, and win on the contest games in the main room throughout the day to get points in the ranking. Weekly winners will be selected randomly or by the top 5 depending on the contest week, so every player has a fair chance to win.
Here's how to collect points…
Each contest game win gets you 1 point into the weekly contest.
Every $10 wagered on contest games gets you 2 points into the weekly contest.
Each deposit made within the weekly contest gets you 3 points into the ranking.
All eyes on the prize(s)…
April 1st – 7th draw will award prizes to players in positions 1 to 5 on the leader board
April 8th – 14th draw will be a random draw
April 15th – 21st draw will award prizes to players in positions 1 to 5 on the leader board
April 22nd – 30th draw will be a random draw
Plus players in positions 6th to last in the ranking will also get an entry into the Grand Prize Draw. Just a single win on one of the 'Contest' patterns could win you $1,000 in cash. Extra weekly prizes are as follows:
#1: Double the daily bonus on the next deposit regardless of the amount deposited, up to 350% extra.
#2: Receive back in bonuses the total amount deposited over the week. For example, if you deposited $500 you will receive a $500 bonus.
#3: Five Lottery Tickets to win up to $100 extra.
#4: 2 Team Bingo Tourney Entry Tickets for the same weekend.
#5: $50 bingo bonus voucher to play your favorite games with no deposit required.
Promotion Number 5:
Scrabble Bingo proved to be so popular last month, Amigo Bingo have brought it back again! The Progressive Jackpot Scrabble Room invites players to combine scrabble game wins into high value prizes every week! And all games have a 'Buy 15 Get 5 Free' offer and are just $0.10 per card.
On top of the $5K cash prizes on offer, there's a chance to win more in a weekly raffle too! All you have to do is come up with words or sentences using your bingo wins within the current week, send the bingo team an email or ticket to take part in that weekly raffle for extra bingo bucks.
Bingo Promotions & Bonuses
Back to articles
Your feedback
Please enter your comment.
Your comment is added.