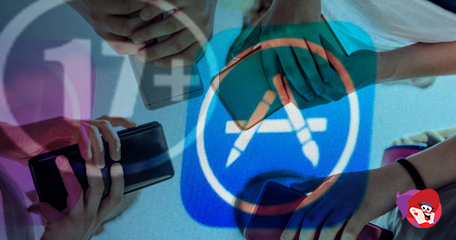 Apps are something we all use every day; from checking the time to checking in on social media, but there is a dark side to apps that not many of us realise. Of the millions of apps widely available at the touch of a button, there are a few that are branded as child-friendly but can come with gambling content which could only be seen as an encouragement and it's wrong.
In a bid to crack-down on children gambling, Apple have come up with a new set of rules for iOS developers and this will see all developers branding any social gambling applications as certificate 17+. The new rules were created to make the App Store as safe as possible for children.
Restricted Audiences:
Every App with any type of gambling simulation without a deposit required, will also be subject to the new rules and this is to restrict underage audiences. Age verification will be required through the App Store and this is validated by the usual checks; name, date of birth, address and banking details.
The 17+ certification move will affect developers globally not just in the UK or the US and this will affect current, new and pending applications. The rules came into effect when Apple held negotiations with the South Korean government after they insisted all apps which featured nudity, gambling or extensive violence should only be distributed to an audience with an age rating of 19+; the age in which South Korean residents are considered as adults.
Apple vs Gambling:
This isn't the first time the gambling industry has received a jab from Apple. In August this year, Apple announced that their payment method; Apple Pay, would not be accepted for any form of gambling transactions. Demands came from the global technology giant came two months prior, in June too; real money slots apps were not to feature HTML5 casino games, or they wouldn't be allowed on the store. Apple are taking a stance on gambling and are affectively driving gambling companies away with their new outlook. It's clear; Apple do not want online bingo and casino websites to acquire new customers through their platform.
Apple's management team has been very vocal in their latest attacks on gambling and they have a goal in mind of limiting the presence of gambling of any kid via their platform and this is to do with limiting the affect gambling could have on children.
The changes have already been rolled out; if you search Mecca Bingo on the App Store, the age verification has been adjusted to 17+ with the following content message: "Gambling and Contests. Frequent/Intense Mature/Suggestive Themes. Frequent/Intense Simulated Gambling."
Let us know what you think of the new rules below…
Bingo Regulations & Compliance
Back to articles
Your feedback
Please enter your comment.
Your comment is added.
JaniceJ 10/17/19, 10:10:00 AM
This is a great move by Apple and the only reason why developers would be worried is if they are deliberately targeting children with adult-related content.