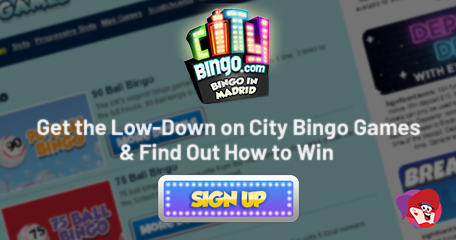 City Bingo is a bit of a mysterious bingo destination, I say that because each and every month, the bingo site up sticks and moves around the globe to bring players new and exciting adventures to experience, in the form of graphics and special bingo games. This month, it has landed in the capital city of Spain; Madrid…
…if you're reading this guys, can you bring the sun back with you? I'm freezing! To heat thing's up a little, players can take part in a huge range of bingo games where red-hot cash prizes can and will be won, from as little as 1p a ticket.
You won't get the same old bingo experience you get from other online bingo websites; instead, what you get is huge gaming choice in both bingo and casino games and they do say that variety is the spice of life! So, why not spice up your bingo games with the following great games?
Bingo Guide:
90-ball bingo; this is the classic, traditional game that we all know and love, made popular in bingo halls up and down the country! A game which delivers at least three prizes per game; one-line, two-lines and a full house – sometimes you'll find games with 1TG and 2TG prizes as well as roll on option.
75-ball; our friends across the pond in the USA love this variation of our traditional 90-ball bingo! As always, the first player to complete the pattern wins! Each 75-ball card contain 5 rows and 5 columns, so 25 squares in total. Usually the central square is given to you for free, so your card will have 24 random numbers on it; probably why this bingo game is often called 75-24 on many Dragonfish bingo sites.
5-Line bingo; despite having 75 balls, this game is totally different to its patterned 75-ball cousin. Instead, you have to match five numbers to make a line, then go on to two-lines, three-lines, 4-lines and a full house – 5-lines.
52-5 bingo; this variant is played with a deck of cards instead of bingo balls and it's so fun to play. Each hand is made up of five random cards and to win is simple; be the first person to cover all five cards on a ticket to win.
More Daubing Fun:
Progressive jackpots; City Bingo offers progressive jackpots on a number of bingo games. They can only be won through winning a full house and only on games in which a progressive jackpot is available – information on these games can be found in the bingo room's prize panel. If a progressive jackpot is not won, it is carried over to the next associated game. A jackpot increases each time a player buys a ticket to play the game…
…call house within the stated ball count and that progressive jackpot is all yours! You'll find no less than 11 different progressive jackpots available to be won every day.
Mystery jackpots; these thrilling games are for depositing players only and see prizes of between £10 and £500 awarded in each game. The mystery jackpot is revealed 10 seconds before the game begins, adding even more excitement. It doesn't matter how long it takes you to call house – if you win, you win the prize stated.
VIP bingo rooms; the rewards just keep on coming for VIPs. Gold and Platinum players are granted access to 3 exclusive bingo rooms where games play daily, weekly or monthly.
General Bingo News
Back to articles
Your feedback
Please enter your comment.
Your comment is added.
JaniceJ 06/24/19, 06:06:40 PM
Mystery jackpots! Big cash can be won for a few pence a ticket and not knowing what the prize is before-hand, makes the games all that more thrilling.