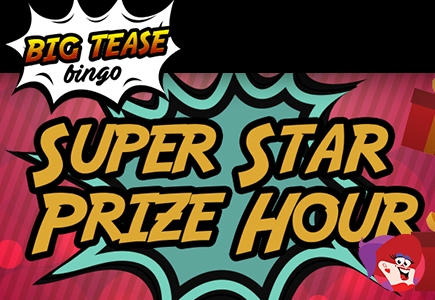 Turn every page and it is pop art galore that Warhol admirers would bask in the artistic backdrop.
Big Tease Bingo
nudges artsy fans while incorporating a fun pastime. One of Warhol's famous quotes is: "Everyone will be famous for 15 minutes" and players will have a good chance of experiencing more time than that!
Reach fame four times a day in the Super Star Prize Hour. Join the SuperStars bingo room to capture one of these prizes:
£50 set prize 1pm - 2pm
£75 set prize 5pm - 6pm with buy 3 get 1 free
£100 set prize 8pm - 9pm
£50 set prize 11pm - 12am buy 1 get 1 free
But wait there more! How does Superstar of the Day grab ya?
Be the star of your own bingo show! As the Super Star your awarded £25 bonus cash. Additionally, when you play in the room from 5am to midnight daily and win a full house in all players with tickets for that game win £1 bonus cash too! Keep your eyes peeled for the Super Star announcement every evening at 8pm in Superstars room.
Be a part of 1000 Stars. What does that mean? Listen up, ever Saturday night at 10pm there is a guaranteed jackpot of £1,000 big ones. Each ticket costs £1 each and it is a real bargain with the buy one get one free offer. Max purchase is 96 tickets.
Speaking of stars, get ready for Hollywood Nights. We are talking about £150 guaranteed jackpots every evening at 9pm. Pre-purchase your tickets and take a glamorous stroll on the red carpet of big jackpots waiting for you. Ticket prices for this game are 25p each.
There is a whole lot of fame waiting here that Warhol might of have rethought only 15 minutes!
Bingo Promotions & Bonuses
Back to articles
Your feedback
Please enter your comment.
Your comment is added.