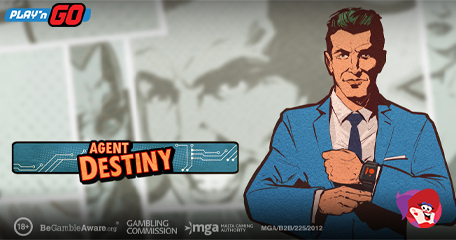 Comic-book heroes have always been popular but what about comic-book spy agents? Tapping into a new genre can be scary for most software developers, but this rarely fazes Play'n Go, who is keen to deliver new and unique titles to the iGaming scene.
Another week has gone by and another slot has been released onto the market, only this time…
…the award-winning provider have taken inspiration from the 50's and 60's with Agent Destiny, a cartoon-style comic slot packed with both male and female leads.
Move over Agent Jane Blonde, we've a new spy agent in town (two to be precise) and they're kicking ass with high heels, flawless make-up and a handbag packed with gadgets!
The characters of the 5-reel, 20 fixed win line casino game has been styled on secret agents Modesty Blaise and James Bond, only a lot cooler. An opening voice-over sets the scene but it's the symbols that create the story. Inspiration also came from Adam Hughes, the well-known comic book artist of today, to give a distinctive appearance, one that will be familiar to audiences around the globe.
CEO Johan Törnqvist spoke on how the company approaches this attention to detail:
"If you want to make the most entertaining games, you need to consider the whole experience, that's what we do. Agent Destiny is not just a fun game to play, but also recapture the fun and excitement of the spy adventures the game is based on. Design, sound, features; all elements must come together to create a slot which captures the player's attention and immerses them fully while they play."
Mission Made Possible
Did you know the word 'impossible' simply means 'I'm possible'? Well now you do. Having a positive attitude can do wonders for the mind, but there's nothing other than spinning the reels required to win with this one. Random features (aka linked reels!) keep things exciting and can kick in on any spin where a re-spin is awarded and sees symbols shifting from right to left.
All character symbols (four of them!) and safe wilds may appear as mega symbols during this feature, or when stacks of the same symbols appear on adjacent reels. A Trio of bomb timer symbols (wild and scatters) are needed to launch the explosive bonus spins round, where identic symbols appear on every spin.
Agent Destiny is slot 15 of 52. We are now week 20 which means a slot every week for a year is some way off being completed. Although we expect Play'n Go to achieve this later in the year.
Source: "Set a Date with Destiny in the Brand-New Play'N GO Slot, Agent Destiny". Play'n Go. May 07, 2020.
Bingo Games
Back to articles
Your feedback
Please enter your comment.
Your comment is added.
Bubles12
05/12/20, 09:05:21 AM
Comic books characters always appeal to me, but I'm yet to see a slot machine with 50's inspired symbols. This one could be very interesting.