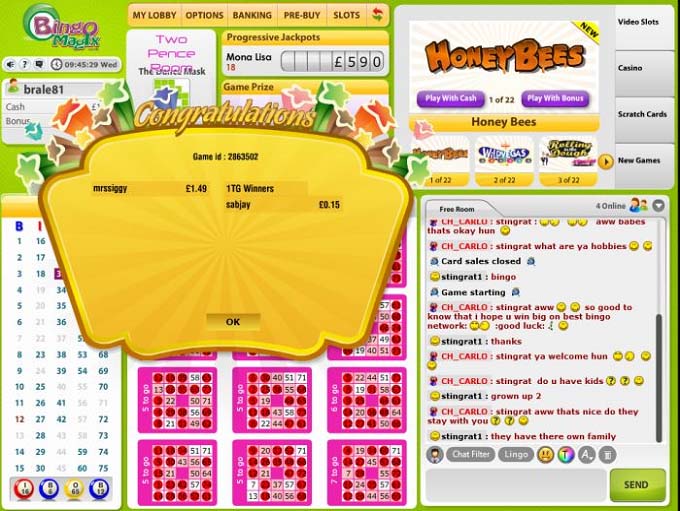 Whenever I feel down or disappointed I like to play bingo. For me it's not all about winning a game; of course, that's a great feeling but often I just like to relax, enjoy and, to simply put it, have fan. Honestly, even though I think about winning a huge jackpot, I prefer not to look at bingo games as a way to earn money. One of the sites where I like to go to lift my spirits up is Bingo MagiX.
I've been playing bingo there for a long time now, almost since the time I started playing online. I really like their big choice of games - they offer a 30-ball bingo, which doesn't happen often. I enter the room and I stayed there for a few games though the prize pool was so small, less than £0.50! For me it was difficult to keep the concentration and after a while I decided to change rooms.
My second favorite version of bingo is 75-ball; I enjoy covering patterns especially ones like Happy Face, Mask, Glass, Ladder and similar. Again, the prize pool was very modest so after a while I decided I had enough though to my surprise the time has flown by; the tickets weren't expensive so I didn't lose as much as I thought I would. After all, I could play slots, as well.
I play one slot quite often, and that is "Five Pirates" – I just enjoy that game very much; the payout has been very nice every time I played it. I had some nice wins in the base game, but soon the slot went cold one me and I lost £10 in a few spins. But at that moment I triggered 10 Free Spins with x5 multiplier winning modest £2.35. Only a few spins later I got 13 Free Games with x6 multiplier winning a bit more decent £10.32!,
I got some of my money back that I lost playing bingo and managed to earn something over it. It was a good session over all.
Markotik
Back to articles
Your feedback
Please enter your comment.
Your comment is added.