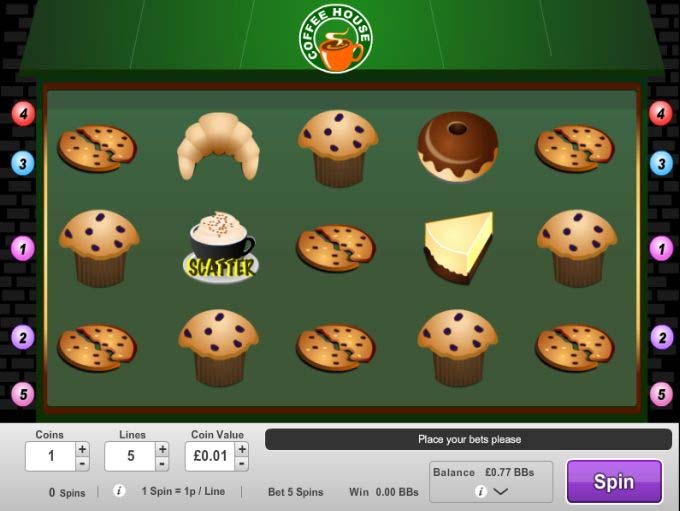 After a long day at work when I got home, just about to unlock the door, I heard my little nieces running around my apartment. All of the sudden I felt better even though I know they can take a lot of my energy. Still, I feel better afterwards and I even sleep like a little baby. After a few hours spent together they left and very strangely I didn't feel very tired. It was around 10 in the evening and I decided to play bingo shortly. I didn't have much money anyway so that was a suitable situation for me.
I went to Bob's Bingo and I spun the wheel winning 50 free bets. I chose to play my favorite slot - "Coffee House". The bet is only £0.05 so I got 10 Free Spins. To my surprise I realized that I didn't use my free bets from a previous visit so actually I had 20 Free Spins in total. The winning was, of course, very modest – I won £0.77, but still, that went to my bingo bonus bucks and in a bingo room where ticket price was £0.05, I could buy additional 15 cards, and that was a nice boost.
So I chose to play in a 90-ball room also called Victoria. The name reminds me of Victoria Chase, a hilarious character played by Wendie Malick in "Hot in Cleveland". So, I had a lot of laugh even before the game started. Unlike when I watch the show, this time I played bingo was no fun at all. I wasn't even close to winning; I had multiple cards with one missing number or even two or three missing numbers. Luckily I didn't have to spend much so I couldn't play for a long time.
Perhaps I could watch an episode of Hot in Cleveland before I got to sleep – that will surely cheer me up.
Markotik
Back to articles
Your feedback
Please enter your comment.
Your comment is added.