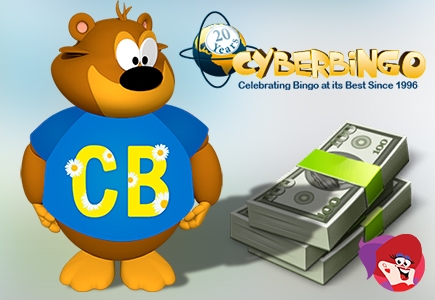 Everyone want's something for nothing!
Cyber Bingo
gets it and is the biggest part of their success. US players are welcomed and gravitate to it like birds flock to an open market fruit stand!
There are two types of points to earn fantastic prizes:
Loyalty Points
Receive 15 loyalty points for every dollar you deposit. Watch them accumulate and find yourself redeeming for bonuses.
Bingo Points Program
Play and earn points for cards purchased. These valuable points are redeemable for second chance cash prizes. Let your points build up and buy something special!
Free Cash Drawings
There is always a drawing going on to redeem points:
Daily Draw - $50 cash nightly at 11:59pm EDT
Weekly Draw - $250 cash every Saturday at 11:59pm EDT
Monthly Draw - $1,000 cash last day of every month at 11:59pm EDT
Still can't get enough of freebies? There is plenty more especially the "Coupon Book". This delightful book has goodies like free bonuses, exclusives, and bingo bucks. The best part of it all is this handy booklet can be enjoyed all year long in 2017.
Saturday nights are hot around Cyber, so hot might forfeit that date you have and stick around the Fantasy Bingo Tournament. Imagine this there is over $15,000 prizes up for grabs! It takes place every Saturday from 8:00pm EDT till 11:59pm EDT.
You will enter a fantasy filled with Unicorns, Dragons and a whole cast of characters. Play and win the most games during the tourney, you could be the winner of a sweet $300 in cash.
There are rewards for the top 10 players every week so watch the leaderboard and see where you stand.
Bingo Promotions & Bonuses
Back to articles
Your feedback
Please enter your comment.
Your comment is added.