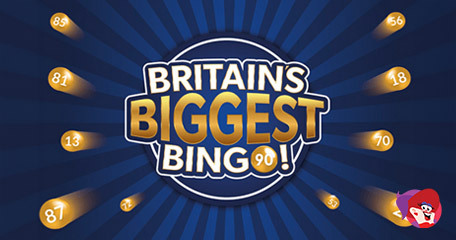 LBB'ers, Britain's Biggest Bingo is back after the summer break and guess what…it's bigger and better than ever!
On Monday 27th November a mega £150K full house will be won – that's £150K minimum in cold hard cash! If you're familiar with the unique 90-ball bingo game you'll already know there's one prize and one prize only to be won, and that full house prize can only get bigger not smaller!
Unlike all other exclusive games at tombola, Britain's Biggest Bingo game comes with a pre-buy feature…
…this means you can secure your tickets into the game whether you can make it on the night or not, as long as you have purchased tickets before kick off you are in with a chance of winning. Imagine logging back in after the promotion to find a minimum of £150K in your bankroll – wow!
You've got to be in it to win it so let us remind you of how to do just that.
Britain's Biggest Bingo game is only available to tombola Not a member yet? Sign up in a few clicks, fund your account with £20 to get a £20 bonus with NO WAGERING REQUIREMENTS!
Make your way to the Britain's Biggest Bingo tab (accessible from November 1st) on the welcome page.
Secure your tickets and keep your fingers crossed for a win!
The devil's in the detail:
Purchasing will open at 10am on Wednesday 1st November and will remain open until 9pm on Monday 27th
You can purchase one strip (6 chances to win) for 50p, two strips (12 chances to win) for £1, three strips (18 chances to win) for £1.50p or the maximum number of strips – 4 (24 chances to win) for £2.
Nobody can have more than four strips making it as fair as possible.
Should that £150K minimum prize haul increase, the more money will be won! The more players who join in with the 90-ball bingo game, the bigger the cash fund.
To win, be the first player to mark all 15 numbers on your ticket. If more than one player manages to do this at the same time, the prize will be shared equally between all winners.
There is no one-line or two line prizes, nor is there a progressive jackpot.
Britain's Biggest Bingo game is a monthly feature.
Q: I've bought tickets to Britian's Biggest Bingo game, but I forgot to log into my account. How do I know if my tickets were in play?
A: Head to your tombola account, find the "transaction history" setting and there you will be able to view your ticket purchase and the outcome of the game.
Q: Can I buy more than 4 strips?
A: No. It's a max of 4 strips per player per game.
Q: Are there wagering requirements on the £150K minimum prize pot?
A: Absolutely not! tombola is a wager-free bingo site!
Will you be taking part in the promotion? Let us know your thoughts below.
General Bingo News
Back to articles
Your feedback
Please enter your comment.
Your comment is added.
bridgetjones
10/31/23, 09:10:27 AM
I absolutely love this feature but echo comments on Facebook – it would be more exciting to have 1 line and 2 lines because you literally have one stab at the prize.