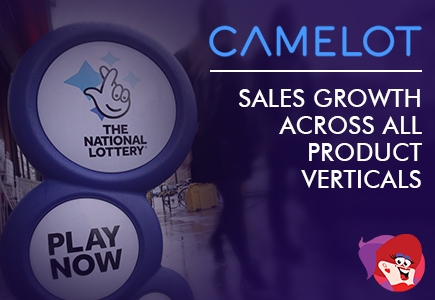 According to the latest financial analyses, the National Lottery operator has finally seen draw-based sales in H1, which represents a recovery in comparison to the same period in 2017.
Camelot UK
Lotteries has revealed a 5.4% sales growth in all product verticals in the first six months of the company's financial year, climbing to £3.5 billion on September 29th.
Positive Results Across All Verticals:
It appears that the launch of a new lottery product Thunderball draw and the EuroMillions HotPicks provided a 2 per cent surge in sales, totaling £1.9 billion. Moreover, scratch cards and mini instant games also set a new record, increasing the sales up to 10% year-on-year to some £1.5 billion.
As Camelot chief executive, Nigel Railton put it:
"Thanks to the work we've been carrying out following our comprehensive review of the business, we've made a very positive start to the financial year across the board."
Interestingly, the operator has also made public its efforts in the digital division, stating that it continues to grow ever so rapidly, setting an all-times high of £831.4 million for the abovementioned period. The main reason is obviously a significant increase of
online games
and apps. In other words, the launch of new products amassed £431.6 million.
Billions Paid Out In Prizes:
The report also reads that the retail sales jumped to £2.6 billion, whereby the country's retail affiliates bagged £147.2 million in commission in H1.
Another important detail is that Camelot paid out massive £2.0 billion in prizes out of which 196 players became millionaires, whilst the remaining £793.2 million went for charity and general good causes.
Railton said that the organization irreversibly expanded its portfolio not only by investing in new technologies, but by working on long-term strategies that are starting to give first results... here's what the CEO commented:
"Everyone at Camelot is committed to ensuring that this success story continues, so we'll be looking to build on this momentum by continuing to focus on those areas that we identified in the review. We'll continue to make improvements across our retail and digital channels, and build on the good headway we've made to date in making The National Lottery brand more relevant and visible."
He also implied that the association has got more great plans for the second half of the year, ensuring that more balanced and appealing range of games will appear in the catalogue – offering players a
better winning experience
and even more excitement!
Source:
"Camelot reports H1 sales growth"
. Totally Gaming. November 15, 2018.
Lottery & Scratchcards
Back to articles
Your feedback
Please enter your comment.
Your comment is added.
DomLatVit
11/20/18, 07:11:34 PM
Interesting report, I had a feeling it was regressing…