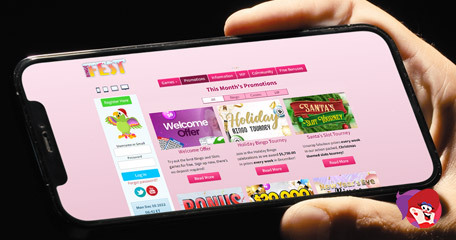 Celebrate The New Year With A Big Bang!
A series of seasonal promotion are currently underway at Bingo Fest with guaranteed real money prizes being won by real bingo players! Each and every month a new set of offers are rolled out, that free trial offer remaining unchanged and firmly in place for the foreseeable, and this means plenty of opportunities to win big cash prizes!
December's promotions are designed to be fun and budget busting at the same time with card offers such as buy 3 get 2 free. The biggest event of the month is fast approaching with $21K in real cash up for grabs. The Epic Bingo Party commences on the last Sunday of the month which just happens to be Christmas Day…
…it's a one-off Bingo Fest event consisting of 10 warn-up games paying $1,050, followed by $10,500 at the end of the night. The cards for the warm-up games can be bought for $2.10 each and the cards for the main event will be priced at $5.25 each. An offer on cards will be available throughout the evening where you buy 3 you get 2 free!
Not available on the day? Purchase cards in advance from the bingo lobby! This way when you're falling asleep from eating too many mince pies and drinking a little too much fizz, you still have a chance to win a big money prize!
Festive Fun Ahead
Other Bingo Fest promotions include a Christmas countdown calendar where a promo code can trigger a plethora of perks. Log in daily to see what's up for grabs and use that day's code to claim your no deposit offer!
Holiday Bingo Tournament: Play online bingo to win a share of more than $6K in additional prizes every month! Win as many times as you can (full houses) on special Christmas patterns to not only win the full house prize fund, but to land a spot on the winner's leader board too! The top 40 ranked winners receive a share of cash and bingo bonuses. An offer of buy 7 get 3 free is applied to all special bingo tournament games.
Santa Slot Tournament? In a similar style to the bingo tourney, cash prizes and bouses can be won by playing specific seasonal slots. The best equalized win over 3 consecutive rounds could result in your walking away with a top prize of $450!
New Year's Eve Party: End the bingo year on a high with guaranteed cash paying games, double bingo points (for bonuses) and a great buy 6 get 3 free offer on cards! It's a bingo celebration to see out 2022 and welcome in 2023.
Bonus Spins Party: Deposit a minimum of €30 every Sunday and Monday to claim up to 160 casino spins!
Festive Keno Cashback: Tis the season to be jolly with a fantastic Keno cashback bonus of up to €200 every week!
Extra Chances to Win: Every 1TG bingo game gives extra chances to win with additional prize pots!
Bingo Promotions & Bonuses
Back to articles
Your feedback
Please enter your comment.
Your comment is added.
lollipops321 12/07/22, 07:12:36 AM
There is nickel games and free bingo specials too. The free world bingo room is a combination of paid for and free games.