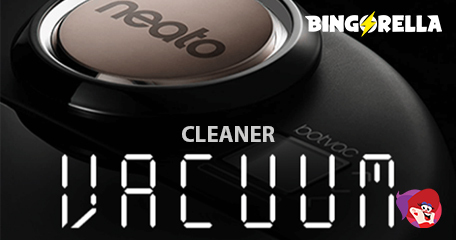 Every month on the 16th, Bingorella give away a smashing prize to one lucky dabber. The prizes vary from one month to the next and member feedback is very much involved in deciding what to offer and this month, players can sweep up a superb prize of a robotic vacuum cleaner! Take the stress and strain of vacuuming away with a programmable, robotic hoover! Unlike your other half, you can program its little computer to do as it's told and even when you're not at home…
The special game will kick off at 9pm on October 16th, but to be in with a shot of winning, you need at least one ticket – a ticket that you simply cannot buy! How can you win prizes if you can't buy tickets? Well, you earn them through promotions and offers. It could be that you'll trigger tickets with a deposit code, or it could be you win them on the rewards wheel, but however you claim them, it'll be fun!
Stars Mean Prizes
One of the popular ways of earning tickets is by spinning the rewards wheel and to get your hands-on guaranteed spins, you need to make a deposit (banking accepts debit cards and PayPal). Now, the wheel is packed with various offers ranging from bonus spins to free bingo tickets, and you won't know what you've won until you take a spin! A deposit of £20 to £49 will trigger 10 instant spins, 1 spin of the wheel and 3 free wacky specials tickets.
If you deposit more, you get more, right up to 5 spins of the wheel, 55 free games, 24 free bingo tickets, 100-seconds speed spinning, 5 free tickets to the £10k monthly game and 1 spin of the superstar wheel (with enhanced rewards!) Another way of gaining access to the money can't buy bingo room is through the chat feature! Don't be afraid to ask the chat hosts about any promo codes that are available for entry tickets, because if you don't ask, you don't get!
We've seen some super prizes being given away over the last couple of months, including shopping vouchers, iPads, top-tech and even cash! The community are approached before Bingorella go do their shopping, so if there's a prize you very much have your eyes on, why not recommend it? Some of the bingo rooms host special bingo games where you're able to pick up star prize tickets too, so you're going to need to look after that bankroll.
Make your pennies last longer by…
…playing in the free bingo rooms from 9am until 10pm daily where you can play for free to win great bonuses and tickets will cost zilch! But whatever you do, make sure you have tickets into the 'freebie' daily game, because at 8:45pm every evening, £50 in up for grabs in a free to play bingo game! There's a £10 line, £15 two-lines and £25 full house prize waiting to be won!
Bingo Promotions & Bonuses
Back to articles
Your feedback
Please enter your comment.
Your comment is added.
Member's Feedback (1)
MadamMilly
09/27/20, 11:09:38 AM
Lots of ways to get tickets into the room. Don't think I've ever not had a ticket into the prize draw.