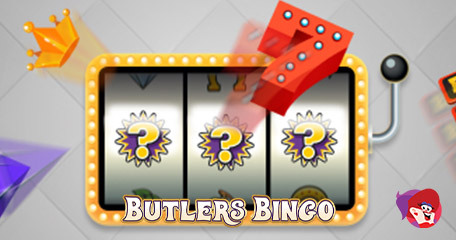 Jackpots That Must Be Won – Who Will Win?
When there's too much month at the end of your money, daily deals and rewards can make all the difference, especially when you're trying to stretch that cash until payday! Not many online bingo sites offer them, meaning all us bingo goers have to try our luck with is free bingo games and when you have some 500+ players frantically dabbing tickets in search of a win, your chances of bagging those prizes are next to zero!
The rewards and daily offers scheme at Butlers Bingo is a simple one…
…nothing complicated about it whatsoever! Deposit or play and earn points. Rewards are calculated every single day, none of this rolling over for weeks or months at a time.
There are 5 levels to claim offers from, level 1 kicks in from registration. Naturally, all offers and promotions carry wagering requirements, however, when it comes to bingo bonuses, there's just as 3x turn over, making it one of the most generous offers in online bingo! Not only that, you'll also gather loyalty tokens with real money wagers which can then be redeemed for cash prizes!
Level 1: Bonus spins or freebies redeemable daily; get a casino bonus of 10% every Monday and pick one of the 3 mystery cards to get bonus spins every Friday. Butlers Bingo is home to an extensive suite of online slots and casino games and thanks to these particular offers, free play!
Level 2: The same as level 1 only this time more bonus spins on a Friday, increased offers on a Monday and 15% casino cashback bonus.
Level 3: A step up in the rewards with 20% casino cashback bonuses on a Monday.
Level 4: More spin offers and freebies as well as 25% casino bonus cashback.
Level 5: The cherry on the cake is level 5's massive perks and 50% casino bonus cashback!
Now for the promotions…
…and kicking things off we have the got2go jackpots! There's a mini version paying £100 in cash in two events daily in the Broadway room. Then on Thursday's, the prize pots are boosted to £1K in this same room! Someone has to win the cash – will that be you?
Diamond Dazzle is taking the online bingo world by storm with its unique gamble feature! The new face of 90-ball bingo delivers he chance to win bigger prizes in every game. Think of Deal or No Deal only without Noel Edmonds and those red identical boxes – this variant is all about the diamonds and the jeweller!
Similar to the got2go jackpots is the heavy and super-heavy weight promos. In the heavy weight room every day (except Saturday), £1,500 or £2K in prizes will be won in each game. The super heavy weight game is played every Saturday with a guaranteed £2,500 prize!
Bingo Promotions & Bonuses
Back to articles
Your feedback
Please enter your comment.
Your comment is added.
HulioSas 01/20/23, 04:01:37 PM
The diamond game is really good. It's a shame the room isn't open for longer periods.