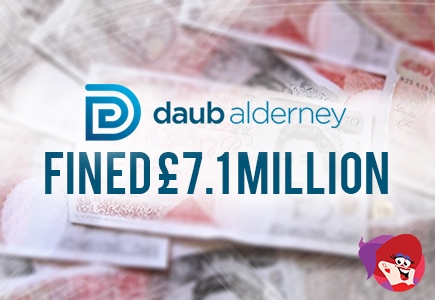 Creators of
'unique online entertainment experiences'
and leading iGaming operators, Daub Alderney, part of the
Stride Gaming Group
, have been fined by the United Kingdom Gambling Commission for failing to comply with the regulator's policy concerning the prevention of money laundering and user protection. The company will have to pay a £7.1 million penalty, according to Richard Watson, UKGC executive director, who also said:
"This action is part of an ongoing investigation into the online casino sector. The operator's standards did not match the protections required, and this fine reflects the seriousness of these lapses."
A Year-Long Licence Review:
The Commission
has launched a full-scale review of Daub Alderney's operating licence on January 12th, 2018 due to the following reasons:


certain activities may have been carried on in purported reliance on the licence but not in accordance with a condition of the licence


the Licensee might have been unsuitable to carry on the licensed activities


a review would haven been necessary


The case was brought to a discussion on April 18, 2018 when the Regulatory Panel concluded the operator had
"breached conditions of its licence relating to anti-money laundering measures and failed to comply with social responsibility codes of practice."
As a result, the Commission's Licensing, compliance and enforcement policy statement, the Indicative Sanctions Guide and the Statement of Principles for determining Financial Penalties issued a warning, imposed additional conditions and inflicted a financial penalty.
The Findings:
Under the terms of UKGC's Licence condition 12.1.1.1, which refers to anti-money laundering, prevention of money laundering and terrorist financing, the operator is required to
"conduct an assessment of the risks of their business being used for money laundering and terrorist financing."
Furthermore, such risk assessments are necessary when introducing new products,
payment methods
or technology.
Still and all, after conducting a thorough evaluation, the Commission concluded that the appropriate risk valuation was not in compliance. The Licensee was informed about the requirement on October 5th, 2017 but the Board approved its company's breach on February 23rd.
Commission officials also reported that the licensee failed to (quoting official statement):


conduct appropriate ongoing monitoring of a business relationship


apply, on a risk-sensitive basis, sufficient enhanced customer due diligence measures and enhanced ongoing monitoring in situations which by their nature present a higher risk of money laundering


keep full records of the evidence and supporting documents it considered as part of its customer due diligence checks and business relationship with the customer


establish and maintain appropriate and risk-sensitive policies and procedures relating to specified matters in order to prevent activities related to money laundering and terrorist financing


provide relevant staff with regular training in how to recognise and deal with transactions and other activities which may relate to money laundering or terrorist financing


The entire review can be found on the offical UKGC site.
Source:
"Daub Alderney to pay £7.1m fine for anti-money laundering and social responsibility failures"
.UK Gambling Commission. November 13, 2018.
General Gambling News
Back to articles
Your feedback
Please enter your comment.
Your comment is added.
Member's Feedback (1)
DomLatVit
11/16/18, 03:11:28 PM
Oh, we've got a winner it seems! Seriously, I read somewhere recently that the Commissioner has already issued much smaller fines, but this is quite a kick in the...
Oh, we've got a winner it seems! Seriously, I read somewhere recently that the Commissioner has already issued much smaller fines, but this is quite a kick in the n*ts. I'll always opt for user protective measures, and this is certainly one of the ways to do it.
Show more