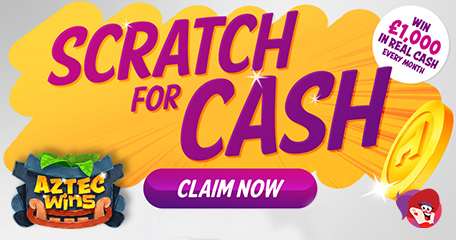 Uncover the Secrets of Real Money Promotions
It's no secret that the Aztec civilization was highly developed socially, intellectually and artistically, neither was it a secret that human sacrifices and rituals were part and parcel of everyday life, but so too were gold and riches. To this day we are still uncovering the mysterious of a tribe forgotten, including sealed tunnels beneath cities, walls made from the skulls of slain enemies and ancient artefacts such as coins and jewellery.
Here's a fun fact for you
…did you know we have the Aztecs to thank for coffee and chocolate? Thousands of years ago the Aztecs produced delicious drinks very similar to those we make today, from the cocoa tree! Instead of trading in money/coins, the Aztecs would trade in cocoa beans. The higher the quality of the bean, the higher its value. And talking of value, In 1981, a 4lb gold bar was discovered during construction work in Mexico City and it has now been identified as a piece of treasure that was stolen from the Aztecs by Spanish conquistadors more than 500 years ago!
Follow the Trail to Big Loot
Aztec Wins may be a modern invention, but in terms of jackpots it takes players back to 1500AD with unlimited wins hiding beneath its surface. Aside from the jackpots in both slots and online bingo, it also has plenty of surprises to uncover with it's artefact collection feature. Complete a mission, collect your ancient relic and you'll be one step closer to guaranteed bonus spins. That's free games on the house with no deposit! Every 5 relics added to your trophy cabinet gets you more spins. Collect 200 and you get an Amazon voucher as well as a chance to win 20,000 bonus spins! Wow!
No pyramids to climb, no battling to survive against several-headed serpents and no digging for gold, just pop your details in and you get to double your first deposit! From there, bonus spins flow like running water with bonus spin opportunities credited on deposits, when new games are released and when taking part in happy hour promotions. Once you've credited your account, the cash drop is activated and you get to star in your very own gameshow style bonus round! Drop that plinko disc into the wall of wealth for a 4 in 5 shot at winning real money prizes!
Other promotions at Aztec Wins this month include a June prize draw where two lucky players will win a luxury garden furniture set with fancy overhanging parasol (valued at £1,200), or a 3-burner gas BBQ (RRP £880). To enter the giveaway, simply wager £10 or more on Blazin' Hot 7s Big Bonus this June plus every extra £10 wagered will gain you one more entry into the draw! Plus, every £10 wagered on scratchcard games qualifies you for the £1K cash draw.
Bingo Promotions & Bonuses
Back to articles
Your feedback
Please enter your comment.
Your comment is added.
HulioSas 06/17/22, 01:06:41 PM
I found it easier to register with the paypal link. You don't have to add all your details when you link your paypal account.