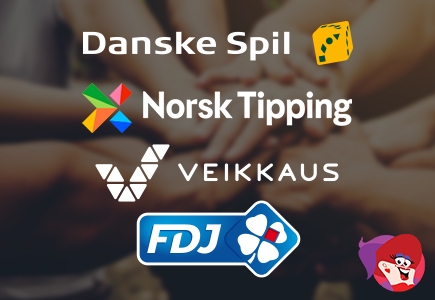 Four
lotteries
; Danske Lotteri Spil, Francaise des Jeux, Norsk Tipping and Veikkaus have announced that they have been granted a mandate by their respective authorities, which will see them delivering an enhanced range of games to consumers, through a joint venture…
The participating lotteries signed an agreement to
establish a joint venture company (JVC)
, on 1st October 2018 and due to the four lotteries sharing the same values and public interest goals, they decided to create a joint company which will share resources with one goal in mind…
…To develop liquidity games and to offer greater gaming choice to the people.
Four Become One:
By forming as one, the companies will collectively be known as; Lotteries Entertainment Innovation Alliance AS (or LEIA for short) and by sharing resources, they aim to build a wider and more efficient digital gaming company, which will allow them to address some of the common main challenges in digital space and in turn, this will foster open innovation.
Morten Eriksen, from Norsk Tipping, has been appointed as the CEO of the new venture. Eriksen has amassed more than 20 years of experience from the Telecom industry and currently has
5 years' experience
in the lottery industry.
Commenting on the
new deal
, Olli Sarekoski, the Chairman of LEIA and CEO of Veikkaus said;
'The consumer behaviour in the Lottery industry is changing rapidly which requires faster development and adaption from both the operators and suppliers. We are happy to announce this new Joint Venture and I believe we will be stronger together in the long term in delivering strong value propositions to each market.'
About the Companies:
Danske Lotteri Spil (Danish Lottery Games AS) is a state-owned limited company which was founded in 1948. The company is licensed and regulated to offer games in Denmark and Greenland. Danske Spil is currently the only company in Denmark, which is permitted to
offering gambling on luck-based games
, such as bingo and
scratch cards
.
Francaise des Jeux (FDJ) as founded in 1976 and has its headquarters in Boulogne-Billancourt, France. FDJ is the operator of France's national lottery games, is the sponsor of the FDJ cycling team and is owned by the French government (with a 72% share). In the summer of 2018, the government opted to sell off 50% of their ownership in the hope of rejuvenating national treasury.
Norsk Tipping was founded in 1949 and is a lottery in Norway, but you'll also find sportsbook and instant win games available from the company, which were introduced when their website was established in 1999. Customers of the company are not only being given chances to win, but they're also supporting grass-roots sports and cultural projects.
Veikkaus is
a limited company which was founded on the 1st January 2017
, making it one of the newest members to the gambling industry. Veikkaus has its headquarters in Helsinki, Finland, and is a merger of three previously existing betting and gambling agencies; Veikkaus, Finland's Slot Machine Association and Fintoto.
Source:
Miller, George.
'Establishment Of A New Joint Venture Company - LEIA'
. European Gaming. November 27, 2018.
Lottery & Scratchcards
Back to articles
Your feedback
Please enter your comment.
Your comment is added.