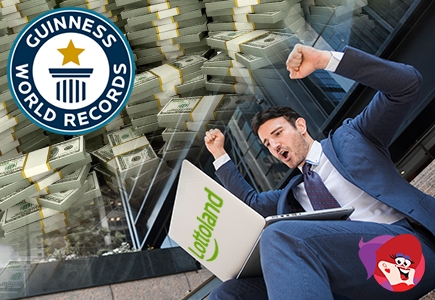 Breaking world records in the online gaming industry continues, as one lucky player from Germany racks up a €90 million EuroJackpot at Lottoland. According to the
Guinness World Records
, the largest online gambling payout in history now belongs to a 36-year-old Christina from Berlin, Germany who placed a bet on
lottery
via mobile device and basically became a millionaire overnight.
Officially Admitted
:
Although her mother chose the five lucky numbers months ago, the official certificate was handed to Lottoland only yesterday. The digits that changed this girl's life are 14, 19, 21, 30 and 32, plus the two Euro numbers 4 and 7.
CEO at the Gibraltar-based company, Nigel Birrell, said:
"
We are absolutely delighted to achieve a GUINNESS WORLD RECORD. It's such an accolade to find ourselves in this hall of fame. This title is a confirmation of our business model, it proves that we are able to even break world records thanks to our sophisticated insurance model
."
Dedicated To Making Dreams Come True...
...is what the people at Lottoland are striving to achieve day by day. The team is thrilled that another person's life has been completely changed but it also prides itself on being able to pay out the biggest win within record time...
Official adjudicator at GWR, Sofia Greenacre commented:
"
I'm pleased to confirm that Lottoland did indeed manage to set a new GUINNESS WORLD RECORDS title for the Largest online gambling pay-out, which now stands at an incredible €90,000,000. My congratulations go out to all those who took part, you are OFFICIALLY AMAZING.
"
The Payout Is Still Questionable:
There is a lot of controversy about the win, since Lottoland is illegal in Germany. According to the state law, lottery companies may not operate in FRG, said a spokesman for the Interior Administration Berlin. Since the winner cannot force Lottoland to claim her prize legally, this whole fairytale might end up in tears… however, as stated by Nigel Birrell, the prize will be awarded as promised.
Source:
"Lottoland achieves Guinness World Records title: €90 Million EuroJackpot pay-out secures Lottoland a World Record"
. Calvin Ayre. September 27, 2018.
Lottery & Scratchcards
Back to articles
Your feedback
Please enter your comment.
Your comment is added.
JaniceJ 10/09/18, 08:10:29 PM
What a lucky girl, I can.t believe my own eyes! Wondering if she's ever going to get her hands on the prize.