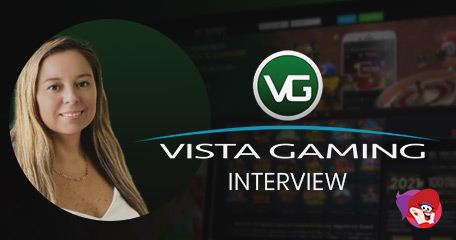 VistaGaming represents three of the most trusted online bingo brands for U.S. players. These include Bingo Fest, Bingo Spirit and Cyberbingo, which has been online for 25 years! In addition, Australian and Canadian registrations are welcome. Players are drawn to the engaging bingo rooms and, of course, the exclusive no deposit offers we've worked out for LBB'ers. We wanted to delve a bit deeper to bring you the latest information directly from the source. Meet the 'Bingo Lady', Fabiola Olaso. Our team has worked closely with her for years and it was time to reconnect in this insightful interview. Faby explains the $100 minimum withdrawal limit and covers more including available payment methods for first-time cashouts and a plethora of exciting promotions. Without further delay, let's get into it.
Q: Thank you for chatting with us. Please introduce yourself.
A: I'm Fabiola Olaso, and I've been part of the VistaGaming team for nearly a decade. I'm a mom, a friend and a colleague. I've been called the 'Bingo Lady' for quite a few years at the iGaming events. My main focus is to bring the players a positive gaming journey from day 1, with amazing warm welcome offers and generous bonuses.
Q: Online since 1996, Cyberbingo celebrates its 25th birthday this year. What factors have contributed to its success?
A: Having our own unique software has been part of the key elements. We can offer something unique, with great features, that is easy to understand and play. We currently offer 7 Bingo Rooms and over 500 video slots for never-ending fun.
Q: Talk to us about the software used to power the bingo rooms and the bingo variations available.
A: The Software is VistaGaming and we currently offer B75. Bingo75 is the most popular Bingo variant among the Americans, while the 90-ball is popular among the UK customers.
As a personal choice, I feel the 75-ball bingo way more entertainment with eye catching and fun bingo patterns. Also, players always have this amazing opportunity to join the 24/7 non-stop chat games during the sessions.
Q: Cyberbingo, Bingo Fest and Bingo Spirit offer a wide range of promotions such as bingo and slots tournaments. What are the most popular among your players and what's in store this month?
A: October is a real feast with plenty of Halloween treats the whole month. All our new customers will be receiving unique welcome FREE offers. For existing customers too, we are offering many specials this month.
A DAILY Spooky Bingo Tourney awards the top player a $225 CASH Prize. Players don't have to wait till the end of the month to receive their prizes. You can simply start playing on any day of the week and instantly win a juicy Tourney prize.
Halloween gets more spooktacular and full of treats with our monthly $10,000 top cash prize BIG Bingo Event hosted Oct 30th at 10pm EST with $1,000 warm up games that kick in at 7pm EST. This mega event with its electrifying rewards has changed many a players' lives over the years.
Then, the Creepy Reels Slot Tournament every weekend during October is awarding over $2,000 in prizes with a top cash prize of $1,000. Additionally, we have many other promotions running this month such as the Mobile Slots Tourney, Pumpkin Bingo, and much more.
Q: Jackpots are a hot topic. What was the largest win to date?
A: Playing Bingo, our player 'Honey IM HOME' shared her experience of hitting an amazing $38,313 with a quick pick of random numbers in a single game. That was an amazing BINGO win. In slots, we've got larger wins including network progressives with prizes of over 100k.
Q: Speaking of jackpots, does the maximum withdrawal limit of $3,000 apply? Also, is $3k a weekly or monthly cap on cashouts?
A: Our weekly max cash out is $3,000, but again this is subject to review and we try to be flexible. For example, on winning a large jackpot prize, the management will help the customer settle his big jackpot win quickly. Monthly max cashout limit is based on the per-week limit and depends on how many weeks there are in the month.
The limits are also subject to the payout methods:
$2,000 for BTC
$2,500 for paper checks
$3,000 for wire transfers
Q: Wagering requirements are significant in determining whether to claim a bonus as players often want to avoid playthrough requirements. In terms of welcome bonuses, are players required to accept or can they decline it upon first deposit?
A: We currently offer a dynamic deposit wall where player get to choose their bonuses. They can play with cash, pick small bonuses, or claim large bonuses. There is always something available for everyone. And we're different from other bingo sites - we do not punish our players by restricting bonuses after large wins or payouts. The bonuses are always available and up for grabs.
We also have an online coupon booklet, running for all our active players. This gives out extra perks every month and on special occasions.
Q: Is ID verification required for all first-time withdrawals including Bitcoin?
A: For verification purposes, the first payout can only be through wire or paper check. After a 1st deposit they can request through Bitcoin, and yes, we will verify their information. We need to verify the person who opens the account, and the person who requested the payout are the same person to avoid fraud.
Q: The minimum withdrawal limit is set at $100, and players consider this on the high end. Is this limitation set by the processor?
A: I'm afraid that is so. The fees range from $40-$65 per processor, and it will make no sense to process a transaction where the fee is more than the payout amount.
Payment processing for some countries is extremely expensive. We are always on the lookout for better options, but again we must put the money in safe hands of trusted processors only.
Q: Last but certainly not least, do you have anything else to add?
A: We have great projects coming up for 2022. I wish I could share more information but I'm sure our customers see how we make Bingo better every day by providing just not new promotions but more playing options and features.
The festive season is also just around the corner. Christmas is always our busiest month as we shower our customers with jolly gifts and surprises.
We've also launched a new loyalty program for Bingo customers just a few days ago, about which you can read more here.
Players need to opt in and they will receive an invitation. In order to qualify, players must deposit a at least $1,000 during the previous month or $6,000 over the course of the prior six months. The same qualifications apply to keep your status.
As a part of this program, the players receive special birthday surprises and physical gifts, all run by our VIP player manager.
Back to articles
Your feedback
Please enter your comment.
Your comment is added.
Feelin froggy
10/10/21, 05:10:50 PM
A favorite among US online bingo players. Thanks for the interview!
Feelin froggy
10/10/21, 05:10:42 PM
A favorite among US online bingo players. Thanks for the interview!
bridgetjones
10/07/21, 09:10:17 AM
Great interview! Thanks for providing us with more insight into future plans.