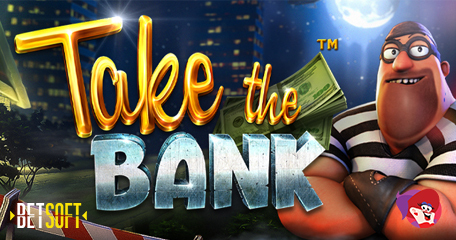 As the darkness falls over a once-bustling city, something sinister is set to begin and you'll have a front-row seat. Nestled in the heart of the concrete jungle is a bank and yep you've guessed it, you're about to go on a heist of a lifetime! The rules are simple; get in and out as quickly as possible but don't forget to pick up as much loot as you possibly can.
Did you know a hamster can carry a third of its body weight in its cheeks? This may be a useful fact, but one you should think long and hard about – because you need to carry more than that if you're going to start a new life away from the city hustling's.
The Plan
Will you be Mr White or Mr Green – nobody knows until you're assigned you spot on the team. It's all very Reservoir Dogs, only, there's no risk of losing an ear to some psycho brandishing a knife. BetSoft have created this stunning video slot depicting a much-loved theme; cops and robbers and it's packed with truncheon wielding antics and sacks of fun.
Step one: launch the game on any device. Step two: select your bet. Step three: enjoy fast-paced gameplay with big pay-outs! All you need to do is rob the bank and get away with it in an exciting adventure. You'll have some help of course, sticky wilds, bonus rounds and bonus spins all add to the thrills.
Put the Plan into Action
Featuring a 5-reel, 75-win line engine, Take the Bank delivers heart-racing gameplay with the explosive bomb element; each time a robber appears on the reels (wild symbol), a small bomb will attach itself to that specific section and begin a countdown from 10. Each wild appearing will also adopt the same number and begin a countdown…
…and on the tenth spin – bingo! All mini bomb positions explode into wilds! This has the potential for catastrophic wins.
Three police cars will award 15 bonus spins. During your free games, the bomb timer is disabled, although there are 5, 7 or 10 epic wild symbols added to the reels and in each spin, the wilds will move to a new position. Two other bonuses include the gamble bonus where you simply guess heads or tails to double your winnings and the feature buy-in; this eliminates the chasing and for a set one-off price allows you to head straight into bonus spins mode!
You're not going to want to get caught but honestly, there's no chance of that ever happening, as long as you have your wits about you and play sensibly. Annamaria Anastasi, Marketing Director, Betsoft Gaming explains the ethos behind their latest slot: "We are renowned for developing games that create player engagement and retention, and this has recently seen us win several landmark iGaming awards. Take the Bank is our latest big action release and we are expecting a big response from players."
Source: "Betsoft Releases Explosive New Videoslot – TAKE THE BANK". BetSoft. November 12, 2019.
Bingo Games
Back to articles
Your feedback
Please enter your comment.
Your comment is added.
Bubles12
11/25/19, 02:11:32 PM
I've just played the demo, and this looks so much fun. So many ways to win and the bomb wilds are exciting.