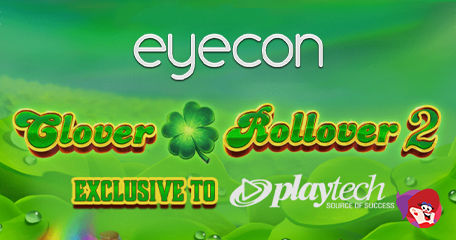 In 2008, Playtech, a leading software supplier to both the online bingo and casino industry, released Clover Rollover, an Irish themed slot packed full of surprises. Despite its limited features, the video slot remained popular even as the years rolled by with new and improved technology. With more than twelve year's success, the developer decided it was time to deliver a sequel, only it has been left down to Eyecon to deliver their magic!
Staying true to the original player experience, Clover Rollover 2 offers enhanced graphics and has been packed with additional entertainment without tarnishing what players enjoy the most; the fun! Keeping all the key elements of the beloved game, Eyecon have ensured iconic symbols have been salvaged, only redesigned and animated for today's modern market.
The Luck of the Irish Remastered
Paul Gielbert, Commercial Director at Eyecon had this to say on the upcoming sequel: "Clover Rollover is one of the most recognised and popular slot games in the UK Bingo segment. Leveraging Playtech's assets to build and distribute the sequel is hugely exciting which will benefit Playtech and Eyecon customers, bringing more entertainment to their loyal network of players."
James Chambers, Slots Manager at Playtech added: "With the original Clover Rollover slot being one of the most popular across the Playtech Bingo network, we are extremely excited to see the launch of Clover Rollover 2. It was very important to us that the essence of the original game continued through to the sequel, and by introducing Eyecon's jackpot mechanics we have been able to deliver a fresh and engaging experience to our players."
Eyecon has a series of what's known as 'super slot jackpots' where different video slots can award any of three progressive jackpots on any spin! And Clover Rollover 2 will be joining the ranks shortly. Chambers concluded with: "Additionally, Eyecon has done a fantastic job in overhauling the graphics within the game introducing some impressive animations and giving a new look to an old favourite."
Mega, Maxi and Mini jackpots build up at…
…various frequencies to not only provide more frequent jackpot winners but offer life-changing win potential from the lowest of stakes! Thanks to the deal, Playtech will have exclusivity on the new game throughout September with significant network promotions promised. Clover Rollover 2 will be distributed to other online bingo and casinos from October 1st.
Will you be giving it a try? The 5-reel, 5-win line slots has an RTP of 93.98% with a low volatility reel engine (less value wins more frequently). Oh, and the mobile-optimised slot offers a win both ways engine, resulting in wins from left to right and right to left!
Source: "Eyecon Hits the Jackpot with Clover Rollover 2". Eyecon. September 8, 2020.
Bingo Games
Back to articles
Your feedback
Please enter your comment.
Your comment is added.
Member's Feedback (1)
HulioSas 09/11/20, 09:09:45 AM
I used to love playing Clover Rollover, but the graphics and gameplay are very dated now. Be interesting to see what Eyecon have done with the popular slot once...
I used to love playing Clover Rollover, but the graphics and gameplay are very dated now. Be interesting to see what Eyecon have done with the popular slot once it's released.
Show more